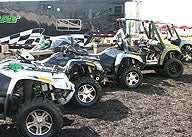 Where fact and fiction collide
Heading out to the 'unofficial' beginning to the snowmobile season earlier this month was interesting as always. For four decades the annual Hay Days event held about a half-hour north of St. Paul, Minn. brings together snowmobilers of all kinds to look at all things snowmobiling. Each year the four snowmobile manufacturers showcase the latest sleds and quite often use the event to announce new race sleds or showcase their racing teams.
This year was a bit different as Team Arctic gained extra exposure thanks to one of its racers being married to a U.S. vice-presidential candidate. A star in his own right, many autograph seekers at the Team Arctic display sought Todd Palin's signature more for his sudden celebrity status as Sarah Palin's husband than his four wins in one of snowmobiling's most grueling races, the Iron Dog. Oh well, he handled it all graciously and was truly enthusiastic about getting to Hay Days for the first time ever.
Iron Dog Todd
It was also the first time the U.S. Secret Service had a detail of agents at the event. Although these lads are well trained and in great physical shape, they can't look forward to chasing alongside the Palins' snowmobiles in the midst of an Alaskan winter. We got the distinct impression that Todd Palin's detail is hoping for a Democratic win. The agents on hand were positive about the Arctic Cat ATVs but looked a bit perplexed by the snowmobiles. The detail will have its answer the day after the U.S. election.
One of the agents did tell Snowmobile.com that he not only knew where Alaska was but that he had recently returned from a fishing trip in the 49th state. While he said he hadn't been in the Palin's hometown of Wasilla, the agent knew where it was. He might actually enjoy being on the Palin detail should they beat the odds and actually get elected. Todd certainly hopes so. He's already signed up to race the 2009 Iron Dog with teammate Scott Davis.
As we walked around Hay Days, it seemed that the event has undergone one of its many year-to-year changes. In its earliest days, Hay Days was just one day instead of two. The featured happening was grass drag racing over a very long course, not a shortened track like we see now. Of course, sleds of the 1970s didn't hit 100-plus miles per hour in less than 500 feet like 2008 race sleds!
Garage Sale
Over the years the racing actually took a major back seat to the displays, which now seem to be losing out to the swap meet. If you want a treasure, Hay Days is the place to find it. There's also a lot of junk, too. But it is amazing to witness trailer after trailer loaded with snowmobilia backed out on the highway waiting to gain entrance to the swap meet area. Equally impressive is watching people walking in the swap meet area looking to be first to score a major coup by getting a steal of a deal on someone else's load of stuff. Treasure, junk…fill in the word depending on whether you are buyer or seller.
As one snowmobile veteran told us, "Hay Days is turning into the world's largest snowmobile garage sale."
He certainly may be correct as this year it seemed as though swappers swamped aftermarket, dealer and sled maker displays. Considering that Hay Days officials weren't certain until the last minute that the event would actually be held, the organizers did a spectacular job. Seemed that a local town or county official was having a twit about handing out the proper permits until the last minute. Of course, the fact that Hay Days may be moved has been a possibility for at least a decade. The land on which the current event is held sits smack in prime suburban development. It won't sit undeveloped much longer.
Of course, Hay Days organizers have known this all along and, as a contingency, have bought a dedicated parcel of land that could hold the event if need be.
Shifting Incentives
Money always seems to be an issue. Even when it comes to selling snowmobiles. Polaris launched a new marketing program offering $1,200 and low financing on select models. This was the first of what we expect to be a number of programs by the sled manufacturers to entice buyers.
A top level Polaris spokesman told Snowmobile.com that even though dealer inventory has been reduced from last year, offering money off and low financing was necessary to help drive traffic to dealerships. When asked how the budget-priced Shift models fared, we were told that there were enough non-currents on hand to curb enthusiasm for the lowest priced Polaris models.
While you might suspect that Shift buyers would opt for genuine Polaris options to spiff up the budget models, it isn't happening. Apparently budget buyers are strictly shopping price and adding options is spending money they want to keep. Sounds like an opportunity for the aftermarket to us.
We also heard whispers that sales so far are flat as consumers are trying to figure where the real price of gasoline will fall and how the economy will effect their discretionary income. Of course, sled manufacturers tell us that diehard snowmobilers still continue to buy new sleds and that all is well. Maybe that's why Arctic Cat introduced new models like a Sno Pro version of its 177-hp turbo Cat and a specially equipped version of a hill climb model. These are extremely limited models, if you want one, act quickly.
Future Sleds
Rumor is that if you look long and hard at the latest Team Arctic race sled, you might see some things suitable for a new high performance consumer model for 2010 or later. Polaris is rumored to have some new sleds in the works for 2010 and beyond.
One thing for certain, except for Yamaha, it's very unlikely that any other sled maker will be racing a 4-stroke in the open classes of snocross. We were told by at least two race team managers that the extra weight of a 4-stroke made it unlikely that any non-Yamaha race team would try to develop a 4-stroker in competition. The open classes are where new suspensions and new chassis configurations get tested. For now at least, Yamaha is the only sled maker to work out 4-stroke performance in snocross.
As usual, walking about Hay Days gave us a chance to look at new sleds, chat with a variety of folks and take in the latest rumors. Sometimes rumors become facts. But, for now they are just rumors. And that's what we like best about Hay Days, the mingling of fact and fancy. Until next Hay Days, wherever it's held.
Related Reading: Alaska 'First Dude' Visits Hay Days