Ontario Snowmobiling Offers Many Unique People & Places
Friendly and knowledgeable people make all the difference
Ontario snowmobiling offers many destinations that are memorable for their unique products, outstanding locations, special people, or all three.  For example, what do you think of making a reservation for snowmobiling? Thousands of riders do each winter when they book a space on the trails of the Haliburton Forest and Wildlife Reserve.
This unique 60,000 acres of wilderness is the only wholly privately owned snowmobiling operation in the world. Rated by Supertrax Magazine as one of the top-10 snowmobiling destinations in North America, Haliburton Forest attractions include snowmobiling on 300 kilometres (198 miles) of groomed trails, plus numerous events (such as a Snowarama or poker run), snowshoeing excursions, and dog sled rides. In its famous Wolf Centre, the wild pack roams freely in a 15-acre enclosure and interpretative exhibits tell their story.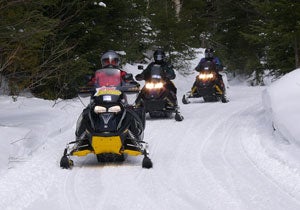 The Haliburton Forest's self-contained setting is ideal for families, new riders and those who want to go snowmobiling in the relative security of a controlled location. It offers house keeping accommodations, the Cookhouse restaurant, fuel, sled rentals and lots of parking.
Located at the top of the Algonquin Dome where exceptional snow conditions abound, the Haliburton Forest and Wildlife Reserve offers snowmobilers an exceptional value proposition. To guarantee a great snowmobiling experience, admittance to their trails is limited to 100 daily users with prior reservations at a fee of $44 + $10 for a passenger (Valid 8 AM to midnight, when the trail close for grooming). Seasonal trail passes with no access restrictions are available for $350. In return, all of these riders get consistently superior trails, thanks to the Forest's fleet of groomers, aided by North America's only mobile snowmaking equipment.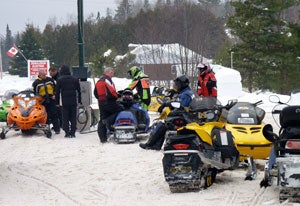 Special people can also make your ride experience memorable. For instance, there's George Robbins, proprietor of Sportsman's Lodge Wilderness Resort near Sudbury in OFSC District 12. George is one of those hosts who goes out of his way to make your stay more than first rate. An avid snowmobiler, he talks the talk and knows everything about the best trails to ride and places to see. Not only are George and his family famous for their hospitality, the home cooking is to-die-for and the property itself oozes character with the rustic charm of its pine buildings and a 4-story tower that's the tallest pine structure in Ontario. With ample parking and fuel on site, George and the Sportsman's Lodge Wilderness Resort, located at the junction on OFSC TOP (Trans Ontario Provincial) C105 and C106D, are one of Ontario's many snowmobiling gems. Be sure to visit Wolf Mountain and take a ride along the stake line of the mighty Wanapitei Lake.
Another popular family operation is Pleasant Cove Resort near Point Au Baril Station in OFSC District 10, where the "trail boss" is Bruce Bishop.  Known as "snowmobilers hosting snowmobilers" the Bishop family provides a premium resort experience on the shore of Georgian Bay, with a choice of deluxe and ultra deluxe housekeeping cottage chalets that boast all the comforts of home. Other services and amenities are readily available in nearby Pointe au Baril.
Beside its inimitable owner, one of the features that make Pleasant Cove special is its Adventure Package, which includes use of a 2-up new sled, trail permit and helmets, and lodgings for two for two nights. This is a great way for a family or group of friends, who may not have enough sleds of their own available, to enjoy a great winter getaway together and socialize après-sledding in their own private space.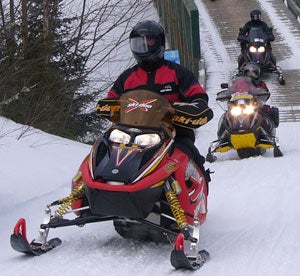 What's more, there's no better person than avid rider Bruce Bishop to provide advice and guidance on where to ride and what to see in the region.  To the north, be sure to check out the incredible Pickerel and French River bridges, while southward, you can tour around Parry Sound and loop east to Dunchurch and Ardbeg. There are plenty of TOP and club trails to ride and Bruce knows them all.
In Eastern Ontario and OFSC District 6, Spectacle Lake Lodge near Barry's Bay has a reputation for succulent cuisine and warm hospitality. The founding member and prime staging destination of the famous RAP (Round Algonquin Park), Spectacle Lake is located on club trail 159, just south of TOP B, between Madawaska and Barry's Bay. For the past two seasons, the Carter family – Norm and Leslie, with son Chris – have been your snowmobile-friendly hosts. New to the area, they jumped right in to give something back to snowmobiling by volunteering for the Opeongo Snowbirds Snowmobile Club in OFSC District 6. The Carters provide accommodations in a mix of lodge rooms and cottages, with a restaurant/lounge in the main building, on site fuel and ample parking. From Spectacle Lake, you can ride loops to the east and west or stage for your RAP tour.
Those highlighted here are just a few examples of the many people and places snowmobilers will discover among unforgettable experiences while riding in Ontario. Check it out for yourself this winter.