Snowmobiling In The Lap Of Luxury – Video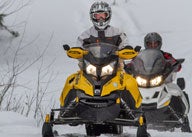 A full-service snowmobile rental experience at the JW Marriot The Rosseau in Muskoka
Have you ever wanted to go snowmobiling in Ontario? Or are you an experienced sledder who wants a change of scenery and doesn't know where to start. Dan Arcand's Muskoka Sports and Recreation might just be the perfect solution. This one-stop sled tour and rental operation serves up the easiest possible way to try out the sport in total comfort, or get a longer guided tour by a local who knows all the best spots for almost any kind of snowmobile adventure.
And a weekend on the trails with Dan isn't complete without a stay at the ultra-luxe JW Marriott The Rosseau Muskoka Resort and Spa and the world-beating restaurants that serve as home base for his operation. There literally isn't a more relaxed and fun way to get a taste of this amazing winter sport. Although I knew I'd have plenty of chances to ride all over Ontario this past season, I knew that riding with Dan from the JW would be at the top of my list.
On this particular trip, I was joined by one of my two-wheeled buddies, Vicki Gray of MOTORESS.com, whose last snowmobile trip was voyaging to school as a child in Norway. I'd told her about the majestic JW Marriott Muskoka and Dan's sled rental operation and she jumped at the chance to join me.
The JW Marriott Muskoka is a mere two and a half hours from Toronto, but it feels like another world. Anyone who knows the trials of trying to get out of the city will appreciate this short commute to a weekend getaway that can be as simple as great meals, rooms and sledding, or as comprehensive as you want – including full spa treatments, a swim in their indoor/outdoor pool, a dip in the hot tub and dinner and breakfast in their two top-notch restaurants.
Personally, I'm not sure I'll ever be fully able to express how comfortable the rooms at the JW Marriot are and how easy it was to fall asleep on our first night there – of course it may have had something to do with the stellar meal prepared by Chef Shaun at Teca, the resort's fine dining option. The carpaccio was easily one of the best I'd ever had, and coming from Toronto where there are dozens of restaurants competing for that honor, this is quite an accomplishment.
The next morning we sat down to discuss the plan for the day at Cottages, the JW's breakfast and lunch restaurant. With a spread of every conceivable type of breakfast food, and very clearly using only the finest ingredients, it was very difficult to keep from over-indulging. Suffice to say, my custom made egg-white omelet was only exceeded by the charm of the staff here.
Dan got Vicki suited up with all the right gear, and then we were off to the trailhead to get her acquainted with the controls. With her background in racing, I'm not surprised she took to sledding as quickly as she did – I should mention though, Dan is the person who introduced me to sledding two years prior to this, and did such a great job at laying the foundations that my skills have steadily improved since then.
For our weekend ride, Dan got us to experience two trail systems – the Seguin Loop and the Ride Around Muskoka, both in District Seven of the OFSC. Known as the Muskoka Snowmobile Region, this area generally has some of the largest cumulative annual snowfalls in Canada, in tight competition with St. Donat in Quebec, and the BC mountain ranges.
The Seguin Loop features some aggressively technical sections that new sledders should be aware of – Dan's constant guidance throughout the trip ensured that Vicki and I were well aware of our surroundings and the appropriate speed.
The Ride Around Muskoka was likely the more one suitable for new riders. This loop puts scenery and fun over technical skill, and is easily one of the most well-loved tours in the area.
If you wanted to find a better connected region, you'd be hard pressed to find one – experienced sledders could ride for days in any direction. While we were two relatively inexperienced riders, Dan has plenty to offer the more experienced sledder. His most popular packages are full day and extended tours, which he can customize depending on the group, and accommodate nearly any size with an extended fleet.
Using The Marriott as a basecamp also offers sledders the opportunity for plenty of cloverleaf riding. Instead of dragging saddlebags from point to point, why not do four day trips, all looping back to the warm and cozy atmosphere so perfectly cultivated at the Marriott.
After two solid days of sledding, and two incredible nights at the deeply relaxing resort that is the JW Marriott, there's little left to be said. Vicki and I left feeling refreshed, and ready to return to the grind of city life – but it's nice to know that just two hours up the highway is a center of fun and adventure coupled with perfect luxury and relaxation.
Related Reading Rent to Ride in Ontario World Class Sledding in Sudbury, Northern Ontario – Video The OFSC Family of the Year: Bud and Doreen Knowles – Video Ontario's Interactive Trail Guide Makes Finding Snow Easy Snow-Starved Snowmobilers Turned to Ontario This Winter – Video Late-Season Snowmobiling in Northeastern Ontario – Video Ontario's Northern Corridor: Incredible Spring Trail Riding