Toronto International Snowmobile, ATV & Powersports Show Report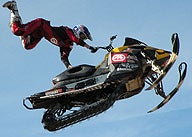 The 'Big One' lives up to its name
The Toronto International Snowmobile, ATV & Powersports Show returned to the International Centre in Toronto, Ont. and Snowmobile.com was in attendance.
Organizers were calling it the largest snowmobile and ATV show in the world and with all the vendors, vehicles, accessories and activities it was easy to see why.
Once again, the Ultimax Extreme Freestyle event stole the show. Some of the top snowmobile freestylers in the world were on hand pulling off some of the craziest tricks this side of the Winter X Games. A mulch track with one big ramp was set up for the freestylers, as well as the ATV racers. Be sure to check out our photo gallery to see action shots from the show.
To keep the kids entertained there was an area beside the freestyle track set up for testing youth snowmobiles and ATVs, as well as electric ATV riding and remote control snowmobiles inside.
As much as there was to see and do at the track, it was among the 500,000 square feet of displays inside the International Centre where you could get dizzy from snowmobile overload. It was like a snowmobile shopping mall and there really wan't anything you couldn't find for your sled. Everything from new studs for your track to aftermarket suspensions to custom mods for your engine was available at every turn.
Getting yourself outfitted for the upcoming season was also easy with countless jackets, boots, gloves, goggles and helmets for sale at dozens of vendors.
Perhaps the biggest attraction inside was the Custom Sled Village where 'Custom' John Bors' latest eye-popping creations could be found. Though most of us will never be able to afford one of these one-of-a-kind creations, they're still fun to look at.
If vintage sleds are more your speed, the Antique and Classic Snowmobile Club had a big display full of pieces of snowmobiling history. It's always a blast to find a sled from your youth or to see a cleaned-up version of what you might have rusting under a tarp somewhere.
In addition to everything else, the Toronto International Snowmobile, ATV & Powersports Show also had the latest sleds on display.
This show truly was everything snowmobile, whether you wanted to buy a new sled, update your old sled, get geared up for the winter or watch the pros put on a show. We look forward to next year so we can see it all again.