5 Best Snowmobile Tours in Northern Ontario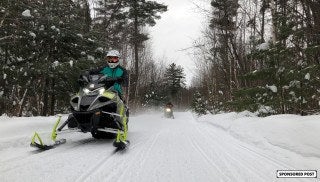 The opportunities for snowmobiling in Ontario are massive, with more than 30,000 km of trails to ride giving you endless opportunities to explore the world's largest interconnected trial network. Currently, as of late 2021, there are 31 OFSC (Ontario Federation of Snowmobile Clubs) approved Snow Tours. These official tours range in distance from casual family outings to multi-day rides that take you community to community. Each one of the tours is unique taking you on a winter adventure like no other. See them all here! Or select Snow Tours on the Interactive Trail Guide to see them all.
What makes each of these snow tours extra special is that they are only accessible and rideable by snowmobile! Thus, your time is limited to the winter months, so book that trip now! Expect when riding a tour to visit inspiring points of interest, through and by historic landmarks, and of course on many world class snowmobiling trails, riding is just as much about the destinations you visit as the ride itself and these tours deliver in all areas.
But for the purpose of this article, I've selected five specific snowmobile tours in Northern Ontario that really stand out. These five are best in class Snow Tours based on the merits of offering fantastic rides, delivering unique points of interests / landmarks, offering an opportunity to learn, and leading you to some of the most snowmobile-friendly communities in the world.
When you do get ready to head out on your next snowmobile adventure, make sure you do your best to keep yourself and everybody else safe. Follow all public health measures wherever you go.
Northern Corridor Adventure Tour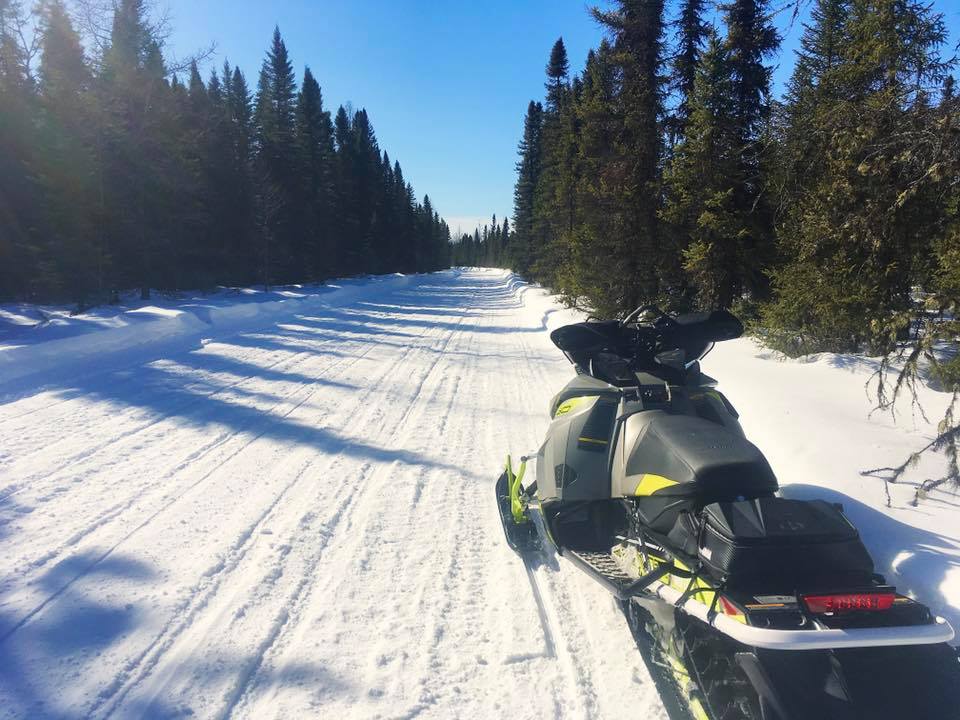 This massive 1654 km tour takes you from Cochrane though to Hornepayne, this area is known as the having "The World's Best Snowmobile Trails" so you can expect impeccable grooming, clear signage, easy access to services like fuel, food and accommodations as well as stunning northern boreal scenery. It's much more than all this that makes this tour so special, in fact it takes in all five of the Northern Corridor Du Nord's outstanding Snow Tour loops, including the Abitibi Canyon Loop, The Bob Cat Loop, Gateway to the North Tour, the Lumberjack Loop and the Missinabi Expedition Tour. The opportunities to see wildlife like Moose, Lynx and even Wolves are plentiful, and the snowmobiler hospitality is second to none! If you've never ridden the World's Best Snowmobile Trails you are missing out; this is a bucket list snowmobile destination that delivers the longest snowmobile season in Ontario!
Driving Distance from Toronto to Cochrane – 729 km
Driving Distance from Ottawa to Cochrane – 751 km
Driving Distance from Sault Ste Marie to Hornpayne –  414 km
Ride Ideas Where to Stay or Eat
Gold Rush Tour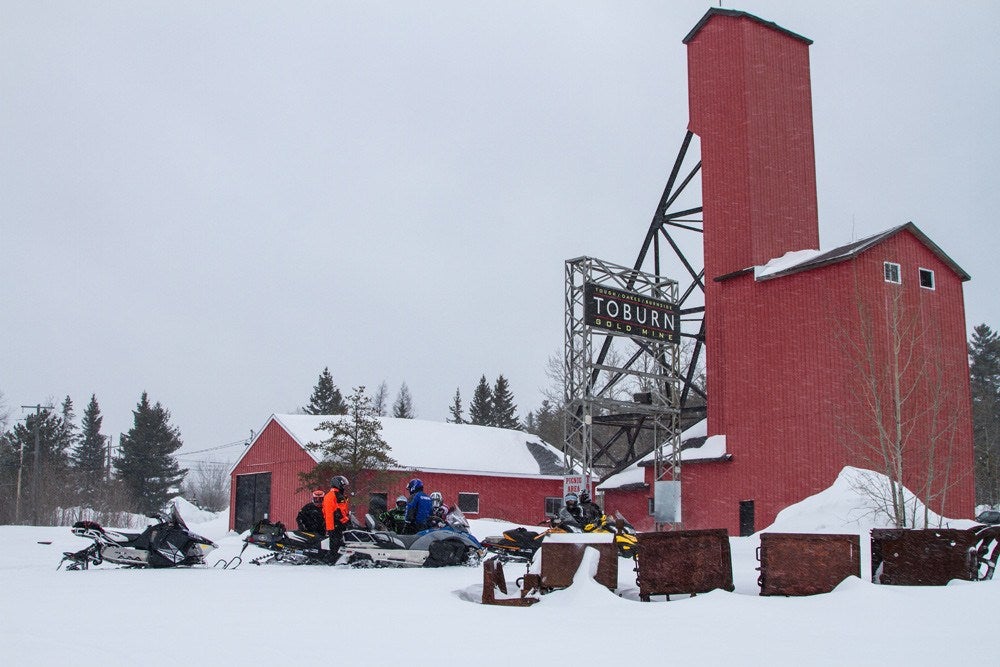 The Gold Rush Tour was created in the 1990s by snowmobile club legend Mike Farr and fellow volunteers. It starts in the wide-open agriculture rich clay belt of Temiskaming Shores and then through the deep and rugged forests, and ecologically memorable Elk Lake. Then over and along vast hydro corridors that lead to both historic and operating gold mines in Shining Tree, City of Timmins and Kirkland Lake. The Gold Rush tour offers multifarious trail elements, creating a diverse and ever-changing ride. The distinctiveness of the trails on this loop, mingled with the impressive industrial mining spectacles, make the Gold Rush Tour a one of a kind! This is one of Ontario longest standing tours, You will be 677 km richer having completed this tour! Make sure you get a photo in Kirkland Lake at the Toburn Mine as well as one in Timmins either by the McIntyre Mine Headframe or when you go through the mining haul road tunnel in Timmins.
Driving Distance from Toronto to Temiskaming Shores – 509 km
Driving Distance from Ottawa to Temiskaming Shoress – 510 km
Ride Ideas Where to Stay or Eat
RAP Tour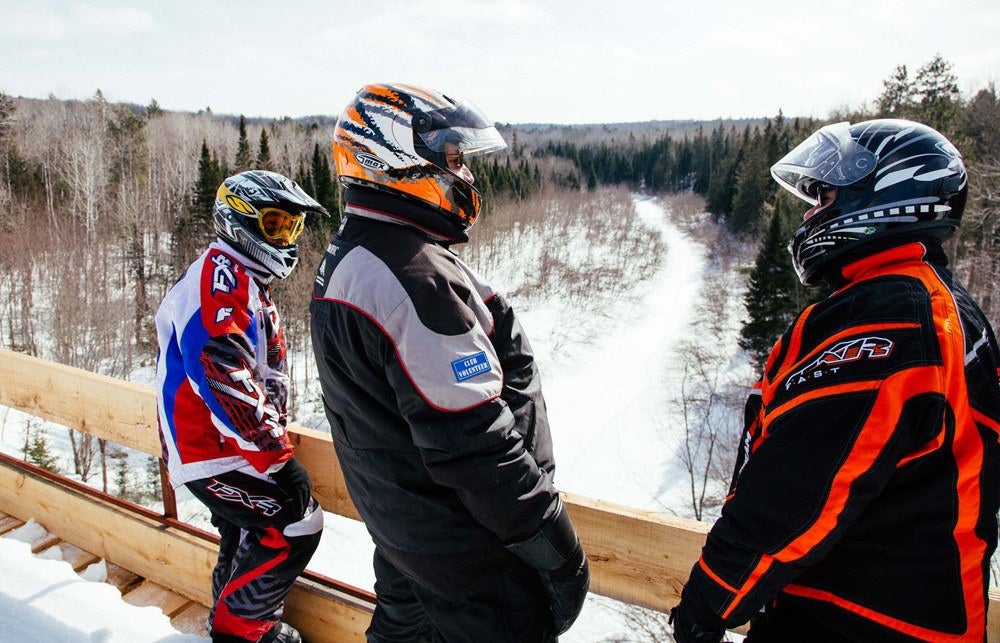 The RAP Tour has to be on the bucket list for every snowmobiler. Simply put, it delivers some of the best and most diverse snowmobiling, all "wrapped" up in one mega tour! Algonquin Provincial Park is world renowned and encompasses an area of over 7,600 square kilometers of pure wilderness. The Park is considered part of the border between Northern Ontario and Southern Ontario and is an area of transition between the northern coniferous forests and southern deciduous forests. The diversity of trail found on this tour is one of the reasons why it is so popular. From the thick maple forests of the Almaguin and Haliburton Highlands, where trails wind back and forth over hills and through valleys to the vast hydro and gas corridors that run alongside the Ottawa River from Pembroke to Mattawa, this tour has a little bit of everything. The Tour can be completed in either a counter-clockwise direction or clockwise direction for a total of 734 km. I'll note that most riders complete it counter-clockwise. It's recommended to depart from either Dorset or Pembroke areas for the shortest drive if you're coming from the south. Riders can complete this tour in three or four days, but ample opportunity exists to take ride itineraries extending the tour to five days and increasing overall enjoyment and memories of this famous tour. Check out the Ride The RAP Facebook Page.
Driving Distance from Toronto to Dorset – 247 km
Driving Distance from Ottawa to Pembroke –  147 km
Ride Ideas Where to Stay or Eat
Explorers Snow Tour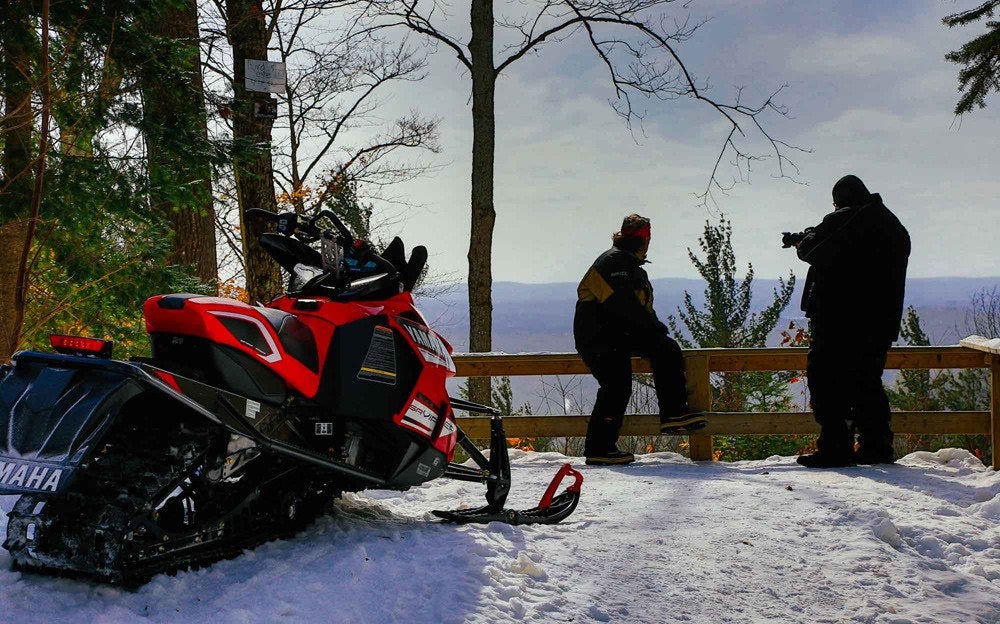 An opportunity to learn about the magnificent history that shaped the trails we ride! The Explorers Snow Tour was dreamt up by myself and legendary Backroads Bill Steer. Bill Steer is the founder of the Canadian Ecology Centre located in Samuel De Champlain Provincial Park  and is known as a modern-day explorer of all wild things in the north, he even has an exhibit at the North Bay Museum showcasing his work. The tour is 234 km length and can be completed in one day, it takes in 10 unique points of interest offering detailed information boards at each location that profile historical, geological, environmental, and mythical information about each destination. This is one of those tours where you will want to take your time, ensure you get a photo of yourself and your riding crew at each of these diverse and inspiring locations! Like the other tours on this list, the Explorers Snow Tour offers much more than great destinations, the ride is known as spectacular in terms of trail terrain and diversity, expect everything from wide loggings roads to tight twisty elevating less travelled trails, taking you to many places you can only reach by snowmobile.
Driving Distance from Toronto to North Bay– 357km
Driving Distance from Ottawa to Mattawa –  296km
Ride Ideas Where to Stay &or Eat
Cartier Moose Loop
The Cartier Moose Loop tour is steeped in both geographical and historical significance. On the 231 km tour you will ride by the completely empty former Village of Sellwood. The Village was at one point home to 1,500 residents, had four stores including a bowling alley, post office and church. The town's demise was met after World War I when iron prices declined, then in 1947 the entire town was leveled and replaced with a new mine which operated until 1978 when it closed for good, now all that is remains is an off-limits mine site. Of ecological significance is the Cartier Moraine Conservation Reserve. You will ride right through the reserve taking you back 23,000 years ago to when Glaciers deposited a mix of sandy gravel, boulder sand and silty clay. Boulders of up to 10 metres in diameter can be seen in this area so be sure to stay on the trail! Further this tour offers excellent opportunities to see families of Northern Lynx and of course massive Moose! There are several great places along this tour for photo opportunities including the Stobie Dam Snowmobile Bridge, plus you never know when you will see Moose or Lynx!
Driving Distance from Toronto to Sudbury – 400km
Driving Distance from Ottawa to Sudbury –  484km
Driving Distance from Sault Ste Marie to Sudbury –  307km
Ride Ideas Where to Stay or Eat
Conclusion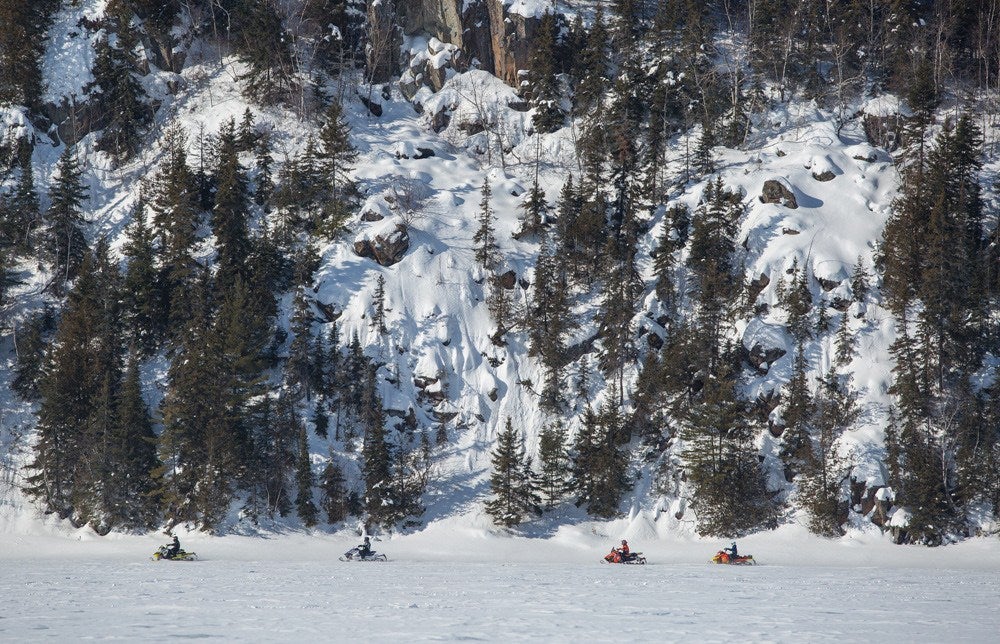 If you're looking to experience all five of these tours in one season and complete all five, you will have logged well over 3,500 km on your snowmobile! What a Season that would be! Be Sure to check out all 31 OFSC Snow Tours!! See you on the trail!
Sponsored by Destination Ontario