There's an App for That: Go Snowmobiling Ontario's Mobile Trail Guide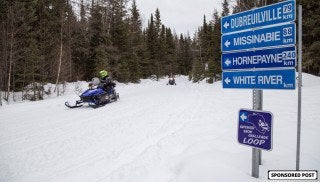 Get more out of snowmobile season with this mobile guide
The snowmobile industry continues to evolve and grow each year, with new snowmobiles, upgrades, parts, accessories, and, of course, technology helping riders improve their sleds, trips, and just overall experience each and every season. That includes dedicated mobile apps meant to help you get the most out of snowmobile season by providing easy access to both trail maps and the latest conditions: like the Go Snowmobiling Ontario (GSO) Interactive Trail Guide App, which was launched this past December with new features for the 2019-2020 season.
Available for download on the App Store or Google Play, the app was developed by the Ontario Federation of Snowmobile Clubs (OFSC) to provide snowmobilers with an easy, hands-on way of checking trail conditions before riding. With a subscription of $3.99 per sledding season, it's a small price to pay for ease of access and trail maps delivered right to your phone, so you can explore all the epic snowmobile adventures Ontario has to offer. (Plus, those subscription costs are reinvested back into the app for continued upgrades and development for subsequent seasons.)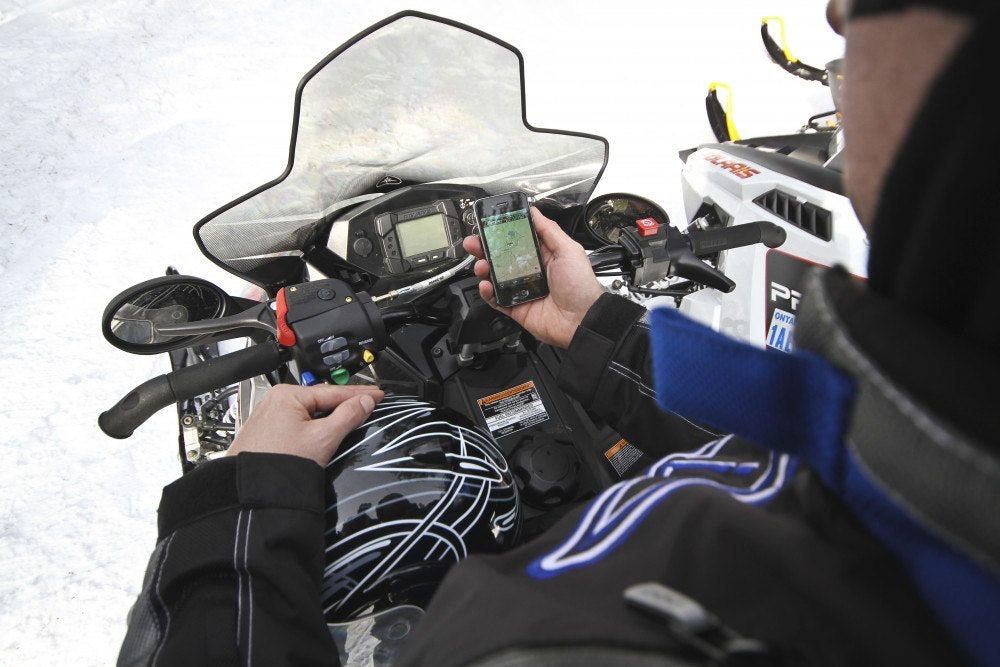 Features
In addition to putting the OFSC's detailed online trail guide in the palm of your hand, the GSO App allows riders to create routes and share them with fellow riders – which is key on group rides, whether you're heading out in a small group or a larger ride – making it a real gamechanger for trail safety. Before you go out, send your planned route to someone staying back with the push of a button, so they can send out assistance if they don't hear from you by a certain pre-planned time. (Read more about riding safety here.)
Heading into an area that doesn't have great cell service? Routes can be saved and viewed offline including detailed maps. Took a wrong turn? The GSO App lets you locate yourself on the map through your phone's GPS signal so you can get back on track and rendezvous with your buddies in no time. Then, once you've got mobile coverage again, you can share your position with your crew for a quick and easy meet-up.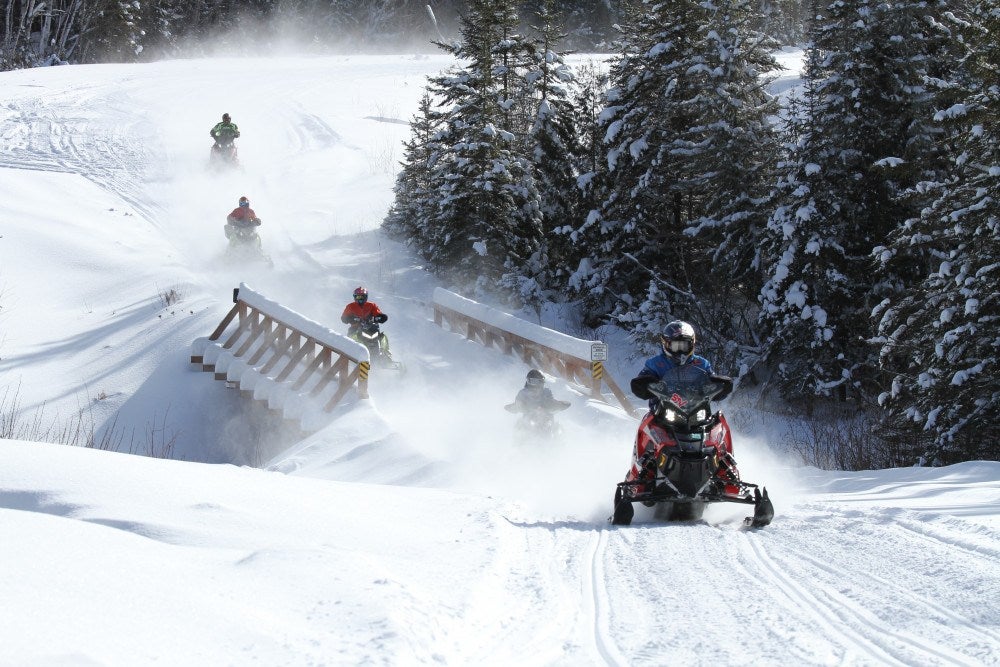 But that's not all: you can also view recent trail conditions and availability, access a list of curated snow tours to take the guesswork out of route planning or save and load your own personalized itineraries. (If you're looking for suggestions, check out this list of top Ontario trails from Northern Ontario Travel.) Plus, when you need a pit stop, you can easily view nearby options so you and your group can refuel – whether that's the closest gas station or a local restaurant.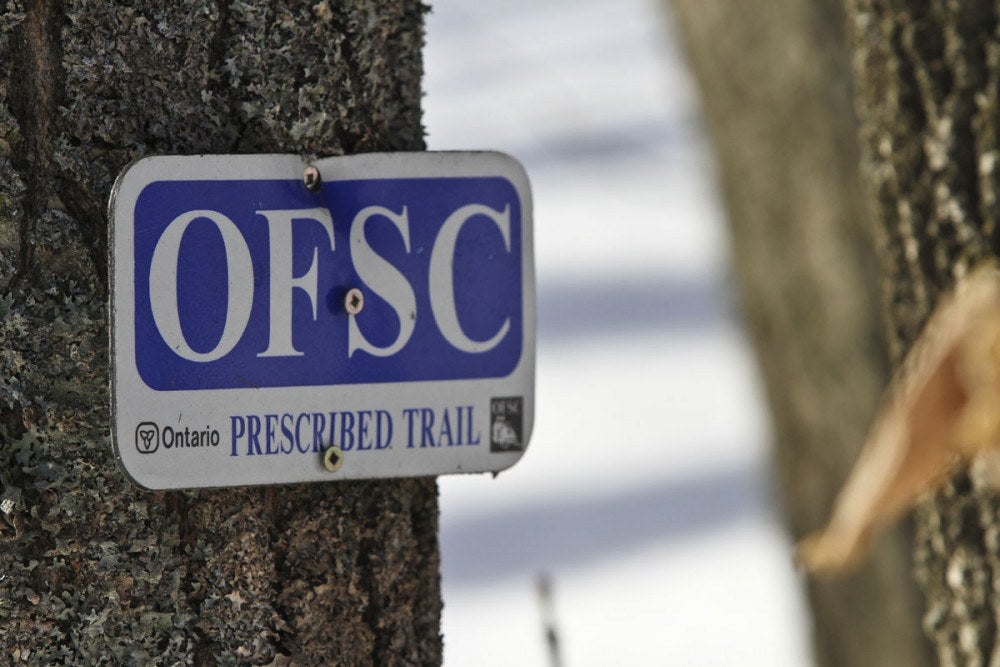 Types of Trails
The OFSC guide displays four categories of trails, which you can use to plan the perfect outing.
Trunk Trails: Designated by a red sign, these represent the main provincial routes.
Connector Trails: Designated by a green sign, these link two Trunk Trails and tend to be both shorter in length and contained within a single region.
Club Trails: These include local and regional trails that are not part of the Trans Ontario Provincial (TOP) Trail system.
Feeder Trails: Look for the blue sign — these trails connect Club Trails and populous areas to the nearest Trunk Trail. (As a result, they're typically quite short.)
Follow these simple steps to use the GSO app:
1.) Download the app via Google Play or the App Store.
2.) Create an account by going to "My Profile" and signing up with an email address and password.
3.) Customize your profile:
Add your name and a profile picture to let people know who you are
Select "Share my location with friends" (optional)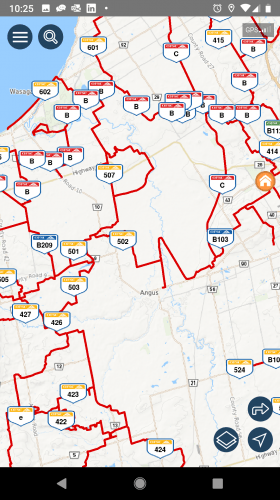 4.) View the map to see current trail status:
Red = Unavailable
Green = Available
Yellow = Limited Availability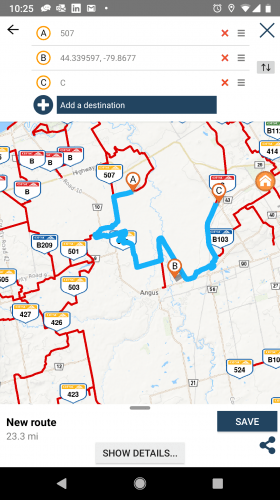 5.) Create a route:
Click the right arrow "Create new route"
Select point A, B, or "Add destination"
Click "Show details" for written directions and "Save" to save your route
Use the arrow at the bottom right to share via e-mail or text
6.) Add markers to the map (i.e. parking, lodging, food and fuel, etc.) by clicking the magnifying glass.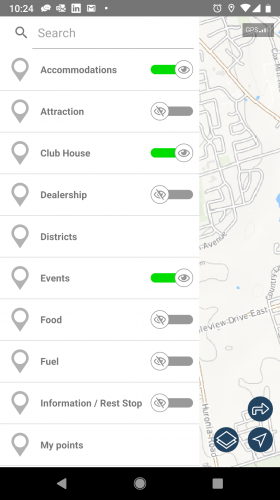 Thanks to apps like the GSO Interactive Trail Guide, it's now easier than ever to get out there and explore the many great snowmobiling trails that Ontario has to offer. Want more advice to help make this snowmobile season one to remember? Head to OntarioTravel.net.
Lead photo by: STV