Can't Wait for Snow? Here's the Best Early Season Snowmobiling in Ontario!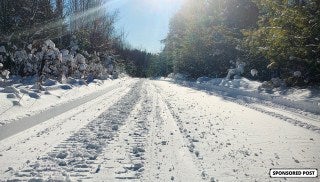 Where to find the first available trails
Finally, it's that time of year when we are checking the OFSC Interactive Trail Guide looking for that first glint of Yellow or Green that signals available-to-ride-trails, marking the official start of snowmobiling in Ontario! That means it's time for you to start planning for your next snowmobile ride.
Ontario is home to over 30,000 km of OFSC (Ontario Federation of Snowmobile Clubs) member club groomed and maintained trails, making it the largest interconnected trail network in the world! Just a little over a decade ago, the OFSC started making strategic investments in "Early Season Priority Trails". The strategy here was to make key infrastructure and operational investments like groomers in areas that were capable of offering the first available snowmobile trails, thus getting you, the permit buyer, out riding as early as possible – great news as this extends your riding season! Of course, contingent on these trails becoming available is snow and a strong passion from local club volunteers! You will find these early season snowmobiling locations in big snow-producing regions, After all, Old Man Winter dictates who can ride first!
Disclaimer: Often the first available trails in a region do not form extensive or connected loops, so please expect that you may have to turn around or that you may not be able to connect from trail to trail or community to community. Please respect trail closures as published on the Interactive Trail Guide. For Day Parking information please visit the OFSC's interactive trail guide and select the Parking POI layer.
Below you will find 10 areas to watch on the OFSC's Interactive Trail Guide for the Best Early Season Snowmobiling
1. Northern Corridor Du Nord
It should be no surprise that the Northern Corridor makes #1 on the list, with often the longest snowmobile season in the province and known for exceptionally smooth and wide trails with breathtaking boreal scenery. The expansive northern region that includes Cochrane-Kapuskasing-Hearst provides one of the best (if not the best) early season riding opportunities in the world. Coined the "Worlds Best Snowmobile Trails", this area has a whopping 1,700km of maintained and groomed trails.
Where to Stay & Eat Top Picks
2. North Algoma
North America's biggest lake effect snow machine, Lake Superior consistently year over year dumps copious amounts of snow across this region. The snowmobiler-friendly communities of Wawa and Dubreuilville are known to have some of the best early season riding opportunities thanks in part to their geographic location and proximity to Gitche Gumee (the Ojibwe name for Lake Superior).
Where to Stay & Eat Top Picks
3. Mattawa-Bonfield
Located on the Northern boundary of Algonquin Provincial Park nestled between Lake Nipissing and the Ottawa River this legendary region once explored by Voyageurs such as Samuel de Champlain is home to great early season riding opportunities. The Mattawa-Bonfield area is only a few hours from Toronto or Ottawa making it an easy weekend or mid-week destination. Keep on eye on the A112A and TopA trails for first riding opportunities.
Where to Stay & Eat Top Picks
4. Almagiun Highlands
A region infamous for BIG lake effect snow, the highlands provide fantastic early season riding opportunities. Stretching from Kearney to South River, the terrain here makes for roller coaster like rides, with its rolling hills and undulating terrain. The area's old colonial roads located on the eastern edge of Algonquin Park make this one of the top picks for early season available trails.
Where to Stay & Eat Top Picks
5. Seguin Trail
Once a key lumber railway back in the late 19th Century and built by one of the Richest Men in Canada at the time, the Seguin Trail is now known as one of the finest snowmobile trails thanks in part to the efforts of the Park to Park Trail Association over the last 20 years. The trail is known as C103D and often presents approx. 50km available to ride early in the season.
Where to Stay & Eat Top Picks
6. Simcoe County
Simcoe County is another area known for its extreme lake effect snow. Smack-dab in the middle is the TOP C trail that runs between Cookstown and Midland, this key link former rail line provides trail access in all directions and when the lake effect snow dumps you can often find several available trail pockets to scratch the throttle itch with an early season ride. Keep an eye on the Blue Mountains-Wasaga, Stayner, Midland and Orillia areas for early season riding.
Where to Stay & Eat Top Picks
7. Kawartha Lakes
This is a Powersports and Outdoors enthusiast welcoming paradise, from snowmobiling to ATV/SXS, the region is also home to Canada's Toughest Off-Road Motorcycle Race, The Corduroy Enduro. This region is home to the Kawartha Lakes, Haliburton, Twin Mountains and Heath snowmobile clubs. The area is known for some of the first early season riding opportunities. The B103 running from Fenelon Falls to Haliburton as well as the local Pinery Trails are amongst the first to become available in any given season. You and your snowmobile will be welcomed into these powersports-friendly communities.
Where to Stay & Eat Top Picks
8. Grey-Bruce
Consider going snowmobiling on and around the Niagara Escarpment in OFSC District 9, as this area is blessed with diverse geography and landscapes from rural farmland to the towering cliffs of the escarpment. The snow in Grey-Bruce can fly early here and add up quick thanks the lake effect machine that is Lake Huron. Keep a close eye on the B110 that runs between Shelburne and Owen Sound for some of the first riding opportunities in Southern Ontario.
Where to Stay & Eat Top Picks
9. Deep River
One of Ontario's best kept snowmobile secrets, Deep River is bordered by the Ottawa River to the east and Algonquin Park to the west. This scenic sliver of land boasts absolutely incredible snowmobile riding. The combination of utility corridors and logging roads with limited water crossings means the Deep River area is often one of the first to have available trails in any given season. I have to take the opportunity to let you know that if you've never ridden the local "100 series" trails west of the TOP A that it's a must do! You won't regret riding these fantastic trails.
Where to Stay & Eat Top Picks
10. South Algonquin
One of the most scenic sections of the World-Famous Ride Around Algonquin Park (RAP) Tour, this area sits southeast of Algonquin Park. The region and its trails stretching from the quaint town of Whitney to the service ample City of Pembroke offers fantastic early season riding opportunities combined with some of the most snowmobile friendly and exquisite accommodations and culinary.
Where to Stay & Eat Top Picks
Sponsored by Destination Ontario