Is There Such a Thing as a Perfect Snowmobile Trip? + Video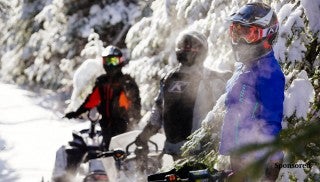 An unforgettable trip to Horwood Lake Lodge in Timmins, Ontario
Every winter we snowmobilers start off the season hunting for snow and the perfect snowmobile trip. We scan Facebook, send texts, call friends – heck, some people even talk to other people directly to find out "Where's the snow?"
And if you live in downtown Toronto, Ontario where snow scarcely lasts a day or two, sometimes the feeling of defeat from completely missing out on a real winter becomes so overwhelming that you don't even want to look at the trail conditions, or reach out to sledder friends from around the province.
But this feeling is misplaced, and, sorry to sound like a broken record, but not even two hours north of the city, the rest of the world is having a completely different experience – and if you follow my directions here exactly, you too can have a proper winter.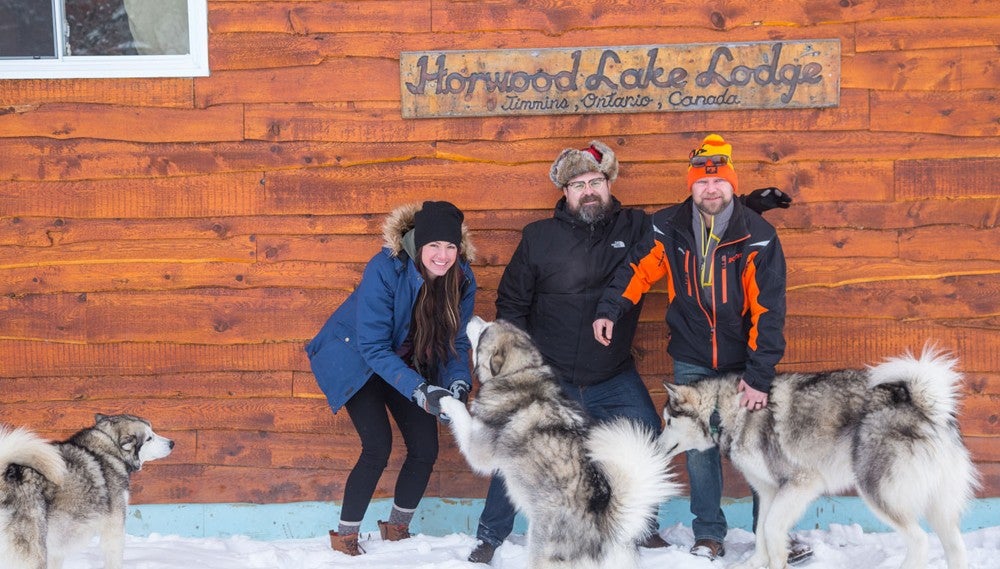 The destination is 70km outside of Timmins in Northeastern Ontario at a place called Horwood Lake Lodge. Horwood has recently been taken over by Mike Brazeau and his wife Jaana and they've brought an incredible passion for their guests and the experience there with them.
Horwood Lake is off the beaten path and the OFSC trails in Ontario don't link up with this lodge yet, but Mike is a man on a mission and not to be stopped – so he bought a groomer and put in 180km (110 miles) of his own private trail system complete with marked boondocking areas. These are bush roads, so you'll find them covered with fresh powder after every snowfall – but this isn't mountain riding.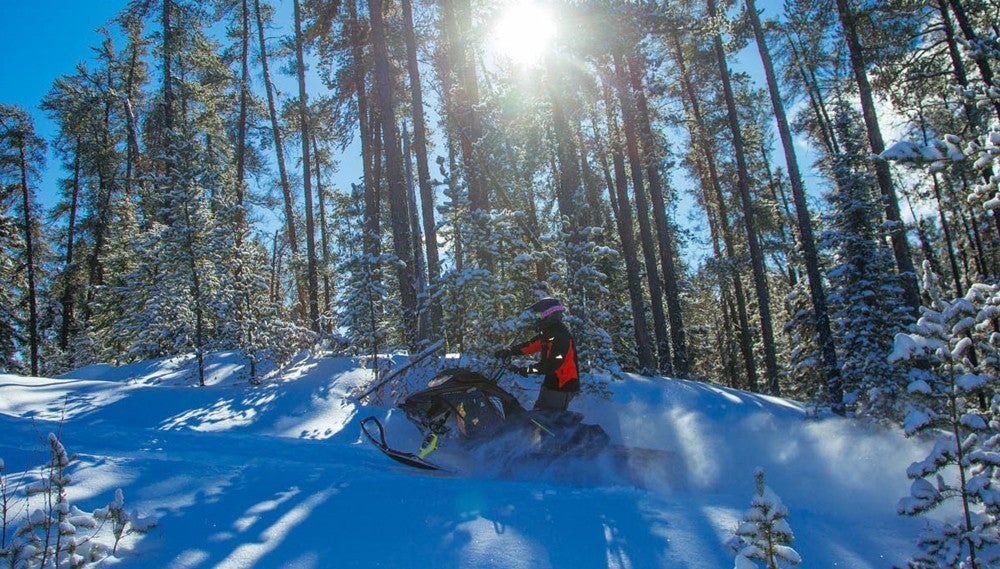 The lodge's trails easily connects with surrounding communities, so if you want to do big miles, you can ride down to Gogama (some of my favourite trails), Dubreuilville in the west (home to the Magpie Relay Resort) and Timmins in the east. We met riders coming from Moonbeam
If you're a city dweller, getting to your remote snowmobile vacation couldn't be easier. Hop onto a Porter flight in either Ottawa, Toronto, North Bay, Sudbury or Sault Ste. Marie and take the short (and inexpensive) flight to Timmins. The lodge will pick you up at the airport and take you the hour and a half ride there. While Horwood didn't have their rental fleet up and running yet, by Winter of 2018 they should have up to eight sleds available for rent – so you only need to travel with your gear.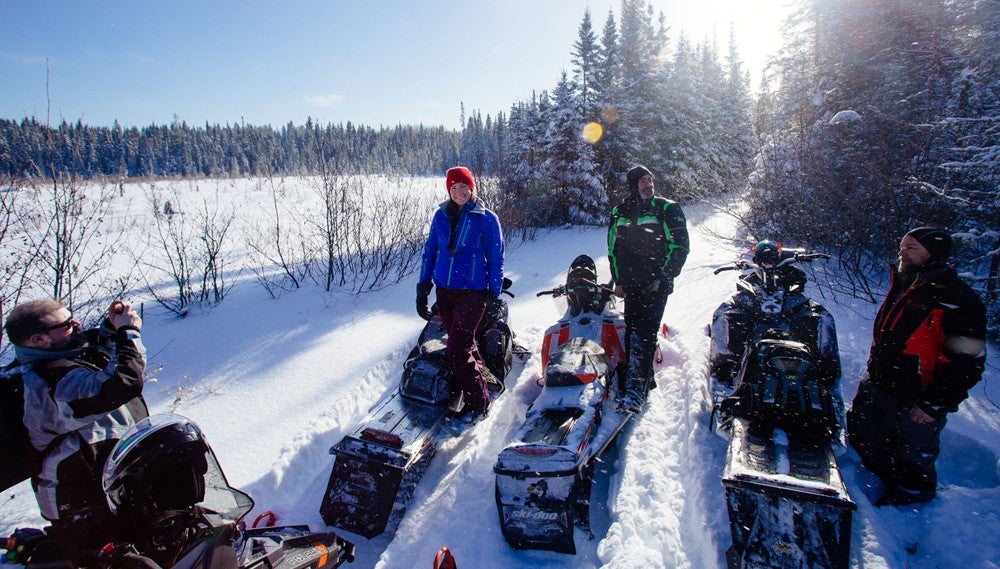 Four malamute dogs greet all visitors, and any unwanted wildlife too, ensuring that your trip to this remote wilderness destination is safe as well as fun.
The lodge's kitchen takes care of everything while you're there. All of the cozy cabins are equipped with small kitchens, but what snowmobiler wants to cook at the end of a long day of trail riding? Breakfast and lunch are made to order, with cooler bags to take your lunch with you. Food quality is a step above what snowmobilers would normally expect – even the sandwiches have real meat in them, rather than deli-meats!
Dinners are hearty and the main lodge is warm and inviting. In this sense, this place is very traditionally Northern. A big cast iron stove heats the main room with long tables, a TV tuned to the weather channel and two big comfy couches. Everyone trades stories over dinner and a drink.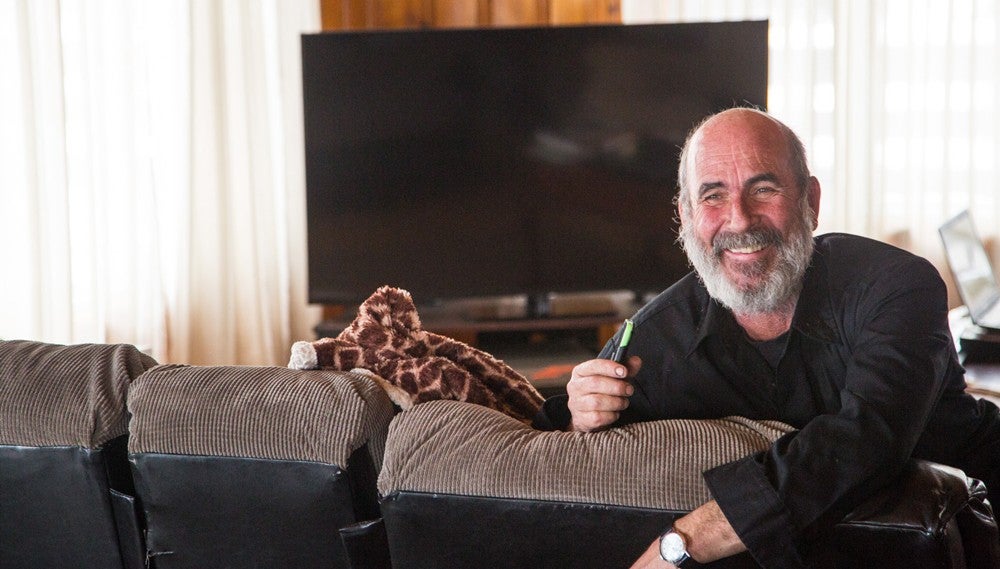 The entire lodge facility itself is off the grid with all of the electricity being supplied by a diesel generator and a vast array of solar panels feeding four 2.5 ton batteries. Mike's engineering know-how has definitely come in handy and a novel heating system keeps all of the cabins extra warm with wonderful radiant heat. Any snowmobiler who has woken up in a motel with electric heat, choking on dry air knows how nice it is to have a more natural heat source when you finally get off the trails.
Horwood also offers what is probably one of the most unique experiences for a snowmobiler – winter glamping. For the uninitiated, glamping is "glamorous camping", meaning that while you are in a tent, you're not giving up any amenities. These three tents on the waterfront are heated and toasty warm, with even a higher level of polish than the cabins.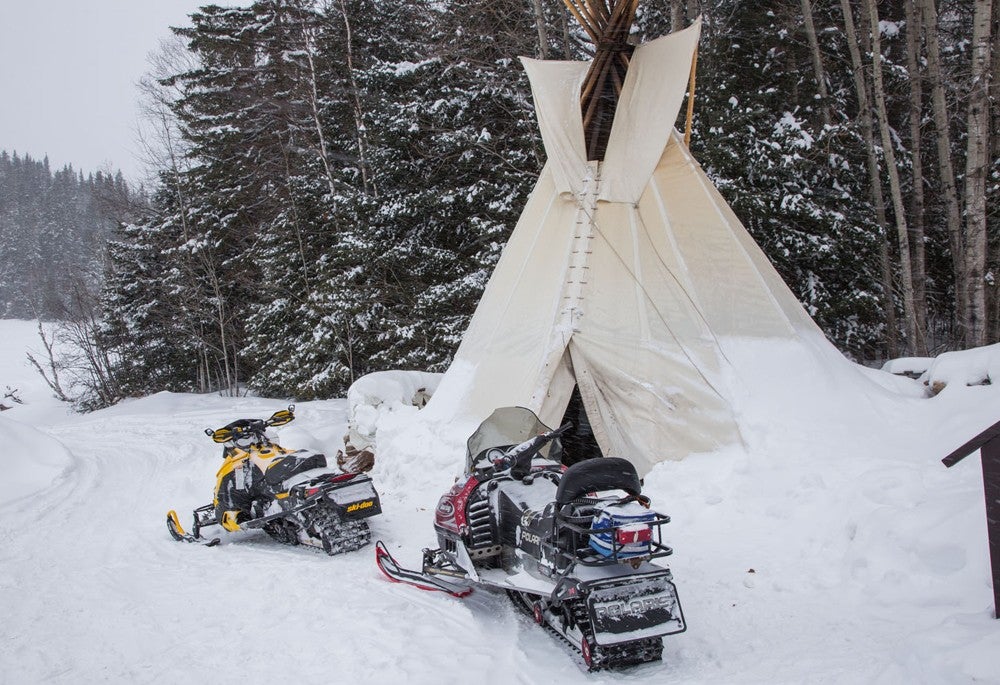 I had the chance to visit Horwood this year and I can verify firsthand how committed Mike and Jaana are to their guests' happiness. We arrived on a Friday, and Mike had an incredible weekend all planned out for us. First off, the Ski-Doo dealer in Timmins, Mikey's, dropped off three killer sleds for us, including their version of the Summit and a Renegade Backcountry.
Horwood's rental fleet will come from Mikey's so we had a very similar experience to what people renting in the coming years can expect. All three sleds performed impeccably, especially on the "six-mile" trail – a shortcut that wasn't officially open yet and we had to do a bit of bushwacking to get through. Mike assures us that brushing the entire single track (which avoids 12 miles of road running) will be done by the time most of you are reading this article. Needless to say, it was a blast dodging branches and working to get around fallen trees.
Once we passed this section it was wide open running in the north country – no other riders as far as the eyes could see, and lots of varying terrain to keep us entertained. It was a bluebird day with only a few clouds in the sky, and just below -10 degrees Celsius. Perfect snowmobiling weather. We tested out the untrammeled backcountry areas with the Mikey's summit and had an absolute blast. Before long it was time to turn back, but the fun didn't end there.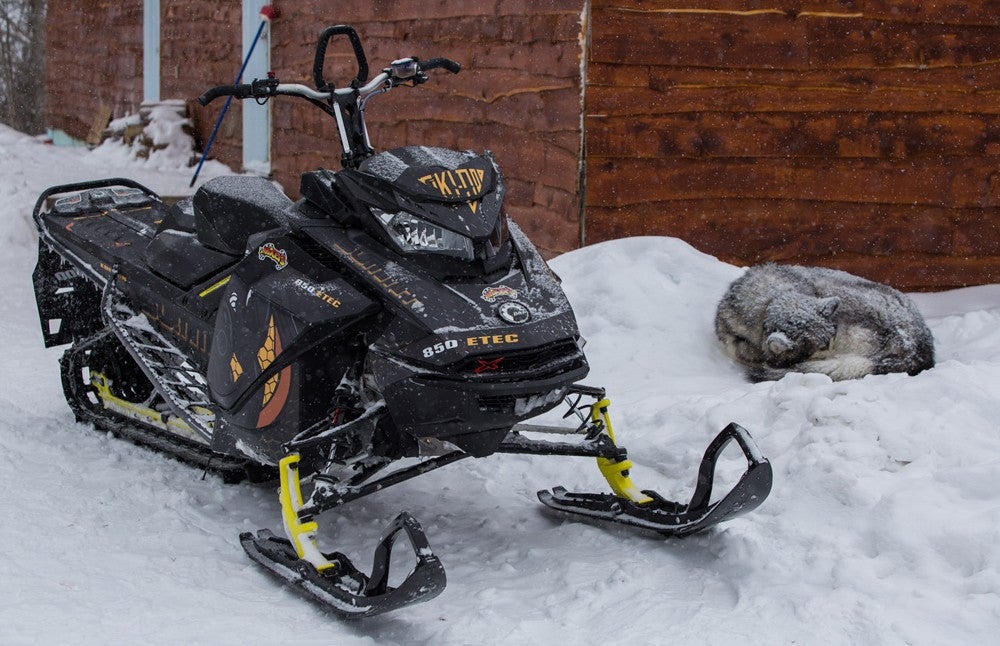 Mike showed his commitment to his guests' good times once again and we got to experience true Northern hospitality in the most grandiose sense. Back at the lodge was a heated outdoor tent filled with dozens of snowmobilers who had come from far and wide for an all-you-can-eat ribs night (provided by Dabrowskis Smoked Meats) topped off with an epic barn burning. You heard me right – it was quite a sight with 40 sledders sitting out on the ice of the frozen lake watching this dilapidated barn burn to the ground – and really, what it makes clear is how dedicated the people at Horwood are to a good time.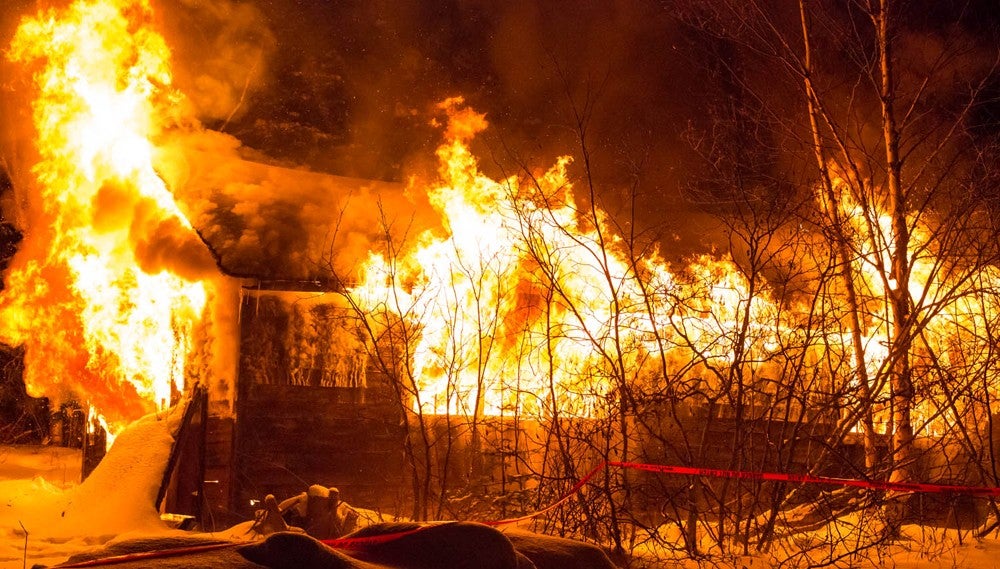 The weekend after we left, they were already planning another bonfire and a drag race out on the lake – their new groomer was pulled into use clearing a nice flat path for any sledder who wanted to put his sled through the paces.
There aren't many places like Horwood Lake Lodge left in the world, and considering that they had just taken ownership two years ago, it's fair to say this is only the beginning. Mike was talking of opening up ATV rentals and trails, and has added five pontoon boats to his fleet. But for now, you've got the makings of a perfect snowmobile trip – less than two hours by plane from most major urban centres in and around Ontario, sled rentals, good food, great trails and a host dedicated to your good time. If it was up to me, I'd be back there already.