Michigan Snowmobile Trail Report: What Trails Are Open
What snowmobile trails are open in Michigan right now?
Our Michigan snowmobile trail report aims to provide you with the resources you need to find out which Michigan snowmobile trails are open, what the conditions are like, and much more.
Michigan Snowmobile Trials
When it comes to snowmobiling, Michigan is one of the premiere destinations on the planet. The state boasts 6500 groomed snowmobile trails that run through state forests, national forests and around some of Michigan's 11,000 frozen lakes.
Keeping Michigan's snowmobile trails groomed and in riding shape are the state's 110 clubs and their volunteer members. These are the people that operate the groomers at all hours to keep the trails open for everybody. Volunteers are the lifeblood of snowmobiling. If you haven't already, consider joining a club and pitching in.
Many of the snowmobile trails in Michigan cross into snowmobile-friendly towns with a wide variety of amenities just off the trail. This means you don't have to go far to find fuel, food or lodging.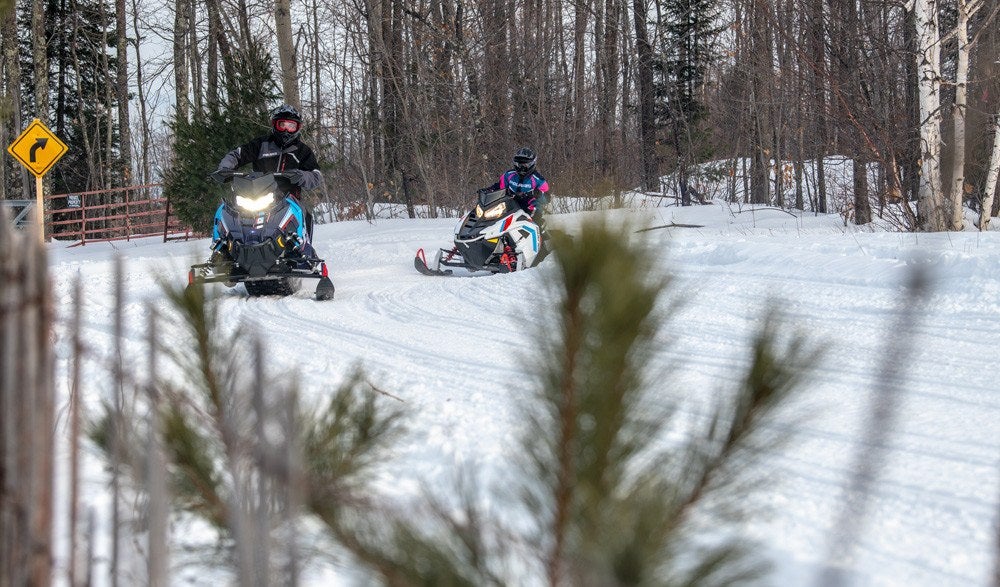 When talking about Michigan snowmobile trails, most people split the state into two parts – the Upper Peninsula and the Lower Peninsula. In the Upper Peninsula, you'll find more than 3000 miles of groomed trails and this part of the state offers some fantastic views and great riding. Check out areas like Sault Ste. Marie (which hosts the famous International 500 snowmobile race) and Marquette. Each boasts plenty of trails and both offer connecting trails to a number of other communities. As an added bonus, the Upper Peninsula is known for seeing lots of snowfall early and late in the season.
The Lower Peninsula offers ample riding destinations as well. Consider checking out Gaylord, which is in the heart of the snowbelt and sees an average of 180 inches of snowfall each year. Cadillac is another worthy location and offers up 200+ miles of groomed trails.
Michigan Snowmobile Trail Report
You can't go snowmobiling without knowing if the trails are open. Fortunately, our Michigan snowmobile trail report offers up several sources where you can easily find all the information you need.
Michigan Snowmobile & ORV Association (MISORVA): A great place to get started is the official website of the Michigan Snowmobile & ORV Association – otherwise known as MISORVA. This site has a Trail Report section that features groomer reports from 67 different snowmobile clubs and groomer associations across the state. Visit them at MSASnow.org.
Northern Michigan Snowmobile: A little more regional, the Northern Michigan Snowmobile Trail Reports on this site look at the Upper Peninsula and northern Michigan. Here you'll find individual trail reports, snow depth map, and more for the northern part of the state. Lots of great information here. Visit them at MichiganSnowmobile.com
FishWeb: You might not expect to find accurate Michigan snowmobile trail reports on a site called FishWeb, but there is some very useful information here for sledders. This site features a page dedicated to Michigan trail conditions. the page is broken down by regions – Northwest Lower, Northeast Lower, Southwest Lower, Southeast Lower, Eastern U.P., Central U.P., and Western U.P. The page also includes a link to a Michigan weather radar, DNR snowmobile maps, and more. Visit them at FishWeb.com.
Michigan Snowmobile Trail Map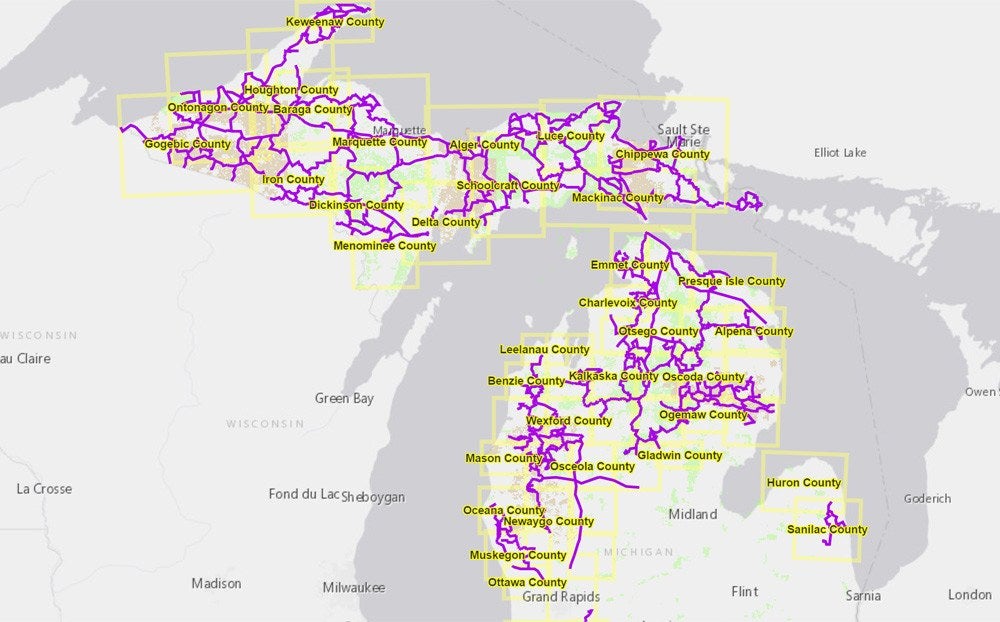 Another fantastic resource we've found is an interactive Michigan snowmobile trail map, which is hosted by the state's website. Follow the link and you'll find a large map with all of the snowmobile trails in the state in one spot. Then just zoom in for more details. As an added bonus, the map is also mobile friendly. Keeping this bookmarked on your phone lets you figure out where you are and how to get where you need to go. Check out the map here.