What is Accessory Coverage?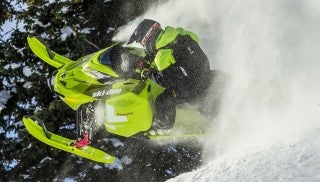 Protection for anything your add to your snowmobile
It's not just the snowmobile that can be expensive. There are a lot of other things that go along with it that make your ride go faster, look sharper and keep you safe on the trails. And these things start to add up, so you want to be covered just in case they are damaged or stolen. If you've got add-ons that are worth protecting, you'll want to add Accessory Coverage to your snowmobile insurance policy.
Snowmobile Accessory Coverage protects your aftermarket equipment and accessories, as well as safety riding apparel. Some insurance companies throw in Accessory Coverage or give it to you at a discounted rate when you purchase Comprehensive or Collision coverage. In most cases, at least $1,000 of Accessory Coverage is provided, depending on where you live and how tricked out your snowmobile is, but you can purchase up to a total limit of $30,000.
So what is classified as an accessory under this kind of policy? These include equipment, devices, enhancements and changes that alter the look or performance of the snowmobile, other than those the manufacturer originally installs. Here's a list of what can fall under Accessory Coverage:
• Custom paint, engine modifications and suspension/springs
• Any electronic equipment, antennas and other devices used to send or receive audio, visual or data signals or playback recorded media that are permanently installed on the snowmobile using bolts or brackets (including slide-out brackets)
• Trailers that can be pulled behind a snowmobile
• Saddlebags, hitches, seats/backrests, exhausts, racks and windshields
• Safety apparel, including helmets
• Plow blades or winches
You may not realize how much you actually have invested modifying your snowmobile. It's worth going through your receipts to see how much you've spent and if adding Accessory Coverage to your snowmobile policy is worth the extra charge. Talk to your powersports broker or insurance agent to see if you're already covered before shelling out the extra cash.