2017 Arctic Cat ZR 6000 RR Review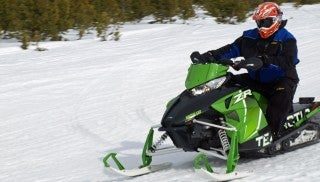 One of the best all-around flatland trail sleds available
Arctic Cat turned us into "race replica" fans with its RR series. Usually such replicas are too stiff, too harsh and just not to our liking at all, but Cat's race replicas are different. Our particular favorite is the Cat-engined ZR 6000. For us, this sled represents the "bests" of snowmobiling.
Fast Facts
Engine: 599cc C-TEC2
Power: 125+ hp
Track: 15 x 129 x 1.25 Ripsaw
MSRP: $12,699
View Full Spec
While probably not the lightest of current high performance 600cc models, the ZR 6000 RR feels as nimble and easy to toss into a turn as any Ski-Doo REV or Polaris Rush. Granted, when comparing weights of the top race replica models, the Polaris 600 Rush XCR probably leads the pack at a claimed 449 pounds. That's 20 pounds lighter than the MXZ X-RS Iron Dog model Ski-Doo offered as an early season purchase. Since Cat doesn't announce sled weight, we have to figure it's greater than the others…but probably not a whole lot.
This Arctic Cat matches the competition under the hood, but with a uniquely Arctic Cat two-stroke twin. Measuring 599cc, this Cat-designed and manufactured power element features Arctic Cat's own two-stroke Clean Technology (C-TEC2) that uses a dual-stage injection. This system injects fuel directly into the combustion chamber at low engine loads. As engine loads increase, fuel is then injected into the crankcase area and the transfer ports. The idea is to improve fuel/air transfer efficiency while adding lubrication as needed.
The end result of this Arctic Cat engineering effort is a 600 series twin that weighs 10 pounds less than its Suzuki-built predecessor, yet still commands what Cat says is a class-leading 123-horsepower at 8100 revs. Cat suggests that its C-TEC2 is up to eight pounds lighter than the competitions' 600 twins.
Regardless, in seat of the pants test riding, we don't see you giving up much – if anything – to the direct injected Ski-Doo 600 ETEC or Polaris' semi-direct Cleanfire 600. Across the line of ZR 6000 models, Arctic Cat upped its performance game by working with Team Industries to develop a set of matched drive and driven clutches to maximize the C-TEC2's on trail performance. Which of the three race replications truly tears up the time sheets? Don't know and, frankly, don't care as they will all satisfy your needs. Ski-Doo and Polaris fans will claim their sleds are quickest and fastest. May well be true. Don't count on it and, please, park your mid-life crisis red sports car. All of these sleds are very well rounded.
The reason we enjoy the ZR 6000 RR is due to its all-around trail capabilities. Too many race replica models bring too much track and too little trail to the party. If we wanted a stiff-riding, snocross banger, we'd finagle a race sled. What we want, and what the ZR 6000 RR provides, is a sled with race-like features that won't herniate a back disc after a 100-mile ride. It offers very good throttle squirts when you need to gain a bit of air or want to throw snow off a corner.
What we really like most, though, is how the suspensions work. Cat engineering figured out that, despite our most manly wishes, we want a sled that looks race-ready but can be easily set up for very quick rides over end of the weekend trails. Outfitted with premium shocks, the RR's new three-way quick adjust Fox QS3 shocks may be our favorite shocks of all time – well, excluding the future of course.
The ZR 6000 RR features Fox QS3R shocks up front on the high-spindle Arctic Race Suspension and another set for the slide-action rear suspension. These premium QS3R shocks come with Fox' Kashima coating for smooth cold weather performance. The ease of adjustment is truly impressive. Simply move the shock selection lever to one of three positions from a trail-oriented LXR-type setting to a full big bump racer setting. Here's the genius of the Fox QS3, if you don't like the settings, you can send the shocks to Fox and have them change any or all of the settings. Maybe you'd prefer a softer "Number One" setting, but you like the middle setting and want to tone down the third big banger set up. Fox can customize your shocks however you want them. You'll need to chat with your dealer or Fox as to how best to arrange this. You might check Fox online at http://www.ridefox.com/service.
We're certainly not as fussy about shock setup as many racers and serious trail pounders and that's why we've gained a fondness for the QS3 design. Just a quick lever switch changes the personality of the ZR 6000 RR and lets this race-bred front suspension do its magic over its 10 inches of travel. We've found that the ZR 6000 RR invites you to push in more throttle over seemingly rough trail sections. The Cat suspension works well in stutters and can handle those big drops where you go "Oh, crap!" Handling-wise the front end sway bar keeps the plastic Procross-6 trail skis planted thanks to their stiff, deep keel. Thank goodness snowmobiling has progressed beyond those old steel ski slappers that vintage riders seem to enjoy.
We also appreciate many of the "little" things the basic Cat RR provides. The high-performance seat comes packed with bump absorbing sandwiched foam to minimize trail jolts. Of course, the ability to rise up off the saddle and ride standing through really rough terrain reflect today's rider-forward thinking. Then, too, that Cat engineered handlebar has to be one of the best ever fit to a snowmobile. The bar dips and curves to meet your hands when setting up for a run through switchback forest trails and is positioned just right for those stand up runs. If you don't like the reach offered with the standard riser's height of 5.5 inches, you can order an accessory riser for a custom fit.
That's the thing with sleds like the RR, they can be outfitted to reflect your riding needs. After all, when trail temperatures fall to serious below zero digits, is that "race" windshield statement worth it or would you prefer a taller wind-deflecting one that may not be as "cool," but would be warmer to ride behind?
With its trail gripping 129-inch Ripsaw track, convenient standard electric start and pushbutton electronic reverse, this sport sled combines all the trail sport features you need with the ease-of-operation features you want. Like we said, Arctic Cat really understands the needs of the performance trail rider who wants the advantages of race sled inspired technologies with sport riding comforts. The ZR 6000 RR is one of three racer-inspired super sport sleds offered in 2017, but in our minds, it is the best all-around of the three for you if are a serious sport rider who makes big miles in a season.