2021 Arctic Cat R-M, R-SX and R-XC Race Sleds Announced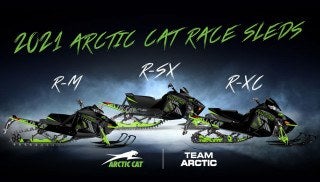 Three new sleds for three racing disciplines
Arctic Cat has unveiled three brand new race sleds designed for three racing disciplines for the 2020-2021 season – the R-M, R-SX and R-XC.
Arctic Cat R-M

Designed for hill climb competition, the new Arctic Cat R-M is supported by Arctic Mountain front suspension with vertical steering and Alpha One rear suspension. It also benefits from a list of improvements designed for racers.
Key Features
Reinforced running boards with added width and traction
Stronger rear tunnel section
Lightweight composite steering support
TEAM Rapid Response II Drive and Rapid Reaction Driven clutches
All four shocks come standard with QS-3 (Quick Switch 3 position) compression adjustment
154" x 2.6" x 2.86" Power Claw track
Arctic Cat R-SX

The new Arctic Cat R-SX is ready take on the snocross racing circuit and Cat says it offers throttle body injection, improved low end power and response, two-inch longer front torque arm, revised rail braces, and new snow flap with ISR required roost protection.
Key Features
Fox 2.0 Zero C Front Track Shock with position sensing grooved body
Spring designs to support the 2.0" body (optional rates available)
20/49 gearing with TOS slip clutch 49 tooth bottom sprocket to eliminate peak spike loads
Manual chain adjuster for optimal adjustment settings
TS-273 TEAM driven with Lightweight Tubular Driven shaft
V-Force Reeds
Race inspired upper chassis structure giving improved ergo
3 Gallon lightweight Fuel tank
Adjustable camber front suspension
Arctic Cat R-XC

The final piece to Arctic Cat's racing puzzle is the R-XC, which is designed for cross country racing. This sled boasts lightweight engine mounting with carbon fiber TCL engine plate.
Key Features
Lightweight composite steering support (3/4 LB Weight reduction)
TS-273 TEAM driven and Lightweight Tubular Driven shaft
23/40 gearing -Borg Warner Chain and Sprockets for reduced stretch, lower friction, and increased strength
40 tooth Torque Overload Sensing (TOS) Bottom chain sprocket for eliminating spike loads into the drivetrain
TEAM Rapid Response II Drive Clutch delivering constant belt tension for optimum performance at all times
Offset Ski spacers for Adjustable Ski Stance
86" Pitch 8 tooth Track Drive shaft for Added Ground Clearance
86" Pitch 129"x15"x1.25" fully clipped Ripsaw track for better all-around performance
Stealth brake master cylinder
Race Proven Slide Action rear suspension with 7 Position Rear coupling
Lightweight 4-wheel rear axle design
Rail allows for additional mounting holes for front arm shock (ice racing)
All 4 shocks come standard with the QS-3 (Quick Switch 3 position) Compression Adjustment
Lightweight exhaust system