Arctic Releases Two New 2018 Models and New 800cc Twin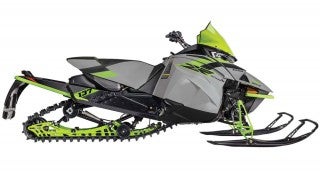 2018 Arctic Cat ZR8000 Sno Pro and M8000 Sno Pro revealed
When the Arctic Cat-built 600cc C-TEC2 was introduced, you knew a bigger 800 had to follow. The time has come as Arctic Cat just introduced the first-ever Cat-built 160hp class engine to get a jump on model year 2018. Two new "early release" models get the ball rolling; a sporty trail performance ZR8000 Sno Pro with 129 or 137 track lengths and the new Cat-powered 2018 M8000 Sno Pro with either a 153 or 162 track.
Both new-for-2018 snowmobiles feature Arctic Cat's all-new 800cc two-stroke twin. Engineered by Arctic Cat in Thief River Falls, Minn., the new 800 twin will be manufactured alongside the company's 600 C-TEC2 at Cat's St. Cloud, Minn., facility, home to Arctic Cat ATV and UTV engine manufacturing.
Displacing 794cc, the new twin features the latest version of Cat's proprietary "Clean Technology 2-Stroke" (C-TEC2) technology that was introduced with the 600cc C-TEC2 engine. Both Cat-engineered power units use Cat's unique Dual Stage Injection (DSI) that at lower speeds injects fuel directly into the combustion chamber. As engine speed increases, a fuel-oil mixture is injected into the crankcase area via transfer ports for added efficiency and lubrication of key engine components. This degree of more efficient lubrication comes from injecting oil with the fuel. There is also the addition of side valving to better control fuel delivery.
Because this new 800 replaces a popular Suzuki 800cc twin, Cat engineers worked diligently to design their engine with improved reliability and durability and to imbue it with a wider and stronger mid-range capability. It is expected that the new engine will offer up to 18% more torque beyond 6000 rpm and upwards of 30% more below 5000 revs. Early test rides of a pre-production ZR8000 indicate that Arctic Cat engineers achieved their goal.
Cat engineers expect the new 800 C-TEC2 to be quieter and smoother than its predecessor, as it fills the same 160-horsepower class niche. It offers stronger midrange response as well as improved fuel and oil efficiency. Although sharing engineering attributes with Cat's smaller displacement 600 C-TEC2, the new 800 adds evolved technology that includes a fuel rail damper for even more consistent fuel delivery and material upgrades in various components.
A limited numbers of early release ZR8000 Sno Pro and M8000 Sno Pro models will be at select Arctic Cat dealerships across the snowbelt effective late January.