2018 Polaris AXYS Pro-RMK 800 155, 163 and 174 Review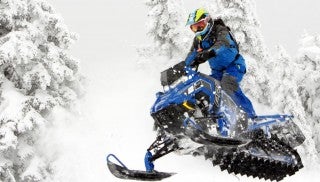 Where the "Pro" remains Tour de Force
What the heck, there's three of 'em, three Pros; a 155, a 163 and that long one over there, that's right, that one, the 174.  Want a Pro? Get a Pro.
Fast Facts
Engine: 795cc two-stroke twin
Power: 160+ horsepower
Track: 15 x 163 x 1.2.6 Series 6
MSRP: US$13,799 / C$15,499
So much has happened on the mountains this past 2017 season. Ski-Doo sent an army of 850 Gen-4 Summit soldiers to take and hold many mountain tops. With that, Arctic Cat with its Mountain Cat also staked out its own high peak claims. Let's not discount a few chutes claimed by the big four-stroke turbo 162s, the Sidewinder M-TX from Yamaha and King Cat from Arctic Cat.
Now 2018 is upon us, and for the two-stroke crowd, the 850 Summits will continue strong, Arctic Cat's much lightened M8000 Mountain Cat and Sno Pro with new domestic-built motor will show its claws, and Polaris will remain steady and faithful to its fan base as the lightweight King with proven tech; many want to be like backcountry experts and freestylists, Chris Burandt, Dan Adams or Sahen Skinner, or multi-event competitive hillclimb champion, Keith Curtis.
For many years, the ever popular AXYS Pro-RMK 155 has been Polaris' best-selling snowmobile, but is now challenged by another Polaris long track, the 163 Pro-RMK. Insiders at Polaris tell Snowmobile.com that AXYS Pro-RMK 155 and 163 sales are just about even. The 163 Pro-RMK being a light snowmobile overall, especially with Series 5 2.6-inch paddle track and lightweight Quick Drive Low Inertia Belt Drive system, can challenge its shorter track brother for sales-leader bragging rights. Looking back, don't forget, the earlier Pro Ride-chassis Pro-RMK 155 for three years held the distinction as the industry's sales leader.
It is fairly common nowadays for a mountain snowmobile, a snowmobile from a small market-share demographic, to be the highest selling new snowmobile for a model year. We do not have sales numbers from the International Snowmobile Manufacturers' Association (ISMA) as to which model year 2017 mountain snowmobile leads all others, but we have a feeling it may be the Gen-4 REV Summit 850 from Ski-Doo. But if not the new Gen-4 Summit, then we would assume the Pro-RMK 155 or 163 would wear that crown again. We'll know more as the number crunching folk finish crunching final sales numbers for model year 2017.
Regardless, mountain snowmobilers still purchase Pro-RMKs. Though for model year 2018, the only changes from the previous year lay in Spring-buy options – graphics, storage and tunnel bags, instrument cluster, colors, bumpers and shock packages, to name a few – Polaris has folk who yearn to own a "Pro" and will only settle for a "Pro," as the Pro-RMK is known in the West.
Why is that? Though no changes were laid on to the 2018s, the AXYS Pro-RMK, be it a 155, 163 or 174, works very well. These snowmobiles are light in weight, strong, good looking, functional, agile, nimble and narrow, and are three mountain snowmobiles that exhibit superb power-to-weight.
The three AXYS Pro-RMKs have off-road appeal, especially the Spring-buy LE – Limited Edition – models with their front bumpers, two- to three-color combinations to include a retro-TX schematic that takes us back to the mid to late 70s. These Snow Check Select specials have fine seat stitching and differing color seat panels, hyfax rails, ski hoops and windshields.
For these three Pro-RMK models, it's the simple that makes these modern mountain muscle sleds attractive. The simple being its hood latches, hood and side panels, open-port runningboards, and its minimalist handlebar and console controls. Complex mountains are busted down by the simple.
Another sweet Pro-RMK gadget is the GPS-equipped Interactive Digital Display instrument pod. This pod rests at an angle for proper for viewing while standing and gives engine stats, temperature, elevation, time and location, and is Bluetooth capable. Riders can sync a phone to the instrument pod to display text messages and show what song is playing.
The Pro-RMK Pro 155 standard comes in at 408 pounds. The standard 163 Pro-RMK has a dry weight of 413; these weights are for the non-Spring Buy Pros which are not fully-loaded and accessorized with rear tunnel bags, handlebar bags, Series 7 three-inch paddle track with chaincase, sled wrap kit, and front bumper.
For the 174 Pro-RMK LE, it too remains light. The 174 does not have a raw twin, a standard 174 with minimal paint and options, therefore, the LE is the only choice. But at about 435 to 440 pounds – dry – it is a light super longtrack; weight variances depend on Snow Check Select options.
Regardless, if you choose to load up your 155, 163 or 174 Pro-RMK with Polaris' long list of accessories, your Pro will remain lighter than an Arctic Cat Mountain Cat and Ski-Doo's Gen 4 REV Summit X 850; but understand, this is not by much anymore as the 2018 Mountain Cat and 850 Summit X are coming down in weight. However, Polaris' deep-powder reputation lays in power-to-weight, which makes a manufacturer king, and Polaris remains the power-to-weight king in the two-stroke segment.
Inside the three 800 Pro-RMKs is Polaris' CleanFire 800 H.O. (high output) two cylinder two-stroke fuel injected motor. Horsepower for the RMK Pro – as declared by independent testers – is between 164 and 168. This means the 155, 163 and 174 Pro-RMK will glide on top the fresh powder with simplicity. (There's that word again.)
The Pro-RMK's 800 motor is crafty, making vehicle speed in a pianist's way, hitting the small notes early then whacking the deep keys as momentum builds. After a full season on a 2017 Pro-RMKs 163 and 174, each with Series 7 track (three-inch paddles) we've come to look forward to the motor's hard hit like a seventh grader looks forward to a brain freeze from a blood-orange Icee. The motor idles quiet and then when lit up, it throws the AXYS chassis forward where the RPM quickly climbs to its optimum ceiling of 8100 RPM and holds, keeping the chassis flat and zippy. This H.O. motor, after a year's worth of experience, is not a peaky motor, where motor speed climbs, spikes, and falls off. The drive and driven clutches, properly calibrated for elevation, provide confident and reliable upshift and downshift.
All AXYS Pro-RMK models with Series-6 track (2.6-inch paddles; 155 and 163 only) are built with Polaris' exclusive Low Inertia Quick Drive belt drive system; a drive system only found on Polaris RMKs.
The front suspension is the AXYS RMK Adjustable, whereas the rear suspension is the AXYS RMK. Shock package for the front and rear is dependent on model, be it standard, LE or three-inch (for three inch, Series-7 paddle track). Shock choices generally are for the Pro-RMK Pro, Walker Evans Impact-Extruded Monotube shocks with remote reservoirs, and for the LE and 3-inch, a combination Walker Evans Compression Adjustable Piggyback shocks and Walker Evans Impact-Extruded Monotube shock. Only the LE Spring-buy can be had with a three-inch paddle track.
For those who purchased a 155 or 163 RMK Pro with Series-7 3.0-inch paddle track, it will have a reliable chaincase drive system. The 174 LE comes only with the Series-7 track, therefore the chaincase is standard.
Polaris' narrow AXYS Pro RMK allows a driver to stick it hard into a steep slope without its side panels pushing out the Pro and its track; a truism in the mountain snowmobile world called "paneling out." In defining this truism, the outer edge of the skis and track remain in the snow, when the chassis is set on edge. The open and narrow PowderTrac runningboards contribute the RMK's hook-and-go stance.
The AXYS Pro RMK's rear suspension is rigid, side movement, known as pivot in snowmobile vernacular, does not exist. Polaris RMK customers want zero rear suspension lateral movement; they want complete control over their sled. Polaris feels its customers do not want their input energy being transferred to a rear suspension that swings. For us, we understand their opinion. However, we also understand Ski-Doo's thoughts behind the T3. It is you that will need to work this out. The lightweight rigid rear suspension is built to control pitch, thus improving weight transfer. According to Polaris, "The rigid suspension delivers power directly to the snow."
Polaris' Pro-RMK is the lightest mountain snowmobile on the market. For mountain riders, less-is-more, and with the Pro's lightweight, powerful motor, stellar power-to-weight, it is the lightweight king. (But, as Ski-Doo and Cat chase this down, the next couple years may see Ski-Doo and Cat matching Polaris' weight; it is going to be an exciting two to three years.)
The AXYS Pro-RMK is a dominant mountain machine. My gosh, as I read the press releases from Polaris and the other OEMs on Rocky Mountain Snowmobile Hillclimb Association (RMSHA), Pro-RMK, be it Stock or Improved Stock, the 800 Cleanfire H.O., lightweight chassis, well-mapped front and rear suspension, carried many riders to the podium. Polaris dominated the hillclimb circuit.
We hope Polaris does not feel it needs to fix that which is not broken. The Pro-RMK, as we have come to know the 155, the 163 and 174, are reliable friends that never leave – no matter what the situation.
Back to driver thoughts. The AXYS Pro-RMK chassis is light and does indeed get up on top of the snow. In powder, the raised RMK chassis goes through the deep snow with ease. The high center-of-gravity makes rolling the sled on edge easy and it has a wide sweet-spot when sidehilling, which makes it stable and predictable. Now, the 155 and 163 are known favorites.
But what about the 174? This is simple to explain. The 163 feels and handles like a 155, but floats like a 163. The 174 feels and handles like a 163, but floats like a 174. Some may find the 174 too planted – too secure. That was the consensus among our well-experienced guest-test riders. For me, I'd have the 174 as my go to Pro-RMK any day. Oh, I love the 155's nimbleness, the 163 all-around get-it-done attitude, but the 174, is my favorite Pro.
For tracks, we feel the Series-6 2.6-inch paddle track is Polaris' best all-around and all-purpose track. Too, with the 2.6 track, comes the belt drive system. We understand Polaris' reasoning with the 174 coming only with the three-inch paddle track, as it is built to be the uber super deep-powder mountain muscle sled. But if it were me, I'd place the 2.6 under the 174 and give it the belt drive. Why? This will make the 174 a Spring-ride snowmobile.
The AXYS Pro-RMK chassis easily handles many snow conditions on varied hillsides. We take note of this especially when sidehilling across a previously trenched-out mountainside; its handlebars stay positive in the hands of its operator. Mountain snowmobiles that have zero or minimal handlebar slap, make a mountain rider happy.
Speaking of handlebars, we implore riders to choose the lowest post for their Pro-RMK, it makes tree running simpler. After multiple visits to extreme backcountry rider clinics, low posts make boondocking less taxing. Choose the lowest post for your height and arm length.
The overall quality – fit and finish and styling – for the three Pro-RMK LE models, is appealing and attractive. Polaris' many wrap options and colors are candy on a sled. Yummy looking. The Series-7 three-inch paddle track is impressive; but then so is the Series-6 2.6.
For us on the Mountain Team, we find the 800 AXYS Pro-RMK 155 highly nimble, like that of 141/144/146. The 163 is the best all-around mountain tamer, especially with the 2.6 track. The 174 is one Pro-RMK LE riders need to experience – come to know and learn – in many snow conditions. Once schooled, the owner will come to appreciate its simple length. Yes, the 174 is "flickable," but in its own unique way and in the right deep-snow conditions.