How To Upgrade Your Polaris Snowmobile This Summer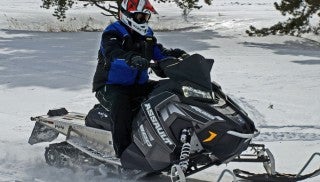 Polaris provides on-sled convenience with to nice-to-have add-ons
Filling more than 20 individual sled niches from extreme deep snow to value sport to big-footed extreme crossover, Polaris not only offers a great variety of sleds, but adds to each model's versatility with an amazing selection of support gear so you can upgrade your Polaris snowmobile. Deep snow fighters will find an assortment of handlebar accessories to custom-fit their riding moves as well as all manner of lightweight backcountry carry-on pieces. Trail riders can opt for customized sled wraps, various windshield sizes and shock options. Polaris' all-new Titan showcases the versatility of a new lockable component system that's unique to this sport-oriented wide tracker.
All in all, Polaris offers a generous number of add-ons to provide any Polaris rider with the ability to fully customize new and older Polaris models with their own unique identity. One thing that has impressed us with the 2018 model accessory catalog is the attention Polaris parts and accessories staffers have paid to making the pieces work toward creating maximum on-trail comfort and usefulness. We suspect that this came about because the Polaris engineers we've met in recent seasons are throwbacks to the Polaris engineers of old. These engineers ride the product. They enjoy the product and they keep looking for ways to make Polaris products work better, be more purpose-built, more rider-friendly, more attuned to the needs of serious snowmobilers, like themselves.
We've found ourselves being as impressed with this new generation of Polaris engineers as we were with their legendary forbears like the Bob Eastmans, Jim Bernats, and the like. These young Polaris engineers truly enjoy their work, they like to ride, they understand that what they do plays a major role in the success of Polaris and cements the relationship between the product they build and the riders who buy that product. Those early Polaris engineering legends developed the Starfires, TX-L, the Indys and added features like liquid-cooled brakes and runningboard-mounted cooling. And like that past generation, today's generation of Polaris engineers lets their work speak for them. Lighter, faster, higher. And, with the new line of add-ons, add more versatile, more stylish, more comfortable.
For 2018 Polaris has managed to create exceptional competitive models made more so with an array of excellent accessory options. As an aging rider who tends to bruise a bit when banging in the rough, we appreciate the concessions Polaris accessory engineers make for us. Well, not really, but we benefit from add-ons like Snowmobile Knee Pads. While Polaris suggests that the knee pad set suits more aggressive riders, it is a nice-to-have item for everyday riders, especially if you ride an Indy, which puts you tall in the saddle with your knees in position to tap the console when riding over rough trail sections.
The knee pads are three-eighths of an inch thick, attach quickly with 3M-brand adhesive and can be easily placed in a spot to lessen knee-to-console impact. We've used pads like these on other sleds and, while they may not be the most stylish pieces, they work, adding comfort for the long haul. At about US$40, knee pads are a small investment for on-trail comfort. Click here for more information.
Another comfort item for sport sled riders is the set of Universal Formed Snowmobile Handlebar Gauntlets (MSRP US$74.99). Think of these gauntlets as almost "must-have" handlebar attire for really, really cold riding days of negative 10 or lower. Even if you have a wide, wind-deflecting windscreen, this add-on is useful and installs quickly thanks to its hook and loop fastening design. On warmer days, this accessory can be stowed in your onboard luggage. But when you need extra hand protection, you'll appreciate the gauntlet's water and wind-resistant construction and its heavy polyfoam insulation. Click here for more information.
Polaris lets you outfit your ride with an assortment of racks and luggage options. If you have a newer Polaris AXYS chassis model, you'll find adding the AXYS LOCK & RIDE PRO-FIT Sport Rack provides a versatile cargo-carrying solution. At a suggested price of US$104.99, this rack is a featured part of Polaris' PRO-FIT Storage System that also includes a sport rack bag, sold separately, but designed to complement the Lock & Ride system. You can remove the bag when not needed, but retain the functionality of the durable aluminum construction rack. Available in a durable matte black powder-coated finish, the rack comes with all mounting hardware for installation on AXYS Switchback models. Click here for more information.
Another option is adding a set of Polaris Soft Saddlebags (MSRP US$99.99). In keeping with current accessory popularity for saddlebag design, these bags feature a contoured semi-rigid design that creates an integrated "look." One reason for the use of this semi-rigid styling is that this type of bag construction provides resistance to moisture – helping to keep your gear dry – and lets the bags retain their shape even if empty.
This is a very affordable add-on that gives you ready access to gear via a heavy-duty zippered opening. The zippers are designed to resist both freezing and snow build-up. We've found that this new semi-rigid styled bag attaches easily and can be quickly removed at the end of the ride, making this bag option perfect for quick day trips. Click here for more information.
If you didn't opt in for Polaris' innovative interactive display system, then adding a handlebar mounted map bag will work for you. We've found such bags save time over stopping trailside and yanking a soggy map from a jacket pocket. Indeed, map bags like the Polaris Handlebar Map Bag (MSRP US$29.99) allow you to view the map through a clear poly window, which is impervious to cold and falling snow. This specific map bag attaches with Velcro strips and can be kept clean with mild soap and water. The Polaris Map Bag has enough room to store several maps. We especially like this type of accessory as we highlight our route with a marker and keep the map readily in view to minimize on-trail confusion. It may not be as modern as a GPS system, but it's worked well for us for many years. Click here for more information.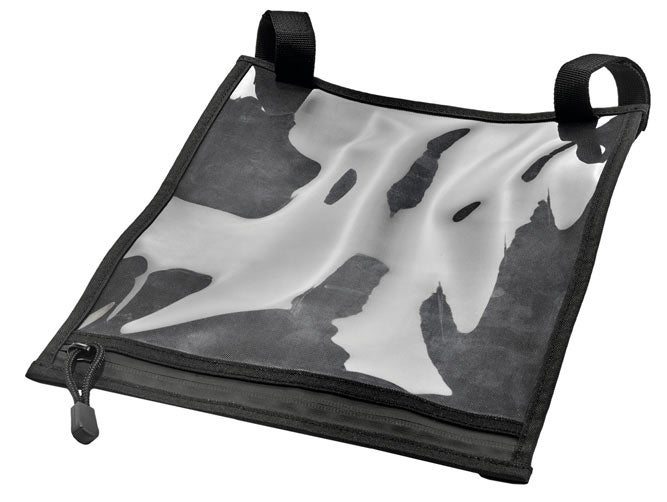 Another nice-to-have convenience and comfort add-on to consider, especially for deeper snow riders, is Polaris' Pro-Ride Ultimate Defrost Bag (MSRP US$139.99). You might want dealer installation for this item as the system requires attachment of an external aluminum bracket to reposition your sled's instrumentation for easier visibility while standing. Click here for more information.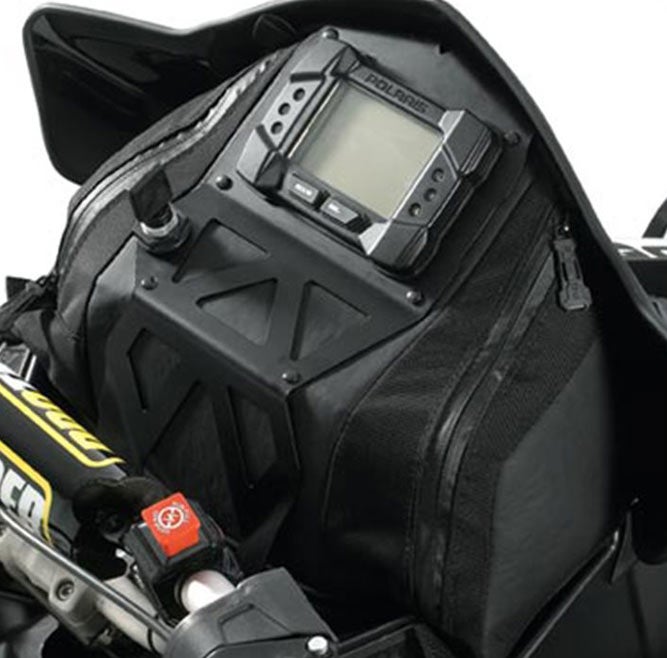 The heated bag portion has a zippered compartment with side venting and offers an ideal place to store items such as extra goggles or gloves.
We recognize the popularity of Polaris' fleet of sleds built around the versatile 144-inch platform. With that versatility comes a need for onboard storage like that of the Cargo Rack Bag 144 retailing for a suggested US$139.99.
This cargo bag's dual storage capabilities make it a bit unique, but certainly add to its usefulness. A smaller containment area up front has its own access lid, while the larger rear compartment also has separate access that can hold larger items. This tunnel bag features a compression-molded lid that's designed to keep out moisture. The bag is constructed of a combination of molded polyurethane and ballistic nylon with hook and loop wraps. The bag complements Polaris' 144-inch Cargo Rack. Click here for more information.
With a myriad of storage options and nice-to-have convenience items, Polaris assures its loyal Polaris ownership of the ability to customize their sleds, new or older, with just the right add-on products engineered for proper fitment and style to make their ride right for their needs.
While these products are available through Polaris Dealerships, you can preview them – and many more – online at https://snowmobiles.polaris.com/en-us/shop/accessories.