Snowmobile Gear for the Savvy Touring Rider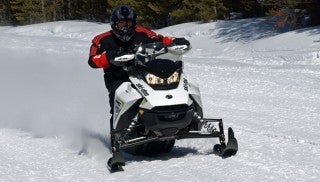 Useful accessories for the mile burners
When it comes to us non-mountain riders, there's quite a few of us counted amongst the universe of 1.2 million registered snowmobiles in North America. Most of those sleds are registered in what mountain snowmobilers call the flatlands.
No matter how you cut it, the vast majority of us snowmobilers are, indeed, flatlanders. Quebec and Ontario count more than 335,000 registered sleds. South of the Canadian border Michigan, Minnesota and Wisconsin count more than 600,000 of that 1.2 million total. The mountain states? You can coax the plus side of 100,000 units.
Ironically, if you follow the thinking of the snowmobile companies, the western areas of deep powder are where the sales are. We guess that's right as that seems to be the rare place where consistently measurable snows fall and attract the most profitable sales for sleds like the Polaris Pro-RMK and Ski-Doo Summit. The highest percentage of sled sales has been in the western regions of North America in the past decade or so, although back in the days of real winter, those areas historically sold the lowest percentage of new models. So, while we flatlanders may outnumber our powder riding brethren by a substantial margin, it seems that enthusiasm for flatland riding doesn't compare as you'll find substantial attention placed on deep powder models. Of course, Ski-Doo has made a major effort toward flatland riding with the advent of its all new GEN-4 platform and 850cc ETEC twin. Thank you. And thanks to Yamaha with its mind altering Sidewinders that are quick and fast enough to make blinking while riding a caution.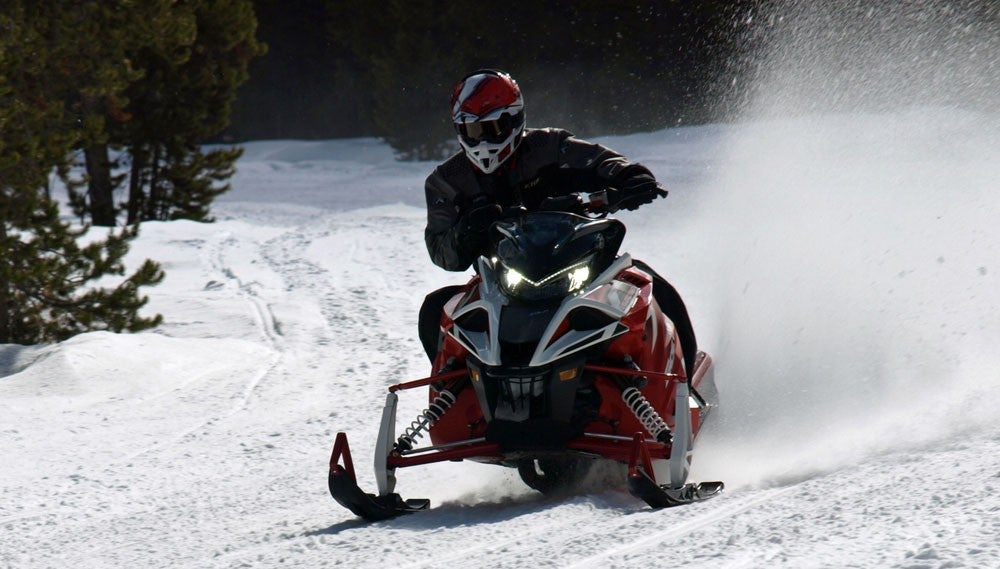 So while we bemoan the belittling of flatland riding, we ourselves are not simply proud flatlanders, but, perhaps even worse, we are touring-oriented riders. We can ride all day and prefer to remain unstuck, which may be anathema to our powder counterparts. While we may ride trails and stay on the low ranges, we like to outfit our sleds in a fashion that suits our flatland mentality. Just as our powder riding friends seek gear that best suits their riding enjoyment, we look for accessories and gear that gets us high mileage benefits for our riding style. In the deep powder, a day's ride may be 100 miles. On groomed flatland trails a day's ride can encompass 250 miles, more or less depending on our mindset.
To accomplish the 1,200 annual miles that the snowmobile industry figures is an average snowmobiler's mileage, we spend about US$4,000 on our chosen recreation. Some of that is on destinations or getting to destinations, but some is spent on new gear.
As a flatland touring rider, we view making comfortable, steady miles as a necessity. There are the fast and quick days, but there are serious miles days as well. To make the most of trail riding, we figure there are basic must haves and nice-to-haves.
In the must haves category comes personal gear to ease our travel. Now that we've discovered the benefits of the BOA quick tensioning snow boots, we've decided to become greedy and seek out boots with the new dual zone lace tensioning system. One such boot is FXR's Tactic BOA Focus Boot.
Last season we had our first ever pair of BOA-equipped quick lacing snowmobile boots. They worked amazingly well and really made putting on and taking off incredibly easy. Fortunately, they were warm and dry. What we've seen in modern BOA snow boots from companies like FXR is a continued evolution in high grade snow wear. The Tactica BOA Focus boot retails for US$380 and features two tensioning reels to provide an improved fit.
These boots have a molded inner heel flex insert, minimal seams in the areas where the boot might contact the sled and a removable liner with its own speed lace. (For more information about the FXR BOA boots, visit www.fxrracinmg.com)
Another respected name in snowmobile gear is Polaris-owned KLIM, which continues to evolve its Adrenaline GTX BOA line of snowmobile foot wear. Klim's Adrenaline BOA Boot blends the legendary features of its highly popular Adrenaline Boot with the BOA lacing system. This GORE-TEX boot with the BOA lacing system offers a quick and well distributed lacing pressure that lets you fine-tune comfort. Plus, you'll really like its quick-release function that lets you kick-off your boots in seconds. The boot, which retails for US$350, features 600 grams of premium 3M THINSULATE Insulation for optimum warmth. (For more information, visit www.klim.com)
Another key to enjoying days on the trail is being able to stay out on the trail without fear of running out of fuel. If you have a Ski-Doo with the LinQ system, you can add an extra four gallons of fuel capacity with the Stackable LinQ fuel caddy. It's nice to have.
If you ordered a new GEN-4 REV 850, you might want to add the new Gen-4 specific version. Available through Ski-Doo dealers and online at the Ski-Doo store, the fuel caddy retails at US$170. While fuel caddies can't be stacked one on top of the other, you can add a stackable LinQ tunnel bag atop the fuel caddy for extra storage. This is a definite win-win for serious mileage makers as you can add fuel capacity and onboard storage.
Arctic Cat, which offers a 4.3-gallon auxiliary fuel tank as standard equipment on the Pantera Limited and its CrossTour models, makes a version of the tank for select 2015-2017 Pantera and 2016-2017 Pantera 3000 models. The kit is available through Cat dealers for US$310 and can be installed aft of the passenger seat.
While this may not seem like a big deal, you might think about adding knee pads to your sled. We have a set on our older Ski-Doo REV and truly appreciate them. We note that Polaris offers its own Snowmobile Knee Pads in black. Although specifically made to fit Polaris models, we suspect they can be fitted to other models as well. The pads use a quality 3M adhesive back to keep the pads in place on the sled's console in front of the seat. The Polaris knee pads retail for US$40 per seat and will prove very worthwhile for both aggressive and high mileage riders. For specifics, visit a Polaris dealer or snowmobiles.polaris.com under the "comfort accessories" section.
When we ride we don't think about getting stuck, but it can happen. What do we do? Well, Snobunje offers a complete "Escape Kit" that includes all of its essential pulling tools. Retailing for US$200, the Escape Kit gives you seven of its essential Snobunje pulling tools in one convenient package. The kit includes a collection of seven proven Snobunje tools – including straps, retrieval line, hooks and cargo net – to help you and your sled escape trouble.
In reality, we flatlanders can be gracious and make our deep snow counterparts aware of these items. Having cold feet, running out of fuel or getting stuck is no fun no matter the snow depth. It'll be our flatland gift to all snowmobilers.