2020 Yamaha Snowmobile Lineup Preview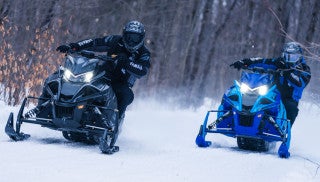 Yamaha moves into performance adventure touring segment says goodbye to the M-TX
The 2020 Yamaha snowmobile lineup sees a move into the performance adventure touring segment, while updating its Viper line and focusing on dealer health and strength.
Gone for 2020 is the Sidewinder M-TX. For now, Yamaha is out of the mountain segment. Through these changes, as mentioned, Yamaha's model line grew for the trail, touring and adventure segments.
Yamaha is making slow progress in helping its dealers clear out existing non-current inventory while building performance adventure touring sleds to meet market demands for said high-performance luxury touring and adventure snowmobiles.
Yamaha's models breakdown into four classes, SRX, LE, GT and SE.
SRX is Yamaha's definitive Corvette Z06 model, fast, low slung and loaded. And did we say fast?
LE, for Limited Edition, is the classification for all things premium be it in motor-performance, handling, colors and graphics, and accessories. These include the L-TX, X-TX, and B-TX. The S-RX falls into this as well, though Yamaha separates it out.
GT is for Grand Tourer (or "Touring). These models accommodate for all day or multi-day solo or two-up performance touring, a.k.a. adventure snowmobiling. This classification includes SR Viper and Sidewinder models.
SE is for Special Edition, which is positioned to lure the newcomer into the market, or to give the rider an excellent snowmobile, but one that is ridden 1,000 miles a season. But the SE is a performance classification from Yamaha, but a classification that is not amped up with premium shocks for example, like the LE. However, the SE is stellar-looking.
To more specifics.
2020 Yamaha SRX
The SRX returns for 2020 in Midnight Black with Liquid Silver. The last time this color combo was used was during the hair band days, the 1980s. The SRX LE comes with Yamaha's new Advanced Roll Center Suspension (ARCS) which is complete with new high-strength forged alloy spindles, and redesigned lightweight upper A-arms. ARCS gives the SRX an optimized geometry which lowers the ride-height from the 2019 model, and too, strengthens the handling characteristics of the SRX.
The 2020 Yamaha SRX has new "High-Gloss Lexan Tunnel decals" for increased quality and durability, according to Yamaha; it also has a new SRX-branded seat that is heated. The SRX's track is 137 inches long, 15 inches wide with a 2.86-inch pitch. It is the capable Camso Ripsaw track with 1-inch lugs and is fully clipped.
Front suspension is 42 inches wide with ARCS. It has Fox IQS shocks with dual-rate SRX- only coil over springs. The rear suspension has on the front rails a 1.5-inch diameter HPG shock with a dual rate spring, and a Fox IQS with a two-inch diameter tube and lowered preload torsion springs
2020 Yamaha LE
The LT-X LE is considered by the Yamaha as its snowmobile with the "greatest tech for all out trail domination." The 2020 Yamaha LT-X LE has ARCS-like the SRX, which give the LT-X added ground clearance which allows for unprecedented in mogul mashing while tracking straight and true. Being an LE, it comes in Yamaha's new eye-popping and gorgeous, Jet Stream Blue. Yummy.
The LT-X LE's track is 137 inches long with 1.25-inch lugs, it is the Camso Ripsaw II. Front and rear suspension shocks is the same as the SRX and is of same front width.
The XT-X LE begins Yamaha's crossover line. The X-TX LE grew five inches by stretching from a 141 to a 146. New for 2020, exclusive for Yamaha's crossover line is the new VERSATTAK rear suspension, which is an uncoupled torsion spring rear suspension. According to Yamaha, this new rear suspension improves weight transfer, playfulness both on- and off-trail ability (like a 141). The 2020 Yamaha X-TX LE targets the crossover customer that values off-trail capability as well on-trail compliance; it features the new 42-inch wide ARCS front suspension, but uses a 6.5-inch wide single keel crossover ski.
The deep-powder crossover sled from Yamaha is its B-TX, and written here is the B-TX LE. The 2020 Yamaha B-TX LE is engineered-up to a backcountry deep-powder crossover with a 153-inch long track that has 2.25-inch lugs; it is a PowerClaw. Ski stance is 40 inches. Its rear suspension is an uncoupled 153 with mountain style rails and premium QS3 Shocks. The B-TX LE comes to 2020 as it was in 2019 except for the 2020 LE, the Jet Stream Blue is reserved for the LE model.
2020 Yamaha GT
The GT line is Yamaha's big move for 2020. Here, Yamaha targets the GT line for buyers who place high value on performance vehicles –vehicles with premium shocks, creature comforts, handling, wind protection. The GT line replaces the DX line of yesteryear, while raising the performance level.
The 2020 Yamaha L-TX GT is built for the high-performance long-distance solo rider who wants power, performance and room to pack their overnight belongings. It is a 137 with ARCS up front.
The S-TX GT is like the L-TX GT except that, this model is destined for two-up riding. The S-TX GT has Yamaha's QS3 front suspension and is a 146 with a dual-load rear suspension with an overload spring. This has a heated seat for both the driver and passenger, heated grips all the way around, and get this, the Sidewinder 180 horsepower turbocharged motor.
The SR Viper L-TX GT comes to 2020 with QS3 shocks, a tall windshield and tunnel bags. To give more sass, it has Yamaha's "Gen-2" bodywork with easy remove panels and relocated fuse box. The G2 bodywork includes unique hood panels, front grill and windshield. To make the engine move lively over that of previous models, it has new ECM programming.
Finally, the 2020 Yamaha SR Viper L-TX GT is a single-up long distance touring sled with a 137-inch Camso Ripsaw track 1.25-inch lugs. Up front the 42-inch front suspension has ARCS.
2020 Yamaha SE
The SE line from Yamaha, always a favorite with Snowmobile.com, includes the L-TX (a turbocharged 137) and X-TX (a turbocharged 146) and a SR Viper L-TX (a non-boosted 137). The two turbocharged models are configured dimension-wise as the LE models, but with not-so premium shocks. However, these are premium models, in our opinion. The 2020 Yamaha SR Viper L-TX is a 137, like the turbocharged L-TX LE.
The X-TX SE is a 146 and shares the same track, front and rear suspension as the LE model, but has more affordable shock package and less full-on creature comforts, such as a heated seat.
There is no B-TX SE for 2020, only a B-TX LE.
2020 Yamaha Transporter
Lastly for 2020, is the new Transporter 600 – a utility- and passenger-based two-stroke 600.
The Transporter is considered Yamaha's new two-stroke Sport-Utility model. The Transporter features a lightweight utility chassis complete with an articulating 153-inch utility rear suspension, and a 38-inch ski stance. The articulating 153 rear suspension is wrapped with a Power Claw 2.25-inch track.
Conclusion
Yamaha may have lessened it presence in the mountains by dropping the M-TX and the B-TX SE, but it is focusing on what works, meeting market demand for high end solo and two cruising, and lake blasting. Yamaha is also working hard to build those snowmobiles its dealers are asking for, and to assist in cleaning out the non-current model pipeline.