2015 Arctic Cat Pantera 7000 Preview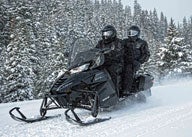 The return of the "Catillac."
Admittedly we give Ski-Doo a great deal of credit for understanding the long haul, two-up touring niche. The company's factory doors open onto the famed Quebec super-trailway system and Quebec snowmobilers are noted for enjoying long-mile weekend or weeklong "safari" cruises. Ski-Doo's Grand Touring models have set the standard for those riders with air-controlled suspensions, adjustable handlebars and an entire catalog of add-on accessories. That may be about to change as Arctic Cat has taken the wraps off what we think might well be a higher standard in two-up touring.
Arctic Cat's 2015 Pantera 7000 is the new "Catillac," bettering a history that dates back to the 1970s with the original Catillac and reinvigorated in the 1990s as a luxury offshoot of the first Arctic Wishbone Suspension (AWS) Prowler. The latest Pantera differs, though, as the previous designs were built off existing models. The 2015 Pantera may share some pieces and technologies from other modern Cats, but you need to view it as a new-from-the-snow-up design.
Using manufacturing techniques learned from ProClimb and ProCross chassis development, the Pantera introduces a cruiser-specific platform best suited to two-up luxury snowmobiling. The ProTour chassis embraces a flatter angle better suited to touring sleds than the steeper angled mountain-oriented ProClimb design. Made in a singular process rather than the two-piece ProClimb construction, the ProTour platform draws its strength from unique to the Pantera forgings, castings and stampings that mate the aluminum tunnel to the basics of Cat's ARS front end.
The result is a Pantera-specific platform designed to accommodate up to three (if they are thin) passengers, a payload of weekend touring gear and extra fuel from an optional 4.3-gallon rear-mounted tank.The ProTour amplifies the decades of Arctic Cat experience as the Pantera offers both the driver and passengers wide, yet louvered runningboards that grip boots as it clears snow pack. Although the tunnel presents a flatter plane than the ProClimb, the runningboards angle up and back to help maximize suspension travel as it creates greater snow-ability for cruising unimpeded in dumps of fresh powder.
When the first Pantera was introduced in the mid-1970s, Arctic Cat bragged that it was the "Catillac" of snowmobiles, which had to gripe Ski-Doo, celebrating its one-millionth snowmobile, the long-tracked Everest. We expect that the 2015 Pantera may gnaw at Ski-Doo as well.
The Pantera's riding "office" reflects great attention to details that enhance the rider and passenger experience. Although essentially conceived as a two-up touring sled, the Pantera is readily adaptable for those with few friends. The heated rear sectional passenger seat can be removed, adding extra room for expansive solo riding. Unique to the Pantera seating is its literal plug & play convertibility. As you install the rear section passenger seat, you simply plug into a 12-volt accessory plug at the rear of the main seat to activate the heating element.
Equally plug and play-able is the optional auxiliary 4.3-gallon fuel tank. It's pre-plumbed to feed into the primary 10.7-US gallon main tank. Considering that the Pantera benefits from using a thrifty Yamaha four-stroke, the range with 15-gallons of fuel should be exceptional.
The Yamaha 1049cc three-cylinder motor mounts low and centered in the ARS-equipped front "power module." The drive system includes Arctic Cat drive and driven clutches calibrated to deliver smooth drive-offs and strong mid-range performance needed for long trail travel. Cat engineers also configured the engine's computer to match the clutch and final settings, so don't expect ZR 7000 performance as criteria for the Pantera is totally different. Do expect strong and consistent power with good top speed, but smooth low to midrange capabilities.
Under the elongated seat Arctic Cat engineers specified a stretched and touring-oriented version of the parallel rail Slide-Action rear suspension. The Pantera slide action adds fiberglass overload springs to assist the rear arm shock and torsion spring set up.
Spinning around this system will be an Arctic Cat patented 146-inch long "Quiet Track," which features raised moldings on the interior surface to effectively reduce vibration feedback and track noise. Measuring 15-inches in width, the track presents a grippy 1.25-inch lug profile to the trail. To keep the ride calm and controlled, you'll find Arctic Cat internal floating piston shocks on both the front and rear suspensions. The ARS shocks use coil spring assistance and soak up to 10-inches of useable travel. The rear unit absorbs 13.5-inches of travel.
This new Arctic Catillac tourer spoils its passengers with heated seats, heated hand grips front and rear, a tall windshield and integrated side deflectors to direct winter air away from the rider and passenger. The backrest tilts for added passenger convenience. And whether it's for a day or a weekend ride, the Pantera Limited's weather-resistant sealed plastic-molded luggage cases are both locking and detachable.
From the driver's viewpoint, there is a bright and easy-to-read informational screen that can be set to deliver your preferred information. Also bright and making the trail easier to see at night is a new high-powered twin-bulb headlight that sprays precise illumination for safe night riding. But if you do overdo a turn or need to bring the Pantera under quick control, the Cat's revised hydraulic brake benefits from a shorter lever that curves closer to the left handgrip.
As you'd expect, the 2015 Pantera can be personalized with an array of easily installed accessories, including an array of on-board bag options. Since the lid on the rear storage pack can be removed, expect to find all kinds of options that may range from carriers for skis or snowboards to racks to stow ice-fishing gear.
When we chatted with Arctic Cat's accessory designers, they were just getting started on designing "extras" for the new sled. But for the first year of the all-new Pantera you can figure it will be dedicated to touring. That's not to say that this platform will remain as a cruiser. We expect a new series of Bearcats eventually will utilize the basic platform. But for now, the ProTour design fits what we see as a new standard for two-up cruising. With an all-new chassis, 15-gallon fuel capacity, a stout fuel-efficient engine and standard luxuries expected of a touring design, the Pantera presents a challenge to the status quo.
2015 Arctic Cat Pantera 7000
Engine
Yamaha 1049cc, liquid-cooled, 4-stroke triple; 3x41mm electronic fuel injection
Horsepower
135 hp+
Drive
Arctic Cat 6-post rpm sensing drive with 10.75 inch diameter Arctic roller cam driven
Front Suspension
Arctic Race Suspension (ARS) with Arctic Cat internal floating piston coil-over-shocks; sway bar; 10-in maximum travel
Rear Suspension
Arctic Cat parallel rail Slide-Action suspension; adjustable torsion springs; coupling blocks; Arctic Cat IFP shocks; fiberglass overload springs; 13.5-inches of travel
Length
127.0 in
Width
48.0 in
Ski Stance
Adjustable 42 to 43 inches with dual skag 6-inch width Trail ski
Track
15x146x1.25 "Quiet" Track
Weight
NA
Brake
Radial master cylinder with disc on driveshaft
Features
Standard: Push button reverse; electric start; front sport bumper; deluxe digital/analog gauge; accessory outlet; locking storage bags; adjustable curved handlebar; heated seat; Optional: hitch; skid plate; gear and storage bags
Fuel Capacity
10.7 US Gal (optional 4.3-gallon auxiliary tank)
MSRP
NA