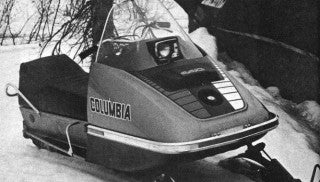 This sled proved that being 'good enough' just wasn't good enough
Columbia snowmobiles came and went nearly as quickly as a winter squall. It wasn't because they weren't good enough. In fact, they were quite good as snowmobiles of the early 1970s went. The real problem was that being good enough just wasn't what snowmobilers wanted overall. Columbia snowmobiles were average in a time when snowmobilers wanted more.
Oh, it wasn't like Columbia snowmobile marketing folks weren't trying hard enough. Quite the contrary, their thought was to market Columbia snowmobiles as kind of do-it-yourself models. In many ways, Columbia's marketing concept actually predates Polaris' Shift marketing idea of selling a basic snowmobile that buyers can customize themselves.
Columbia's idea was to build a singular platform powered by one of three fan-cooled JLO engines — a 340cc, a 400cc or a 440cc. From there Columbia buyers could choose one of two rear suspensions. For all around utility there was the bogie wheel unit with torsion springs. For a smoother ride, a second option was Columbia's version of a parallel slide rail that featured torsion springs on the rails and suspension-to-chassis mounts. In keeping with the design-it-yourself concept, you could choose one of two flip-forward metalflake hoods — gold or blue.
Name Recognition
Columbia's marketing plan came about because, quite simply, the company was late to the snowmobile party. Owned by MTD Products Incorporated at the time, Columbia was best known as a leader and competitor to Schwinn in bicycle manufacturing. MTD had a reputation for building durable lawn mowers and power garden equipment. Combining Columbia's name recognition with MTD's reputation for reliability seemed like a natural way to grab a piece of the snowmobile market.
By the end of the 1960s MTD determined that it could profitably build a snowmobile brand. By 1971, after producing about 800 pre-production 'test' units the previous winter to gauge consumer reaction and gain engineering feedback, MTD gave the go-ahead to enter the snowmobile marketplace alongside other corporate giants like AMF (Harley-Davidson snowmobiles), John Deere, Fuqua Industries (Scorpion), Outboard Marine (Johnson and Evinrude snowmobiles) and Textron (Polaris). Since some brands like Polaris and Ski-Doo had already been around since the 1950s, MTD figured that its Columbia brand of snow machines needed a hook to attract both customers and dealers to supply sleds and service.
Because Columbia had some household cachet due to its bicycle brand, Columbia snowmobiles came with some recognition among consumers. To help convince dealers to take on the Columbia brand, MTD outlined a marketing strategy that they felt would help them battle established players with more models. Keeping things simple was the plan. In the first few seasons Columbia would establish itself as the dealer's friend. Instead of manufacturing a wide range of models with different tracks, suspensions, engines and chassis, the Columbia snowmobile would come on a single steel chassis designed to accommodate a choice of three power plants.
Keeping It Simple
All three JLO engines readily fit into the chassis and tucked neatly under the interchangeable metalflake hood. In fact, interchangeability was a key factor in the design of Columbia snowmobiles. Essentially MTD's Columbia snowmobile was a single model. Even the engines offered dealers a commonality of parts as the engines shared a common block with stroke being the major variable. All were fan-cooled twins with a five-port design. The base motor was the 32-horsepower, 339cc twin. Other power options included 36-hp from an available 398cc twin or 40-hp from the 428cc twin.
Under the hood Columbia snowmobiles displayed further parts interchangeability as they all featured Salsbury 850 centrifugal drive clutches and a single Walbro WDA-39 carburetor. As was the case with many manufacturers that used supplied engines, the JLO twins came with standard Bosch electricals and what was referred to as a 'power-tuned' Donaldson exhaust system. This usually consisted of an exhaust header that fed into a big canister with baffles, more for silencing than building power.
Minimal Parts Stocking
Dealers needed to stock a minimum of parts compared to brands like Ski-Doo, with a myriad of models that ranged from race-ready T'NTs to wide-track Nordics or short chassis Elans. A Columbia dealer could order a mix of models with different size engines and stock a few extra hoods and an extra slide rail suspension or two. In fact, if a customer wanted to change from bogies to slides, it would take a dealer about 30 minutes to slip one suspension out and install another. This is one area where Columbia engineers thought ahead. The suspension could be removed and replaced without removing the one-piece polyurethane track. Indeed, the molded track featured cross lugs and raised profile cleat for added grip.
By the 1974 model MTD's slide rail design entered its third generation as engineers listened to dealer and consumer requests for added durability while maintaining overall simplicity. The suspension's center section featured four wheels that extended about a sixteenth of an inch below the rails. This provided some added support for the track as well as reducing slide friction in marginal or icy conditions. By using extra heavy-duty torsion springs, Columbia engineers figured there was no need for hydraulic shocks.
Suspension Basics
The bogie wheel suspension option consisted of 12 trailing arm suspended wheels that were staggered and mounted on six separate shafts. Front suspension was typical of the period, consisting of leaf springs with optional tube shocks to control ski flutter.
All in all the Columbia was a sturdy design that afforded choices in engine, suspension and hood color. Although simple in concept, the sled featured good wind protection from a mid-height windshield. There was a sturdy wraparound front bumper, chrome handlebars with flipper throttle control and a bicycle-oriented brake lever. The chromed brake lever actuated an H&H mechanical grip on the driven clutch. Equipped with a forward-mounted fuel tank, the Columbia C-series carried six gallons of gasoline.
Columbia models offered a few accessory choices in addition to the hood, suspension and engine. You could opt for electric start, shocks for the skis and a tachometer/speedometer. The snow flap and tow hitch came standard.
Not Enough Traction
But while the concept of the build-it-yourself sled seemed good and a great way to get into a new market, Columbia failed to gain traction with consumers. It was good enough in a variety of ways, but other than offering choices, the sled just never created enough excitement among snowmobilers. Within a few years, Columbia snowmobiles were gone.
We would imagine that this brand would have some devoted fans and would expect that surviving Columbia models could still be running around. They were ruggedly simple and at about US$1,300 reasonably priced for the times. But the times passed Columbia snowmobiles by.
1974 Columbia C400 Specs
Engine
JLO fan-cooled twin; 398cc; 1xWalbro WDA carburetor
Horsepower
36 @ 7000 rpm
Drive
Salsbury 850
Front Suspension
Leafspring (optional tube shock assist)
Rear Suspension
MTD/Columbia parallel slide; Optional bogie wheel
Length
101 in
Height
39.5 in
Width
33.5 in
Track
15.5 in wide
Weight
455 lbs. with fuel
Fuel Capacity
6.0 US Gal
MSRP
US$1,300 (1974)