Bob Gaudreau's Budweiser Special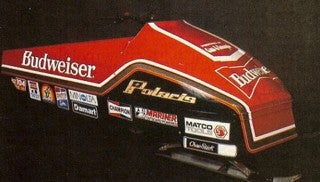 Big Bob's speed sled ushered in an era of straight line speed
The Ski-Doo engineer peered at the readout on his handheld radar gun. The sled heading down the half-mile long ice-track was puttering along from the start line. The unmuffled pipes of the Mercury Marine Racing engine blatted as racing hall of fame driver Tom Earhart idled through the first quarter-mile at 30-35-40 miles per hour.
In a recent conversation with Snowmobile.com, the sled's builder 'Big Bob' Gaudreau recalls the Ski-Doo engineer calling out, "Hey, that's not so fast, eh, Big Bob!"
"His attitude changed a lot once Tom crossed the quarter-mile marker and hit the throttle for the final quarter-mile," said the Connecticut-based Gaudreau.
The speed sled immediately came alive as the fuel injectors opened wide and the alcohol-based racing fuel burned in earnest. Now the Ski-Doo engineer's radar gun's readout jumped from 85, 92, 112, 117, 132 and the engineer's scream of "Holy (expletive deleted)!" was nearly drowned out as Tom Earhart rode the Budweiser-sponsored speed sled past the half-mile marker at 148.6 miles per hour!
It was the fastest speed a snow machine had ever gone over a snow and ice-covered track. Big Bob had done it.
As we chatted this past August, Bob Gaudreau is a more mellowed man than on that day in 1982, but he recalls nearly every detail that went into that accomplishment. In fact, he took pleasure in reminding a certain Snowmobile.com editor of how the Budweiser sled came about in the first place.
Seems that in the late 1970s, this editor met with Big Bob at a Minneapolis eatery run by Stan Mayslack, a famous pro ex-wrestler and renowned local celebrity, who served garlic roast beef sandwiches the size of manhole covers. After a couple of necessary beers to reduce the garlic taste, there was a discussion of what was next on Big Bob's agenda. After all, Big Bob liked things that went fast, not hard to imagine from a man who once professionally drag raced Chrysler hemi-powered drag racers. In 1969, racing his 1968-bodied, Chrysler-engined 'Kandy Kuda,' Gaudreau established a Pro Stock record time of 10.095 seconds at a speed of 135.5 mph in a quarter-mile event.
Snowmobiles weren't cars the snowmobile magazine editor told him. Where would he get a snowmobile capable of achieving his desired goal of 150 miles per hour?
Big Bob Gaudreau has yet to forget the conversation. And yet to forget the doubt voiced by the magazine editor.
"I remember asking you, 'What's so hard about building a snowmobile?' And then you asked what did Connecticut have to offer in building a speed sled," Gaudreau reminded the editor.
'Big Bob' felt confident that there was enough talent in his area of Connecticut known for its submarine engineering and jet airplane engine building. As Gaudreau saw it, building a sled capable of going 150 mph boiled down to knowing the math. To achieve 150 mph required a set horsepower to propel a defined weight. Figure in some aerodynamic numbers and account for using a track instead of automotive wheels and tires and you were heading in the right direction.
For Gaudreau the engine was a no-brainer. He eyed a Mercury Marine V6 racing motor that could make upwards of 400 horsepower.
"The engine needed to be configured to run on gasoline initially," recalled Gaudreau. "Once we got it started and it heated up, we fed it alcohol for power."
The drivetrain proved be a bit tricky because of the engine's torque, but Gaudreau rigged a Honda torque convertor to handle power to the front axle.
Gaudreau's design included a toothed belt running from the engine's crankshaft directly to the sled's front drive shaft. At the time there wasn't a snowmobile drivebelt capable of withstanding the V6's torque, so Gaudreau worked with Uni-Royal to develop one. Grand Rapids, Michigan-based Micro Belmont Engineering custom built the titanium shaft to spin the track and created special lightweight traction grippers to get the power to the ice.
The Budweiser speed sled required unique pieces, like its special track. Because Goodyear was a major supplier of rubber tracks to a number of snowmobile companies, Gaudreau convinced them to promote their product by fabricating a one-of-a-kind lightweight rubber track that wouldn't balloon at high speed.
The Budweiser speed machine used a stock Polaris chassis, which Gaudreau modified to fit the powertrain. He also designed a custom body complete with side skirts to cover the skis. He specified an air dam on the nose and incorporated a spoiler mounted ahead of the handlebar. The driver was to sit low in the cockpit with his helmet just brushing the airflow. Everything was designed to maximize the sled's aerodynamics.
When we first saw the Budweiser sled it appeared with leafspring skis and steering. On the updated version Gaudreau would drop the leafsprings in favor of a Polaris Indy-based trailing arm setup. It gave the sled more positive steering and greater front-end travel to accommodate an ice track's bumpy surface.
Using skills gleaned from his days as a Chrysler Corporation backed drag racer of the 1960s and early 1970s, Gaudreau proved an adept self-promoter for his special snowmobile project. He enticed Budweiser for sponsorship at a time when snowmobile magazine advertising departments couldn't get them to spring ad dollars, even though in an article about snowmobile racing, a Sports Illustrated writer once described snowmobilers as "beer-swilling oafs."
Gaudreau enjoyed reminding his snowmobile writer friend how he had scoffed at Gaudreau getting anywhere near 150 mph. That writer recalled how the Budweiser machine had fallen short in its inaugural run at Rice Lake, Wisconsin, clocking 136.9 mph over a quarter-mile distance.
But on February 24, 1982, the Budweiser sled roared across Lake Mille Lacs, just off Izatys Resort in central Minnesota and recorded a speed of 148.6 miles hour on an amazed Ski-Doo engineer's radar gun!
Mellowed now by age and circumstance, Bob Gaudreau enjoys knowing that he kicked off an era of snowmobile speed unlike any the sport had seen. While an earlier era of speed in the early 1970s was backed by snowmobile manufacturers and included the likes of Arctic Cat's Boss Cat and Johnson's Pegasus, Bob Gaudreau's Budweiser-sponsored speed sled kicked off a speedier era highlighted by inventive privateers who used outboard marine racing engines and turbocharged motorcycle motors to get their sleds to speeds of more than 150 miles per hour!