Vintage Review: 1974 SnoJet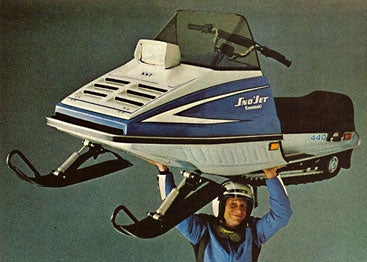 The Green Mountain State was home to 'Big Blue'
Vermont seems like an unlikely home for one of the sport's most popular snowmobile brands. But in the 1970s, SnoJet called Vermont its home.
Heading into the 1970s, stock market analysts predicted snowmobile sales could reach one million units per year. The sport had seen rapid growth from sales of 85,000 machines in 1968 to nearly a half-million by 1971. How could analysts know that an oil embargo, marginal snow and poor economy would work to pare sales back to 195,000 units in 1977?
In the period of huge expectations, multi-national companies such as Textron and Brunswick wanted to get onboard. Textron bought Polaris. Brunswick had Mercury and its snowmobile line. And Conroy of Canada took control of SnoJet in 1968, banking as much as $17 million in annual profits from the increase in popularity of the sport.
During its ownership, Conroy established more than a thousand SnoJet dealers throughout the North American snowbelt. The name became very popular in the eastern United States and Canada. While the brand enjoyed unique features like its Multiflex slide rail suspension, SnoJet snowmobiles relied on outside sources for its motors.
Bombardier bought Rotax, which became its sole engine supplier. Polaris began a long term relationship with Fuji Heavy Industries to supply snowmobile-specific 'Star' engines on an exclusive basis. But like many 'independent' brands, SnoJet bought motors from a variety of suppliers in its earliest years. Finally, the company settled on Yamaha power for most sleds in the line.
Yamaha power
Of course, by this time, Yamaha had entered the snowmobile fray with its own line of sleds powered by its own oil-injected engines. With a solid reputation for its line of two-stroke engined motorcycles, Yamaha and its engines offered instant credibility to companies like SnoJet that utilized them.
Known in its advertising as 'Big Blue,' SnoJet drew attention with success on the race track. Nimble little Yamaha-powered Thunder-Jet racers set a performance tone. Trail models carried performance names based on high performance aircraft of the time. There was the top line SST implying supersonic-like on snow performance. Even the 295cc StratoJet economy version carried a performance name.
Sabre Jet 440
One of SnoJet's most popular models in the mid-1970s was the SabreJet 440. At 39-horsepower its Yamaha 440cc twin fit into one of the most popular categories for trail riders. It delivered solid performance with nearly bulletproof reliability. In fact, the fan-cooled SabreJet 440 could hold its own against other manufacturers' larger displacement 650s.
Magazine test staffs of the time were impressed with the sled's straight line performance as well as its on trail ride and handling. Designers played up the handling of SnoJets and the brand's success on the race track further reinforced a performance image.
With good sales of the trail luxury SabreJet, SnoJet's top flight model was actually the SST with a higher performance free-air Yamaha twin. In its later seasons, the SST would expand from one a single 433cc free-air to add both a 338cc free-air motor as well as a fan-cooled 440.
SnoJet engineering improved the brand's handling by moving the Yamaha engines out over the ski centerline and canted it back to both lower the sled's center of gravity and enhance stability. The front suspension was typical of the period with high arch springs and a tube shock to control the skis. A Borg-Warner self-adjusting disc brake was a premium feature as many other brands still used band brakes.
Top SnoJet models also featured a quite comfortable—by 1970s standards—Multiflex II dual slide rail suspension with dual polyethylene runners, torsion springs and a center-mounted tube shock to control travel and suspension damping.
Where many sled brands figured a three to five gallon fuel tank was adequate, the trail-oriented SabreJet was one of the first to feature a larger 7.5-gallon tank. A collared catch tank retained overflow when refueling and minimized spillage.
At US$1,399.00, the SabreJet was a good value when considering overall features, performance and handling.
Kawasaki Brings Change
Due to economics by 1976, the SnoJet legacy under Conroy would end and a new legacy would begin under Kawasaki. In 1977 Kawasaki took over the SnoJet legacy, eventually evolving the model line up into what would become a distinctive stand alone Kawasaki brand. To make a point, in 1977 Kawasaki not only announced it had taken over SnoJet ownership but promoted the fact that it also made 61 changes from the 1976 to 1977! Those changes included everything from stronger skis to a lighter, more efficient track. And, of course, under Kawasaki stewardship, the era of Yamaha-powered SnoJets came to an end.
If you are in the market for a collector sled, you should consider SnoJets from the late Conroy era as well as early Kawasaki era models. East coast snowmobilers should have an easier time finding good collector models, as they were quite popular in upstate New York, Vermont and northern New England.