2018 Timbersled ARO 120 and 137 Snow Bike Kits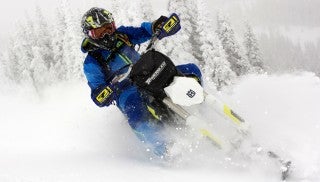 The new-for-2018 Timbersled ARO snow bike kits are lighter, narrower and designed to be more nimble than the older Timbersled kits.
Buck Dirt asks: "Is that a dirt bike?"
Willit Snow answers: "Yaaaa…no. It's a snow bike, a Timbersled snow bike with an ARO kit."
Buck: "Ain't never saw me's a dirt bike like dat buhfore, kinda long. Where's the tars?"
Willit: "They're in the shop. And it goes on snow. You know…S-N-O-W, as in 'Over the river and through the woods.'"
Buck: "Uh? What's an are oh?
Giving some humor to a serious winter topic is our fictional Buck and Willit, who in our pretend situation, play out the same conversation many in the snowy Rocky Mountains have throughout the winter months.
Snow bikes are long dirt bikes, indeed. But in our devout honesty, snow bikes are long in fun.
The bigtime leader in snow bike kits is Timbersled, a northern Idaho company owned by Polaris Industries, whom as you know, builds some highly sought-after mountain and deep-powder crossover snowmobiles: Pro-RMK, Pro-SKS and Switchback Assault all in the light and nimble AXYS chassis. The now-located Ponderay, Idaho company was founded by Allen and Natasha Mangum in 2002.
New for model year 2018 is the Timbersled ARO 120 and 137 snow bike kits; two individual kits that easily bolt to KTM, Honda, Yamaha, Suzuki, Kawasaki, Beta and Husqvarna dirt bikes.
Timbersled states on its website: "Snowbiking combines the agility of a dirt bike with the terrain capabilities of a snowmobile. Convert your bike from dirt to snow and back again with Timbersled. New for 2018 is the Timbersled ARO platform, the next innovation from the industry leader. Built with the rider in mind with the easiest install, industry-leading handling and made Timbersled Tough."
A Timbersled ARO system for your favorite applicable dirt bike includes a front ski, and a rear track system, both of which replaces the front and rear tires; this allows dirt bike owners to ride their toy all year long. This is a general information article on the ARO kits, not giving to specifics on how the kits work with the dirt bike's transmission.
Recently, Snowmobile.com told you about a new Timbersled product, the Timbersled Trio. In short, this is an optional front ski shock, a Fox EVOL shock that mounts to the ski and sits between and behind the factory forks. The Trio kit's purpose is to eliminate bottoming out minimize ski dive. The FOX EVOL shock is light and rebuildable.
Before we get to the general information on Timbersled's ARO snow bike kits, we need to point at that all dirt bikes are the same, but different. When it comes time for Snowmobile.com to evaluate snow bikes, it is not at all like gathering up the high-end 800-class 160-something long track mountain snowmobiles from Polaris, Arctic Cat and Ski-Doo and having at it – shootout style – it is much more complicated.
Now, we could simplify matters by bolting an ARO 120 or 137 kit to each bike builder's 450, but what about the 350s? What about the few two-stroke dirt bikes on the market? Then, what about kits from Yeti, now owned by Sherco, and kits from Crazy Mountain Xtreme (CMX), known as the CMX BK; and MotoTrax and SnowTech MX. Throw in the mix, factory built snow bikes from Sherco and from Arctic Cat the SVX 450 (also a Sherco), and the calculus formula is Einstein-like. Oh, we'll get the chance to ride some this year, but head-to-head comparisons would absorb all our winter days, leaving no time to ride snowmobiles and to write stories (to keep our bosses pleased).
The new ARO chassis is narrower than Timbersled's original Mountain Horse kit, and according to Timbersled, is more agile. The ARO kit, again as compared to the earlier Mountain Horse kit, is 11 pounds lighter, 137 chassis to 137 chassis, which enhances snow bike handling and in turn, reduces rider fatigue. As we've visited with Timbersled and have attended its technical/information meetings, we have heard Timbersled say over and over again, the ARO kit makes a dirt bike behave like a dirt bike, while busting powder like a mountain snowmobile.
Borrowing a cue from parent company, Polaris, and its AXYS snowmobile chassis, the Timbersled ARO Chassis features a raised drive shaft to improve lift which allows the ARO-equipped bike to quickly get up on top the snow. Dipping into Timbersled's technical information, it reports, "The new ARO rear suspension features significantly greater travel for improved ride quality and reduced bottoming. The result is a smoother ride and significantly better deep-snow performance." Specifically, this is done via increased rear suspension shock travel, 33% longer, which gives the rear suspension two more inches of travel as compared to an equal-length Mountain Horse kit from last year.
An ARO kit, in fact any snow bike, is only as good as the front ski it tracks on. An improperly designed ski will hinder – limit – a well-designed rear suspension track kit. For example, a new 2018 Corvette Grand Sport, as good as it is on a road course, will fall apart if tracking on hard-compound bias-ply tires. Given that example, Timbersled has designed its own exclusive ski, the Traverse Ski. This ski incorporates a tri-keel design "that enhances cornering and handling on hard-pack [snow]," while also improving deep-snow maneuvering. Traditionally, snow bikes are not pleasant critters to ride on a trail and on hard packed hero snow. The new Traverse Ski makes driving from the truck to mountain top much better, for in between lies a trail.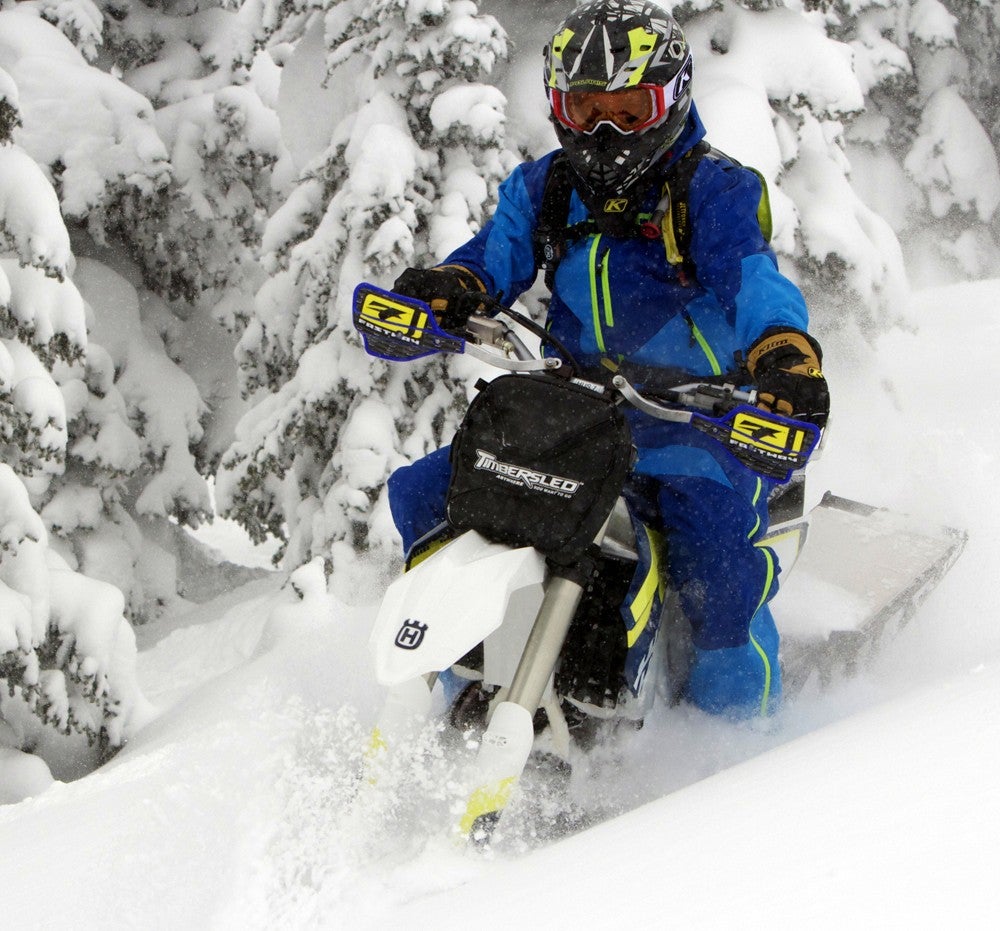 The Traverse Ski is lighter than previous Timbersled skis, by as much as 6.5%, and delivers 5% more flotation. The ski has Pro-RMK style hoops. Ultimately, the 11.5-inch wide Traverse Ski's purpose is to pack the snow before the new ARO Timbersled-exclusive track bites the snow. Hooking the ski to the forks is a new lighter and more durable spindle that is universal for all dirt bike brands.
Coming almost full-circle to the Timbersled ARO kit is the kit's track, the Traverse Track. The 11.5-inch wide track has a design which Timbersled calls "convex." This narrow convex track "provides quicker edge-to-edge handling," and with its narrow design, provides more power to the snow. The track, like the ski and ARO platform, is lighter than the tracks used on the Mountain Horse, 13% lighter. The paddles on the Traverse Track are 22% wider for added lift and acceleration.
The ARO snow bike kit is a 1:1 kit where the Traverse Ski and the Traverse Track are equal in width, 11.5-inches.
Another first with the Timbersled ARO kit is the shielded brake. This ARO brake is a complete pre-bled brake system. It comes assembled with dual-piston brake calipers, a master brake cylinder and disc. The shielded bake was engineered and built to minimize ice build-up. Whoa is needed on steep descents.
Dirt bikes were not designed by the manufacturers to be driven on snow. It has taken Timbersled years to defeat the compromises and make a dirt bike a snow bike where owners can be as fond of their dirt bike's handling on snow as they as fond of its handling on either sand, dirt and on the rocks. With Timbersled's vast knowledge of building aftermarket front and rear suspensions for mountain snowmobiles, coupled with its acquisition by Polaris, a company that understands equally well, lift, agility, durability and efficient power transfer from motor to track, Timbersled has declared it is the standard for snow bike kits.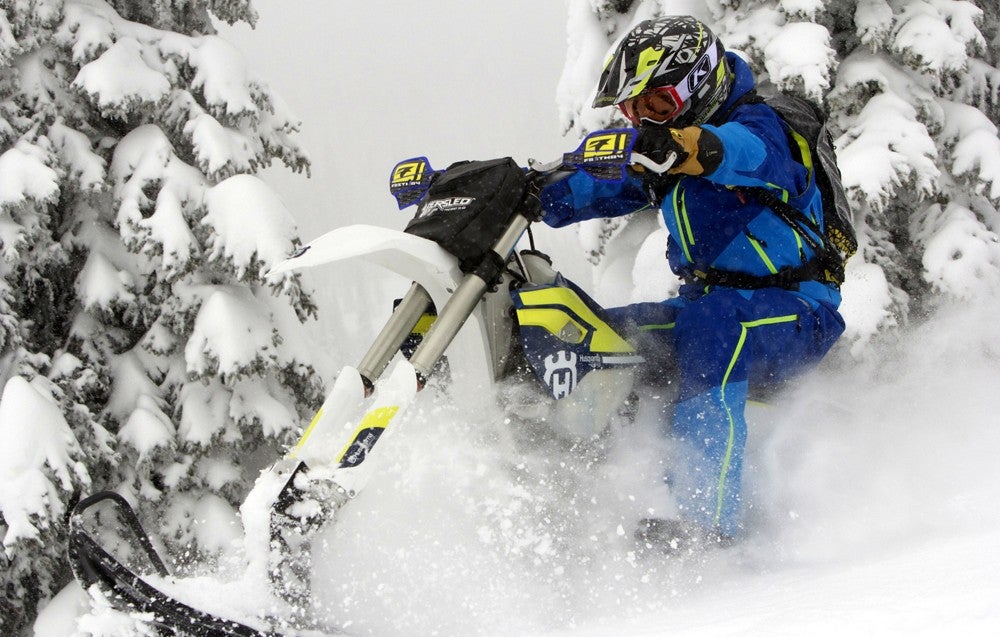 However, Timbersled is not about to rest and declare it has arrived and its work is done; that is not its culture, nor is it Polaris'. Just as Timbersled had its humble beginnings in the Rocky Mountains, other builders are as passionate. We'll report more on this in the coming months.
The ARO kit, complete with ski, spindle and track, requires few tools to complete the install; it is, according to Timbersled, "a direct bolt-on system, requiring no modifications to the bike." Lengths are 120 and 137. Beginning costs for the 120 is $5,499 USD and $6,199 USD for the 137.
From our experience, the ARO kits with Traverse Ski and Traverse Track is Timbersled's best to date. We've had some dang good experiences on a Mountain Horse-equipped dirt bike, and some not so pleasant. But, Timbersled has taken the dirt bike, with the ARO kit, and made the bike a dirt bike that plays in the snow. Timbersled's goal was not to compromise-out the dirt bike's personality, but to capitalize on it and drive it into a ski, track, and rear suspension.
Timbersled has many shock and strut options that will elevate the rider's experience to a redline oh-wow.  Being Timbersled is a Rocky Mountain-located company, it knows well that fuel stations and feed stores are peaks away. Therefore, the company offers an assortment of fuel storage canisters and storage bags to haul food, fuel and avalanche equipment.  Become avalanche prepared, folks. Snow bikes traverse steep and tree-tight terrain that will make a mountain snowmobile wince. Be wise, smart and educated.
For more information on the Timbersled ARO kit – its lengths and options – go to http://www.timbersled.com/en-us/snow-biking. There you will find instructions on installation, how the ARO kit fits to a particular bike and its overall general function.