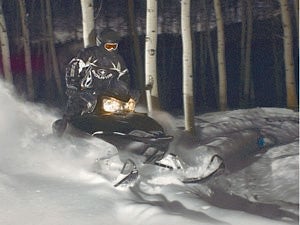 A Shift in value per dollar
The Polaris Shift is what you get when engineering meets marketing. Marketing wants a sled that can appeal to price sensitive snowmobile shoppers. To meet that need, engineering looks at its existing product line and devises a strategy.
Fast Facts
Engine Type:Horizontal In-line
Cylinders:2
Engine Stroke:2-Stroke
Valve Configuration:Reed Valve
Displacement:599 / 36.6
Starter:Pull
Turbocharged:No
View Full Spec
The result is the Polaris IQ Shift, a sled built around the existing IQ chassis and suspensions with a proven engine component that offers above average performance and reliability.
With proven components and a touch of do-it-yourself finishing left for the consumer, the Shift hits showrooms with a price tag under US$7,000. In motorcycle parlance, the Shift is a 'naked' sled. Translate 'naked' to mean raw, simple and basic. That's not to mean stripped of features, because the Shift has most of the same pieces you'd find in a Polaris Dragon. The Shift's pieces are just a bit more basic and less expensive.
Quality Pieces
Built on the same IQ frame with the base front and rear IQ suspensions as the more expensive Dragon, the Shift softens moguls with an IQ front end that comes standard with 10 inches of RydeFX MPV shock-controlled damping. This twin-tube shock absorber design uses what RydeFX calls its patented "low fade orifice carrier" to provide a seamless transition from smooth, low speed riding, to firm, well-controlled performance-oriented handling. The RydeFX MPV also uses a proprietary semi-synthetic oil claimed to be both slippery and long lasting. These shocks also appear in the rear suspension to control its 13.9 inches of travel.
The shocks are good, but a Dragon front end gets—and you pay for—higher higher performance RydeFX Air 2.0 nitrogen gas-charged shocks with aluminum body and integrated ice scraper. The Dragon's rear unit comes standard with gas shocks and a remote reservoir shock on the rear control arm.
Still, the overall suspension design remains the same for both sleds. That includes the new lighter weight spindle with revised ski geometry. The bottom line is a pound less weight and 15% easier steering.
Power Per Dollar
Shift muscles into sports performance territory with its TM38 flat slide carbureted Liberty engine. This is no cheapo twin. It's the same dual carb unit featured in the new Polaris 600 RR (race replica). At 120-horsepower, the Shift out-powers other competitors in its price range.
When comparison pricing, you should weigh the Shift's larger displacement versus some price-competitive models. Versus Yamaha's Phazer, the Shift has a third more power. Also, don't underestimate the Shift's larger displacement: 599cc versus Phazer's high-revving 500cc. The Polaris Liberty features a simple two-into-one exhaust system with a variable valve that boosts torque at low to midrange and opens up to maximize top speed running.
This 'naked' Polaris snowmobile doesn't skimp on power per dollar. To maximize its use, count on Polaris clutching, with a secondary drive evolved from success in snocross racing.
Standard Features
There's nothing 'basic' about the Shift's many standard features, like its 'push button' electronic reverse. Multi-level heat settings for your thumb or hand grips can be quickly set via easy to reach controls on the raised handlebar. There's even a 2-inch riser block so you can set the handlebar to your riding style.
Of course, the Shift is deliberately available in basic black—this encourages each Shift owner to make this budget-priced Polaris their own. Polaris dealers will have special graphics packages available for those owners. You could have a local graphics store come up with a very personal design, too.
Dimensionally the Shift track measures 15 inches of width on a circumference of 121 inches. While Polaris could have cheaped out with the track, the Shift uses a thin, supple and durable Shockwave design with an aggressive 0.91-inch lug pattern.
When engineering looked at the Shift, it saw a lightweight performer. Seems that's how marketing viewed the Shift concept, too. When you compare the IQ-based Shift to the elderly Indy-based models still in the '08 Polaris sled mix, you might be fooled into thinking the Shift is a heavier sled. Oops!
Polaris' published dry weight of 466-pounds for the Shift undercuts a claimed 489 pounds for a 2008 fan-cooled Indy-style 500LX! Even Yamaha undercuts that old design with a published a dry weight of 476 pounds for its base Phazer—still 10-pounds heavier than the Shift!
Doing Your Homework
This 'naked' Polaris starts to look pretty darn good when you do a little homework. Let's see: Polaris Shift has an advantage on price; comes with a 120 hp, liquid-cooled twin; uses state-of-the-art Polaris IQ suspensions with RydeFX shocks; weighs less than an Indy and a Yamaha Phazer; includes standard features like electronic reverse, a lightweight Shockwave track, an analog gauge, riser block, and Dragon style seat and ergonomics. Sure, but how does the Shift perform?
Compared to a 600RR or a Dragon 600, the Shift may be a little lacking. But to get that range of performance, you'll need to pony up thousands of dollars more. And, truth be told, the Shift is above average on the trail. It's way above average when you consider its price tag. There won't be anything less expensive to compete with the Shift on the trail.
On The Trail
On the trail in Colorado's mountains, we found the Polaris Shift nimble and light. It seemed a bit plain when considering the Dragon, but the carbureted twin is a smooth and proven runner. The Liberty 600 ranks right alongside the Ski-Doo/Rotax 600. In actuality, cylinder to cylinder, we would give the performance edge to the carbureted Liberty 600 versus the Rotax 600cc twin used in Ski-Doo's 500SS. The Cleanfire version of the Liberty is definitely superior, but, again, you'd pay a lot more for the power upgrade. The Shift's straight line performance and power off the turns is very good. This Liberty '6' is a stout design with very good low-end and midrange performance.
Handling and ride are very good – exceptional when compared to sleds in its price range. We would like a bit taller handlebar set up, but taller riser blocks are available as an option. Frankly, we kinda like the basic black just the way it is. Our registration and trail stickers will definitely show up on this sled.
Value Shift
Overall, Polaris marketing and Polaris engineering worked well together when creating their concept of a full featured, full-sized snowmobile at an attractive price. The Shift may not be everyone's first choice, but it should be a starting point for everyone when it comes to value per dollar.