2015 Polaris 800 RMK-Pro Review + Video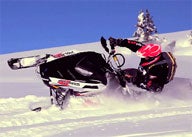 Being Pro on a RMK Pro Snowmobile
When we scan Facebook, blog posts and riding clinic videos, we come away with a fact, not a theory, Polaris' 800 Pro-RMK is one popular ride; we see them with wild wraps, stout front bumpers, fuel controllers, aftermarket skis, turbochargers, and big bore kits.
The Pro has a loyal following of boisterous fans. Because of its great popularity, the Pro also has its naysayers who are equally boisterous. The adage, "Why would I want to ride what everyone else rides," fuels the hecklers' voice. The pessimists also tear down the Pro because its first year (2013) Quick Drive belt drive system did not survive boosted power from a turbo, and in some cases, the 800 was broadcasted on various forums as the mountain snowmobile with a built-in motor burn-down switch. Unfortunately, too often owner care – or lack thereof – is not fully reported in social media space. It's always the snowmobile's fault, never the owner's, right?
Yet the 800 Pro-RMK survives and is highly respected, even by its scoffers (though they struggle to admit it). The Pro is Dan Adams; it is Chris Burandt; it is David Sharp Jr.; it is Keith Curtis and it is you and I, mountain rider extraordinaire. It was the terrain dominator on the Rocky Mountain Snowmobile Hillclimb Association (RMSHA) hillclimb circuit and the Pro's Terrain Domination carried it to dominance at the Jackson Hole World Championship Hillclimb, Jackson Hole, WY. Read for yourself, the Pro-RMK and companion RMK Assault ruled the podiums.
Furthermore, and this is where the scoffers lose their stinky talk, according toinformation Polaris received from the International Snowmobile Manufacturers Association (ISMA), the 2014 Polaris RMK Pro 800 was North America's most purchased snowmobile last year, beating out all other models and brands for the fourth year.
Say what you want, but when Polaris wins on Saturday and Sunday, it sells on Monday.
The 2015 800 Pro-RMK is built on Polaris' Pro Ride chassis, which is designed for technical tree running and sidehilling. Through what Polaris calls "Rider Active Control," the chassis is rigid; flex is nearly non-existent.
Integrated into the Pro Ride Pro-RMK is a carbon fiber overstructure that in part gives the Pro 800 its light weight without diminishing strength. A series of bars that hover over the motor, the overstructure resembles an A-frame roll cage built to protect the motor.
Polaris also kept the weight low by using an adhesive bonded process on front suspension's lower control arms. With forged aluminum ends and steel tubing, Polaris says the control arms are two pounds lighter than those produced using a different process.
The Pro-Ride RMK has a vertical steering post with a series of 90-degree angles that deliver flat handlebar swing. The Pro-Ride RMK front suspension is adjustable from 39-inches to 41-inches. The Pro-RMK has a sway bar. Some mountain riders like this, some don't and some don't care. For us, we don't see the sway bar as a "flickability" killer.
The Pro RMK's rear suspension is simply known as "Coil-Over Rear Suspension." This rear suspension keeps the Pro flat when it ascends up a slope, controlling its weight transfer by keeping the nose down and the track from trenching. Of course, personal setup determines much of this. The Coil-Over has no torsion springs and is tunable to the snow conditions. With a turn of a spring, preload adjustment allows the Coil Over to positively react to varying snow conditions: deep powder, hard-packed or crusted. Track lengths are 155 and 163. All are 15-inches in width.
The Pro-Ride RMK adjustable front suspension has nine-inches of travel and is controlled by Walker Evans shocks. The Coil-Over rear suspension has a vertical travel of 16 inches and both the front and rear rail shocks are Walker Evans.
The Pro-Ride is equipped with Pro Taper handlebars that match the natural bend of arms and wrists. For me, I find the handlebar post to be rather tall; my body's position over the motor is further forward than what I like when performing downhill sidehills with reversing uphill cuts. I know this is a nit, but when tech riding to the max, tall bars can load up the front end too much with body weight. I prefer the standard RMK bar height best.
Its PowderTrac runningboards are epic, in that they are rigid and have wide holes to dump snow. Furthermore, the boards are narrow – or, at least, narrower than the other OEM mountain snowmobile runningboards – and do not hang up the chassis in deep snow, or push the sled away from a steep mountain slope when engaging a sidehill cut.
The Pro-Lite seat is narrow and short, allowing the driver to transition from side-to-side without catching a foot on the seat's tail.
The Pro's Multi Function Gauge allows riders to flip between tach and speedo. It also records hours and temperature, as well as trip distance and overall distance. It has a built-in recorder, which logs up to three minutes of run time that can be played back later. But, another nit, we don't like its angle, as we have come to like "face up" instrument pods from Arctic Cat and Ski-Doo.
The 800 Pro-RMK is built with the QuickDrive Driveshaft Low Inertia belt drive system that is efficient at transferring power to the track. With less rotating mass than a chaincase, the 800 motor spins the track with ease. But know the Pro 800 RMK likes to be operated in stock form – it is an efficient snowmobile. When riders add turbochargers or big-bore kits with tuned exhaust pipes, the horsepower stress placed on the QuickDrive challenges it. Polaris understands guys like power, minimal rotating mass and light weight, but if you want to add Godzilla power to the Pro Ride chassis RMK, consider a standard RMK or an RMK Assault; these chaincase-driven snowmobiles have the brawn to absorb turbo boost or big-bore horsepower.
The powerplant is Polaris' Liberty 795cc two-stroke, liquid-cooled, Cleanfire fuel-injected (CFI) twin cylinder motor busting out 150-plus horsepower. Bore and stroke is 85mm X 70mm. The motor comes complete with throttle position sensors, detonation sensors and PERC – Polaris Electronic Reverse Control.
Now armed with the updated technical information on Pro's QuickDrive and its belt, you can rest assured the 800 Pro-RMK 155 and 163 are the best mountain snowmobiles Polaris has built to date. The 795cc motor may be underpowered as compared to Cat's M8000 Sno Pro and Ski-Doo's XM Summit and Summit T3, but its power-to-weight is superior to both competitors.
The Pro 800's track lugs are shorter than its competitors, but only by one-tenth of an inch (compared to the Summit X) and two-tenths of an inch (compared to the M8000 Sno Pro).
From many seasons riding versions of Polaris' Pro 800, we've come to appreciate the Pro's "flickability." The chassis is rigid and easily rolls center-right and center-left. Its motor does not feel underpowered, except when loaded down with heavy wet snow. Then it will labor down. We feel the Pro has a bull's eye on its snow flap and if Polaris wants to hold number one status, then it must grow some horsepower.
Polaris is offering a wild package Pro called "Terrain Dominator." This Spring-buy and limited edition Pro comes with graphics dripping with attitude, a front bumper that is designed to move moose or tree, and color combinations that, well, are to the power of ten. The Terrain Dominator also includes Walker Evans Clicker Shocks (same as the RMK Assault), a lower cut ProTaper handlebar (low bars to keep riders better positioned for difficult maneuvers), and Burandt Lock & Ride tunnel bag.
This spring, many Rocky Mountain-located dealers swapped out the RMK's Series 5.1 2.4-inch paddle track for the Camoplast Challenger X3 – a single-ply lightweight track with three-inch paddles. This swap also included trading out the factory-installed eight tooth drivers for smaller-diameter seven tooth anti-stab drivers, this to assure the taller paddles have sufficient space to rotate inside the tunnel. Polaris helped its dealers by becoming, in essence, a Camoplast track distributor and this gave Polaris dealers a price break on the Camoplast track. Dealers performed the track and driver swap out as their own Spring-buy incentive program. Meaning, Polaris did not buy back the Series 5.1 track and eight-tooth drivers; this was not a Polaris-driven program. General cost range for this swap-out, depending on how exotic the track drivers were, averaged about $1100.00 to $1500.00. Figuring in the cost of a new 2015 800 Pro-RMK and this swap out, the Pro-RMK with three-inch paddle track exceeded the T3 Summit X on cost, comparing 163 to 163.
2015 Polaris 800 Pro-RMK 155 Specs
Engine
Polaris Cleanfire two-stroke high-performance 795cc; bore/stroke of 85mm/70mm; two-cylinder, liquid-cooled; Cleanfire electronic fuel injection system; dry sump lubrication
Horsepower
150+
Drive
Polaris QuickDrive Low Inertia with P85 driver and TEAM driven
Front Suspension
Pro-Ride RMK double A-arm; Walker Evans shocks; up to 9-in of travel
Rear Suspension
Polaris parallel slide rail RMK Coil-Over; Walker Evans gas shocks; up to 16-inches of travel
Length
129.0 in
Height
51.0 in
Width
46.5 in
Ski Stance
Adjustable 39-40-41-inches
Track
15 x 155 x 2.4 Series 5.1
Brake
Polaris QuickDrive Low Inertia hydraulic disc brake
Weight
417 pounds (Claimed)
Fuel Capacity
11.5 US Gal
Features
Optional storage bags, heated seat
MSRP
US$12,499 – Canada $13,699