2009 Ski-Doo Skandic SUV 550F Review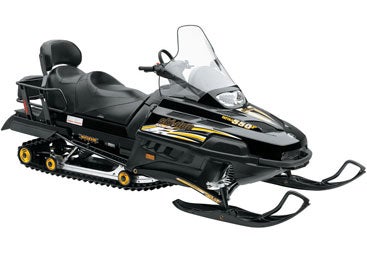 A rugged and reliable workhorse
When it comes to beating the bushes in the backcountry, you want proven dependable technology that gets you out — and back. The 2009 Ski-Doo Skandic SUV has all the right pieces for tough tundra duty. There's a reliable 550cc fan-cooled twin packaged with a 20-inch wide, 156-inch long rubber track. This combination will break trail, traverse ice bridges and power along groomed trails all winter long more reliably than a dog sled.
Fast Facts
Engine Type:Horizontal In-line
Cylinders:2
Engine Stroke:2-Stroke
Valve Configuration:Reed Valve
Displacement:553.4 / 33.8
Starter:Electric / Pull
Turbocharged:No
View Full Spec
The Skandic SUV isn't about the glitz and glamour. It's all about the gets and comes back. That's why you'll find one of the most reliable Rotax 2-stroke engine designs powering a synchromesh hi-low range transmission. The base power of this 553.4cc displacement air-cooled twin works Rotax' proven TRA III primary clutch. The synchro gearbox comes from Ski-Doo's Finnish-based partner Lynx. This gearbox offers 'on the fly' shifting from high range to low range. You will need to make a complete stop to engage the reverse gear.
Unlike the Expedition TUV, which comes with the latest REV-XU chassis, the Skandic SUV retains an older 'butt back' platform. This Yeti II foundation retains trailing arms to work the front suspension. The SUV-39 center-to-center ski stance is relatively narrow at 38.8 inches, but it works on this sled as it is designed to snake in and out of forested lands as well as narrow tundra paths. The sled's 7.9 inches of front travel are controlled by simple, yet effective hydraulic shocks. The same basic shock package works the front and rear shock arms on the sled's rear suspension.
The basic rear skid frame is elongated to accommodate the extra wide and extra long track dimensions. The parallel rail slide unit features extra bogies to supplement durability in marginal or severe ice conditions.
Don't mistake the SUV as a bare bones sled. It offers excellent wind protection from a high windshield, which also has side wings to move cold air away from the rider's hands. Key start makes firing up the Rotax a simple matter. But, if the sled's battery is overcome from the cold, rest assured that the 550 will start easily with the pull cord backup.
Not only does the windshield offer ample wind protection, the supple two-up seat works well with riser bumps to place the driver and passenger in proper seating position. Unlike many modern sleds, the SUV offers ample storage. In addition to the rear rack area, there is underseat storage for all matter of tools. If you carry a 12-volt tool, simply plug in to the SUV's onboard 12-volt power outlet.
The Skandic SUV carries up to 11.1 gallons of fuel in its center-mounted gas tank, which should give you good range for off-trail running. Should you encounter deep snow, grab the mountain strap attached to the handlebar to help work your way through tough terrain.
While Ski-Doo suggests the Skandic SUV is well suited for double-duty as a groomed or ungroomed ride, we suspect that it is really best suited for work chores. It would make an exceptional addition to a ski area as it can gear down to reach skiers injured in out of bounds areas and haul them on a rescue toboggan back to the lodge. Snowmobile clubs could use this sled as a rescue unit or even to haul a lightweight groomer to maintain feeder or narrow access trails. This is a very versatile snowmobile made even more useful thanks to its gearbox tranny.
Available in basic black with gold detailing, the Skandic SUV comes with a ruggedly handsome demeanor. It features rugged components like 7.1 inch wide steel skis and a durable construction tunnel featuring a snow panel around the rear cargo area.
We won't pretend that this unit will be a big seller with the average consumer, but if you need a serious snowmobile to move an ice house, carry ice fishing supplies to your favorite pond, cart supplies to a backwoods getaway or help you work a trap line, this is just the unit for you. It's rugged, reliable and ready for serious work.
2009 Ski-Doo Skandic SUV Specs
Engine
Rotax 550cc fan-cooled twin with 2x VM30 carbs
Horsepower
57 (approx)
Drive
Ski-Doo TRA III drive system with Synchromesh High/Low range with reverse transmission
Front Suspension
Ski-Doo trailing arm SUV suspension; hydraulic shocks; 7.9-inches of travel
Rear Suspension
Ski-Doo RCG1-W parallel rail slide with hydraulic shock on front arm and hydraulic shock on rear arms; up to 11.4-inches of travel
Length
122.3 in
Height
53.3 in
Width
47.8 in
Ski Stance
38.3 in
Track
20 x 156 x 1.25
Weight
653 (claimed)
Fuel Capacity
11.1 US Gal
MSRP
$8,649
Related Reading
2009 Ski-Doo Summit Fan Review
2009 Ski-Doo MX Z 550X Review