2010 Ski-Doo 800 Summit and Everest Review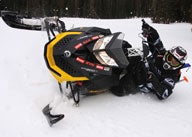 X-RS Hill Basher Impresses
Ski-Doo's ultra-light XP 800 Summit and Everest are mountain snowmobiles that in droves shred the Rocky Mountains. This group shredding occurred because in model-year 2008 Ski-Doo rolled out the lightest mountain snowmobile known to this industry and mountain riders purchased it in abundance.
Fast Facts
Engine Type:Horizontal In-line
Cylinders:2
Engine Stroke:2-Stroke
Valve Configuration:Reed Valve
Displacement:799.5 / 48.8
Starter:Pull
Turbocharged:No
View Full Spec
The 450-pound dry-weight XP Summit and Everest are the most often purchased sleds in the West and ones that stir much debate. Debate causes buyers to investigate and seek answers for themselves. For Ski-Doo, controversy leads to product sales.
Background
Ski-Doo believes mountain riders are a notable consumer. With Chris Ruske of Grand Lake, Colo., leading Ski-Doo's mountain snowmobile product development team, Ski-Doo continues to hold the No. 1 spot in sales. From our experience, the Snowmobile.com Mountain Team knows Ski-Doo pushes itself to develop the most technologically-advanced mountain snowmobile on the market.
For the past two years our three-man test crew has knocked down many mountains on an XP Summit. The 800R PowerTEK twin-cylinder, two-stroke and carburetor-based motor is hot and filled with grunt. In addition, the 16-inch wide track carries the lightest of mountain sleds to heights that could make a billy goat puke.
Back to the aforementioned debate; we've learned that when pulling a nasty sidehill cut, or boondocking on tree-infested steep slopes, we could not maneuver the XP Summit like we could a Polaris Dragon 800 or Arctic Cat M8.
The Summit's over-the-motor steering post (also known as laydown, or horizontal steering) causes the handlebars to swing down from its nine-o'clock or three-o'clock position down toward the fuel cell, similar to an automobile. Yet, for those who have mastered the Summit's style, they are kings and we are envious. You can read more about this in our sidebar, "The Ins and Outs of Sled Steering Control."

To combat the aforementioned issues, we pondered this thought: Release an all-out boondocker by delivering the Summit with a 36- or 37-inch stance, no sway bar, and 15-inch wide track; this may cancel out some of its resistance to roll onto a ski and sidehill. Cinch up the ski-stance, dump the sway bars and whack an inch from the track's width. Problem solved by calling on the laws of physics. Debate solved. Well, uh, not so quick.
New for 2010 is the X-RS Summit, which comes to the buying public with a 43-inch stance, versus the Summit X's and Everest's 40-inch stance, and a handlebar post that is positioned two-inches more forward than the Summit X/Everest. It also retains the sway bars and the 16-inch track that stretches 154-inches.
X-RS
For you buy-early guys, the X-RS hillclimb racer was a "Spring only" purchase designed to compete against Cat's HCR and Polaris' Assault. Now, this sled is a controversy silencer, in that it muffles some of this author's grumbles. Let me explain.
When Ski-Doo's media contact, Steve Cowing, told our three-man test crew to honk the mountains on the X-RS Summit, I was the most skeptical; wide ski-stance, pushed forward handlebar post; the laws of physics told me, "hard to handle." Well, I made an assumption, and we all know how that usually turns out.
When we test a sled we first discover a snowmobile's sidehilling capabilities by rolling it on its right- or left-side to its balance point and check out how far the mountain sled will travel down a groomed trail while balanced on a ski's edge. Polaris' RMKs and Cat's Ms will knife-edge for long distances with little effort; this quickly testifies the sled is easy to boondock and sidehill.
The Summit or Everest would not knife-edge like the RMKs and Ms, but the X-RS surely could. Say what? Likewise on the steeps, the X-RS showed a nimble and agile personality — the hillclimber proved to have a light feel through the bars. Why?
According to Ski-Doo's Cowing, the Summit X-RS has a lower front end than other Summits. Because with its wider RS Dual A-arms, it uses the same length of shock, thus increasing the pressure on the rear suspension's center shock. With more pressure on the center shock, boondocking becomes easier.
The Mountain Team also learned the pushed forward steering post, which increases leverage, contributed to the X-RS' easy boondocking acumen. By increasing leverage, a correlating affect occurs, rider effort to roll the Summit into a hill decreases.
Like the Summit X and Everest, the X-RS uses the famed 800R PowerTEK motor with Mikuni TM-40 flat slide carbs and Ski-Doo's Digital Performance Management (DPM) system, which electronically adjusts the carburetors' fuel flow for altitude and barometric pressure.
A 16-inch wide PowderMax track that stretches to 154-inches is the only track length available on the XR-S; this is the same track available on the Everest and Summit X.
The X-RS shares most of the same components as the Summit X, which follows this briefing, but has some key upgrades exclusive for hillclimb competition.
X-RS Upgrades:
• Reinforced rails on SC-5M rear suspension
• Fourth idler wheel on the rear axle
• HPG Plus R aluminum front shock with no-tool rebound adjuster
• RS Dual A-arm front suspension
• KYB Pro 36 aluminum piggy-back rear shocks with dual-speed compression adjusters
• Multi-function digital gauge with display and three-minutes high sampling record mode
Cost for this hot rod is $US11,649.
X and Everest
Like the X-RS, the Summit X and Everest calls on Ski-Doo's 800R PowerTEK motor with RAVE (adjustable exhaust valves), and 2.25-inch lug PowerMax track stretched to 16-inches wide. The X and Everest come in three tread lengths, 146- 154- or 163. They also feature a Brembo hydraulic brake and Rotax Electronic Reverse (RER).
The Summit X includes the Everest's standard features, but adds HPG Plus shocks, multi-function digital instrument pod, low windshield, and lightweight chromoly front suspension components. Colors are deep black, or orange/black.
Be it Summit X or Everest, Ski-Doo for model-year 2010 leads the other OEMs in mountain sled sales. Its torque-wicked 800R motor, killer looks, wide deep-lug track, and lightweight chassis pulled new owners into Ski-Doo showrooms. The sled hauls booty up a hill, flies through the powder and is not afraid of taking a hit when dropped off a cornice.
The Summit's ergos are great for mountain mauling — tall and narrow anti-slip seat, and tall bars. The X Summit's instrument cluster displays all vitals cleanly and smartly, including elevation.
Down the trail, for both models, the SC-5M rear skid is a control freak; it holds a line and remains smart and confident when the moguls are whale sized.
For 2010, the Ski-Doo developers listened to its dealers about the Summit's boondocking misgivings. To present a more aggressive sidehilling Summit some significant changes were made for model year 2010.
2010 Summit Changes:
• The front rail tips are angled up further from model-year 2009, to give the track a more aggressive – steeper – approach angle
• Softer sway bars
• Longer center rail shock
• New rocker arm
• New calibrations on all four shocks
• Front limiter strap has six adjustment positions, an increase of two from 2009
The Benefits:
• Eliminate sag
• Give a lighter weight feel
• Provide better side hilling – especially for those downhill U-turns
• Easier boon docking
• Better comfort and bumps capacity in trail riding
• Wider range of adjustments. (For increased weight transfer, sidehilling ease and boondocking, riders can lengthen the limiter strap beyond that which was previously offered; for those who prefer the MY2009 setup, they will be able to have the exact same setup.)
According to Ski-Doo, "These improvements are awesome for mountain guys since it opens possibilities to fine tune the sled for a specific riding style."
All 800 Summits and Everests, including the aforementioned X-RS, receive this feature.
In U.S. dollars, the Summit X has an MSRP of $10,449.00, whereas the Everest has a retails for $9,599.00; prices vary depending on track length.
In Summ-ation
When we play on an 800 Summit or Everest, we let the motor wake us up and allow the power-to-weight ratio of three pounds per horsepower to carry us away. It is a bruiser and a big chute killer.
The TRA VII primary clutch and QRS driven keep the motor in the sweet spot. And when elevations rapidly change (and also air density), the quick-adjust driven keeps the "Rs" on cue. This is essential for the 800R's powerband, which is narrower than Polaris' Liberty 800 and Cat's Suzuki-built 800, but the Summit's clutch adjustments are easier to dial in.
An area where the XP Summits shine is in amped-up speed bump bashing. Ski-Doo's SC-5M rear skid and Dual A-arm front suspension keep the Summit/Everest/X-RS in close contact with rider and gravity. The X-package equipped Summit X and premium X-RS are the mountain sleds to have when racing to the mountain or back to the truck.
Another sweet spot the Summit/Everest/X-RS line is its new tall and narrow seat. The grippy, anti-slip seat with narrow bun holder is probably the industry's best. It provides smooth and easy transition from sitting to standing.
When it comes to style, sex-appeal and eye-pleasing lines, the three Summits have it. These are styled right to walk the red carpet.
If you are a rider who wants the lightweight wonder-sled on the snow, this is your ride. It is brawny and willing to take a punch while delivering knock out blows to a tall peak.
2010 Ski Doo Summit Specs:
| | | | |
| --- | --- | --- | --- |
| | 2010 800 Ski-Doo X-RS | 2010 800 Ski-Doo Summit X 154 | 2010 800 Ski-Doo Everest 154 |
| Engine | Rotax 799.5cc, PowerTEK; liquid-cooled; dual Mikuni TM-40; single exhaust | Rotax 799.5cc, PowerTEK; liquid-cooled; dual Mikuni TM-40; single exhaust | Rotax 799.5cc, PowerTEK; liquid-cooled; dual Mikuni TM-40; single exhaust |
| Horsepower | 150-plus | 150-plus | 150-plus |
| Drive | TRA VII/QRS driven | TRA VII/QRS driven | TRA VII/QRS driven |
| Front Suspension | Dual A-Arm with lightweight chromoly lower arm HPG Plus R shocks; 9-in travel | Dual A-Arm with HPG Plus shocks; 9-in travel | Dual A-Arm with HPG shocks; 9-in travel |
| Rear Suspension | SC-5M parallel rail; 4-inch idler; KYB Pro 36 shocks; 16-inch travel | SC-5M parallel rail; HPG Plus; 16-inch travel | SC-5M parallel rail; HPG; 16-inch travel |
| Length | 130.3 in | 130.3 in | 130.3 in |
| Height | 39.4 in | 39.4 in | 47.2 in |
| Width | 51.1 in | 47.4 in | 47.4 in |
| Ski Stance | 41.6 – 43 in | 40.1 in | 40.1 in |
| Track | 16x154x2.25 lightweight PowderMax | 16x154x2.25 PowderMax | 16x154x2.25 PowderMax |
| Weight | 451 (claimed) | 446 (claimed) | 451 (claimed) |
| Fuel Capacity | 10.6 US Gal (91 octane Premium Unleaded) | 10.6 US Gal (91 octane Premium Unleaded) | 10.6 US Gal (91 octane Premium Unleaded) |
| MSRP | $11,649 | $10,999 | $10,599 |
Related Reading
2009 Ski-Doo Summit Everest 800 Review
2009 Ski-Doo Summit Fan Review
Bassett's Blog: Playing with the King