2011 Ski-Doo MXZ TNT 600 ACE Review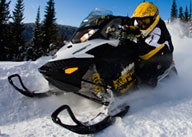 Ski-Doo comes to market with high-mileage TNT
Ski-Doo told us straight up that its dealers had ordered 50 percent more 600 4-stroke powered sleds than anticipated. That's just one of the things that intrigue us about this newest Ski-Doo.
We give BRP/Rotax/Ski-Doo an immense amount of credit if they pull this. What is it that we look to see being pulled off? For BRP, the corporate parent, we look for leadership that will showcase what an incentivized snowmobile manufacturer can do in a market that needs such a product but that operates within an environment whose end-users are not demanding it. We cannot locate a serious segment that is demanding the idea of a high-mileage, clean emissions 4-stroke sport sled that most likely has to cost more and has a level of performance similar to the fan-cooled two-stroke model it replaces.
We think that BRP's engine manufacturing group should have little trouble convincing even the most cynical that the all new 600 ACE will be a winner — albeit a modestly powerful one. This engine would make a wonderful little zinger in a lightweight Can Am ATV chassis, but it remains to be seen just how zippy it will make the very light TNT chassis seem. In our test ride of the TNT 600 ACE versus Yamaha's Phazer RTX, there was a noticeable difference in power, where the Yamaha has upwards of 20 more. This directly related to about 10 more miles per hour for the 500cc high-revving Yamaha.
All that being said, we have to like what we feel is smoother driveaway from the Ski-Doo and a good but not total plodding to at least 70 miles per hour for an estimated top end. We are perfectly willing to cut Ski-Doo some serious slack here — just as we will with Ski-Doo's competition. During our stay at the new model review site, most of the sled makers were in various states of tuning up their sleds; the newer and less proven were most apt to get the greatest attention. The 800 E-Tec and 600 ACE four-stroke seemed to be getting a great deal of computer scan flashes every day during our stay.
The new 600cc 4-stroker gets a ram boost of air from a cavernous air intake system that blends with a quick hit of fuel for power. This combination is said to be the trick behind the 600 ACE's nearly 30 miles per gallon mileage.
Let's keep in mind that this engine comes with top of the line engine features: double overhead cam, new internal dry sump oil tank, advanced combustion effiencies like the ram air induction, plus squarish bore and stroke for strong torque in a small Twin.
The eDrive driver clutch gives the TNT 600 ACE its own unique feel that reacts more like a strong engaging ATV drive than rpm-sensing snowmobile main clutch. Engagement is set for smooth drive-off at a low 2200 revs. The 600's torque was specifically designed strongly at this low engagement while pulling to top end.
Rotax deserves greater kudos for its effort on this motor and drive system. While the 600 ACE will not be overwhelming to a serious go-fast rider, a sled that has 30-plus MPG isn't his baby anywhere.
That leaves us with how can Ski-Doo, the sled-making firm, pull off great success here. The Ski-Doo MXZ TNT 600 ACE will not be the company's sales leader, but it should get good attention, much of the early reaction may be negative as serious MXZ riders will not see the value of the TNT 600 ACE over the 550 fan or 600 two-stroke carb versions.
Just as Cat fans needed to get over the loss of the Firecat 700, Ski-Dooers need to accept the new realities of snowmobiles — decisions made to accommodate government backed and demanded requirements that support a "green" new world. The 600 ACE is an intrinsic first step that all of the sled makers will be watching very closely.
Ski-Doo has quite a lot riding on the 600 ACE, probably more riding on the two-up version, which we see as being a very strong entry into the base rental fleets, especially where clean emissions sleds will be in demand. Ski-Doo has this market covered. If you want a sporty one-up sidekick, the TNT 600 ACE gives base line buyers and rental fleets a great option. It should be nearly bulletproof and smooth, fitted with car-like features — electric starting and reverse. Is it a race sled? No, but does it have to be when it can claim unbelievable mileage? And, that is something that we want to experience for ourselves over the course of a real world snow season.
Other than that, simply accept the TNT 600 ACE as a new kind of sport sled, one that looks the part of boy racer, has a good (not great) shock package, great amenities, smooth on-trail comfort and an engine that may just establish a totally new direction for all of us in the years ahead.
Related Reading
2011 Ski-Doo Lineup Preview
2010 Ski-Doo MXZ TNT 600 Review
2010 Ski-Doo GSX Sport 550F Review
2010 Ski-Doo TNT 550 vs Yamaha Phazer RTX
All Things Ski-Doo on Snowmobile.com