Ski-Doo Creates Elite Status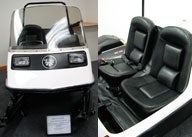 Ski-Doo's first side-by-side concept
There have been some most interesting sleds built over the years. Some of them were merely concepts designed to draw attention to a specific manufacturer's racing efforts or an attempt to see if there was any interest in something new. After all, a simple "concept" sled could be built far more cheaply than a fleet of new models. If consumers had no interest, then the manufacturer was out the price of time and materials, not a full-scale production run.
Then, of course, there were sleds that came on to the market in small numbers, stayed around for a few seasons and then disappeared, usually never to reappear. That wasn't the case with the Ski-Doo Elite. There have been three iterations of that unique side-by-side snowmobile.
The very first iteration appeared as a 1973 model. The Ski-Doo Elite was to be exactly that — a unique snowmobile designed to appeal to a more upscale clientele. Developed in Valcourt, Que., home to Bombardier Ski-Doo, the Elite would have been tested on the newly existing series of super highway-like snowmobile trails. Engineers would simply open the doors of the prototype shop and head off down those smooth and wide, Quebec snow freeways. This sled was intended for smooth riding as it was heavy and not the most nimble handling creation despite twin tracks and wide twin ski stance.
Twin Tracks
Remember that the Elite was not Ski-Doo's first ever twin track design. In fact, the company had made quite a few twin-tracked snow vehicles for use by World War II Allied soldiers fighting in the Arctic fringes. Indeed, that twin-track heritage carried over to the 1963 RD 8 utility twin tracker and then the Alpine and Valmont models of the early 1970s.
For a number of years, Ski-Doo tried to up sell its basic utilitarian Alpine twin-tracked, single ski model by spiffing it up with added power for pulling a "ski-boose" or adding more recreational styling. But, by 1973 Ski-Doo decided to try a more elaborate style while seeking to reach out to new customers. The original Ski-Doo Elite broke with the previous twin-track style and function.
That 1973 version hit the market with a 635cc fan-cooled twin that used a single Tillotson HD carburetor. The rear-mounted twin sat uncrowded in a rear trunk-like compartment. A stylish model, the Elite came with side-by-side seating that simulated a sporty "pony car" type cockpit environment complete with bucket style seats. A single roll bar behind the seats provided some visual sensation of safety. There was a shift lever between the seats suggesting a pony car's 4-speed console-mount transmission. It was really the reverse shifter. The rear-mounted Rotax twin came with electric start as well.
The suspension was really quite basic. As with the Alpine, the Elite featured twin bogie suspension components, but the tracks were narrow at 15-inches in width versus the Alpine's twin 18-inch wide tracks.
Evolution
By the next season, the Elite relied on a smaller displacement twin. The rear compartment housed the 436.6cc Rotax twin, but still mixed fuel via a Tillotson carb. This first iteration of the Ski-Doo Elite carried on through model year 1975. The sled's dashboard included a speedometer, tach, electric fuel gauge and even a cigarette lighter. My how times have changed!
During its first run, the Elite ran up against the original oil crisis which led to a downturn in demand for powersports vehicles of any kind. Ski-Doo claims that between 1969 and about 1973, more than 1.6 million snowmobiles had been manufactured worldwide, leading to a rapid increase in new sled technologies. But that rapid growth was about to confront the 1973 oil crisis, when consumers waited in long lines at gas stations hoping to get enough fuel to get through the week.
Born Again
By 1976 Ski-Doo shrunk its product offerings to 15 models in just six series. The Elite didn't make the cut, but a revived version would reappear in model year 1978. The 1978 Elite benefited from three years of advancement in the Ski-Doo line of snowmobiles. Power went from a fan-cooled twin to a liquid-cooled 440 twin that had been introduced a year earlier as power for the top of the line Ski-Doo Everest 444L/C. The rear-mounted engine used what Ski-Doo called its dual cooling system of radiator and fan assembly to control underhood temperatures.
As important a change as the power was, so too was the upgraded rear suspension. Bogie wheeled suspensions were gone. The new Elite came with Ski-Doo's Torque Reaction slide suspension, which was on virtually all but the budget priced models. Right away the Elite's handing and ride improved. Combining power with a more sophisticated ride made the Elite a far better model.
With top line power, the new Elite retained its bucket seats but added a passenger seat belt. Heated handlebars were standard, but if you wanted more you could specify a ski rack, CB radio and an AM/FM radio.
By 1981 even though the Elite was considered a low volume model, it still garned upgrades and was now powered by a 462.8cc Rotax twin with two Mikuni VM34 slide carbs. The color upgrade to black with tan interior gave it a unique style.
Production Ends
Heading to model year 1983, the Elite was dropped after 10 years of production. The Elite name and side-by-side concept wouldn't resurface until model year 2005. When it did, it came with a Rotax 4-stroke 1.5-liter liquid-cooled engine, an aircraft-inspired steering wheel with heat grips, and twin SC-3 rear slide suspensions. The latest Elite was more snow car than ever, with rear-engine and a lockable front trunk. As Ski-Doo Elite Project Leader Charles Bombardier said at the launch of the born-again Elite, "You drive it like a car and you feel completely safe in its cocoon."
It may have been the safest and most powerful Elite ever, but its longevity was short. We now await the fourth rebirth of Ski-Doo's unique side-by-side Elite.
EDITOR'S NOTE: If you'd like to view an original 1974 Ski-Doo Elite vintage model, stop by the snowmobile museum at the World Snowmobile Headquarters in Eagle River, Wis. These images in this article are of that Elite on loan to the museum courtesy of Ron and Cherri Giannunzio of Michigan.