2009 Yamaha Apex ER Review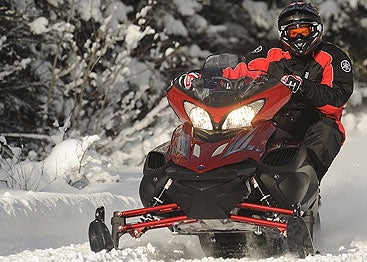 Yamaha's 'budget' hot rod stars in performance and value.
We have a soft spot for the 'base' Yamaha Apex. The glitter and glam goes to the more decked out GT and RTX, but if there is such a thing as budget considerations when looking to purchase a US$10,000 snowmobile, our vote goes to the 2009 Yamaha Apex ER. It is an exceptionally well-rounded sled that should satisfy rough trail as well as groomed trail riders.
Fast Facts
Engine Type:Horizontal In-line
Cylinders:4
Engine Stroke:4-Stroke
Valve Configuration:DOHC
Displacement:998 / 60.9
Starter:Electric
Turbocharged:No
View Full Spec
And why not? For the most part this 'budget' Apex carries the same design criteria as its more expensive siblings. It comes with the latest rider-forward seating and Yamaha's Deltabox II chassis construction. It can handle groomed trails nearly as adroitly as the GT version, lacking the GT's clicker shocks up front and electronically controlled Ohlins gas shock on the rear suspension. And, it is equally rugged as the rough trail RTX version, lacking the aluminum Fox Float Air shocks on the front suspension and the rough trail tuned ProActive CK rear suspension with clicker gas shocks.
Monoshock Suspension
Actually, we aren't as impressed with Yamaha's big bump ProActive rear suspension as we are with the monoshock versions. The Apex ER comes with the more basic version, which simply means you have to hop off the sled to set the tunnel-side mounted suspension adjustment knob. The GT version's Ohlins shock is electronically controlled from the handlebar. Truthfully, once you find your preferred setting, you'll rarely make another adjustment. The Ohlins offers some bragging rights for GT owners, but Yamaha specs 46mm aluminum-bodied KYB shocks work very well.
Recognizing that we last raced cross country many years (decades?) ago, we tend to favor what we consider the more controlled ride of Yamaha's monoshock rear set up versus the torsion sprung assistance of the ProActive CK design found on the Apex RTX. For all around snowmobiling, which assumes the majority of your time will be spent on groomed trails, the monoshock rear works well. Yes, it won't be as fun in the big whoops and rough ditches, but the Apex ER demographic doesn't ride there anyway! They want a rear suspension that absorbs the niggling stutter bumps and smoothes out the end of the day ruts. The Apex ER handles that well.
A-Arms & Hooks
Up front you'll find the latest Yamaha short spindle, long A-arm setup. This second generation front suspension comes with a swaybar to help maximize cornering and minimize side-to-side roll. Outfitted with 40mm aluminum-bodied gas shocks, the front end grips well, keeps the nose predictable and reacts consistently through its nine inches of travel. Figuring into this handling equation is Yamaha's single-piece, dual hooked handlebar. Arctic Cat and Yamaha both score big with us with their handlebar designs. We suppose the one you prefer remains a matter of brand loyalty. And, of course, the bar is designed to complement the pronounced rider forward seating.
Just as the Apex ER shares the same hooked steering bar, it also comes with Yamaha's seemingly complicated digital gauge. We say seemingly complicated, because at first blush you feel as though you have to cycle through a lot to get to various functions. This was our impression from preview rides, but once we enjoyed a full season aboard a previous year Apex, we realized that the perception of complicated vanishes with familiarity. Once we got used to the way the display works, we really liked it. You'll find a plethora of readily accessible data that includes the obvious speedometer but adds dual trip meters and an onboard clock.
Controlled
From a control viewpoint, we like the height position of the seat, the stylish, yet useful windscreen and the gripper effect you get from the star-punched runningboards. It is very easy to get comfy on this sled. While we have found the hand warmers to be a bit lacking in the heat department in past seasons, the latest grip and thumb warmers offer up to nine heat settings that are effective on very cold days. We know this from personal experience riding in much below zero cold.
While we have explained the minor differences between the various short-tracked Apex models, there is one major constant, the incredibly unique Genesis 150EFI 4-stroke engine. This engine redefines 4-stroke performance on statistics alone. It is a high revving four-cylinder gem with the heart of a high-performance street bike from which it sprung! It sounds unlike anything else in the sport with a pitch that starts in the quad's titanium headers and runs through a unique four into two into one back to dual rear exhaust. There's a steady 150 horsepower that is smartly controlled by a computerized, electronic fuel injection system. Yamaha engineers have brilliantly mapped this engine for exciting trail action. The charm of its light action throttle pull combines with an eagerness to rev, making it simply one of the most rider-friendly engines on the trail. Yes, we are impressed with Yamaha's quad 4-stroke.
In fact, when you look at what you get from this base model Apex, you should be impressed as well. Unlike some other 'base' models, the Apex ER maintains the most key components, replaces the more premium pieces of the RTX or GT versions with very acceptable base pieces to keep this top of the line Yamaha just that — top of the line. For all around snowmobiling, the basic 2009 Yamaha Apex ER is exceptionally good.
2009 Yamaha Apex ER Specs
Engine
Yamaha Genesis 150FI; 998cc, 4-cylinder, 4stroke, liquid-cooled; electronically controlled fuel injection
Horsepower
150
Drive
Yamaha YVXC
Front Suspension
Yamaha short/long arm wishbone; 9-in travel; 40mm aluminum-bodied high pressure gas shocks
Rear Suspension
Yamaha Mono Shock RA with tunnel side remote adjuster; 11.6-in travel; 46mm KYB high pressure gas shock
Length
110.4 in
Height
45.7 in
Width
48.0 in
Ski Stance
42.0 in
Track
15 x 121 x 1.25 Rip Saw
Weight
575 (claimed)
Fuel Capacity
9.4 US Gal
MSRP
$10,699
Related Reading
2009 Yamaha Apex GT Review