2009 Yamaha RS Viking Professional Review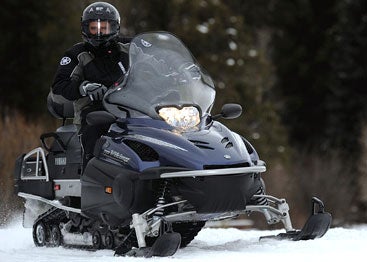 A rugged choice for winter utility
When Yamaha designs a serious utility snowmobile, the powersport vehicle maker can't help but blend in a bit of sport as well. Don't dismiss the 2009 Yamaha RS Viking Professional as a boring work sled. This winter hauler comes with the right DNA to let you whistle while it works!
As Yamaha fans know, the RS Viking Professional is the liquid-cooled, A-arm suspension upgrade for the fan-cooled VK 540. By the way, if you really wanted that model, it's still available in Canada and Scandinavia, but not in the United States. A popular choice with ski areas, winter rescue services and snowmobile clubs, the VK 540 now yields to the more powerful RS Viking Professional with its liquid-cooled Genesis 120 triple.
Interestingly, Yamaha work models like the older style VK 540 and the new RS Viking Professional enjoy a strong brand loyalty in the snow world. You will find Yamaha work sleds ferrying supplies in the most remote places as well as carting broken skiers off the world's most glamorous ski slopes.
While the older fan-cooled Yamaha work sled was limited by the power of its 535cc Yamaha twin, the 2009 RS Viking doubles that power with the proven 973cc, 4-stroke triple. With 120 horsepower on tap the RS Viking can haul better and climb higher as the liquid-cooled motor works its torque through a three-speed transmission. Most users will find the normal forward gear range works just fine, but if extra power becomes necessary, simply stop the sled, shift into low range and power away. Of course, there is also a standard reverse gear as well.
Utility In Mind
Because the RS Viking Professional was designed for utility, it comes with the most proficient Yamaha 4-stroke. The Genesis 120 was designed to be a snowmobile motor with broad torque and strong efficiencies with fuel and emissions. The older fan-cooled VK 540 enjoyed strong torque as well, but being a 2-stroke, its power tended to drop off after it reached midrange. The RS Viking 4-stroke triple continues to pull strongly up to a peak of about 8,200 revs, making it an excellent replacement for the VK 540. While the liquid-cooled triple has a relatively high 11.3 to one compression ratio, it works just fine on regular 87-octane gasoline.
Designed specifically to fit the Genesis 120, the RS Viking's rigid Deltabox chassis centers the engine low to enhance handling. A Yamaha-designed YVXC drive system works with the three-speed gearbox and you can rely on a dual-piston disc brake system for stopping power. The brake disc is ventilated both to reduce weight and add extra cooling capacity. This is a definite upgrade as the old VK 540 featured a mechanical disc brake.
A-Arm Handling
An obvious upgrade is the front suspension. The VK 540 uses a Yamaha-pioneered telescopic strut design that dates back to the early1980s. The RS Viking offers a second generation wishbone design that features short spindles at the skis combined with long curved A-arms. The curve is deliberate as it helps the RS Viking ride over off-trail obstacles hidden in the snow. Ski stance is nearly three inches wider (40.2-in.) than the VK 540's 37.8 inches. You'll discover that the RS Viking actually is quite nimble for its hefty 782-pounds as Yamaha engineers gave it 23 degrees of caster for consistent turning. The handlebar is adequately wide for good leverage and features Yamaha's multi-position handwarmer. There's even a 'mountain' strap to let you hang out as necessary to maneuver through tight spots. Don't worry; the RS Viking gets very good float thanks to wide plastic skis that combine with the front suspension.
At the rear, the RS Viking showcases solid engineering. There is an articulated rear extension that rides up over obstacles and to keep the sled from digging into the snow when you back up. There's also a quick-adjust feature that compensates the shock and spring settings to accept more or less load.
Cargo Handling
Sitting high and wide over the RS Viking's ProAction Plus suspension and 156-inches of track is a cargo-holding seat. Flip up the seat to access voluminous underseat storage for ropes, tools, hand winch or just a quick snack. The rear passenger portion of the RS Viking seat detaches to make more room for stowage in the rear rack area.
You'll find this sled quite accommodating for your needs even on truly bitter cold days as it features one of the biggest windscreens in the entire Yamaha model line up for 2009.
Major Upgrade
The RS Viking Professional is quite a step up from the older, but still available, VK 540. The aluminum chassis is relatively light thanks to Yamaha's proprietary Controlled Flow casting process, which results in thinner but stronger pieces. The engine is decidedly a major upgrade in power and torque. But you'll discover that this latest utility snowmobile can be quite a deceptive sportster as it provides a very good ride over trails that may need a groomer's touch. Give thanks to that long and wide track. Measuring 20-inches wide the 156-in. length affords the 2009 RS Viking Pro very good flotation.
Small snowmobile clubs needing a good all-around utility vehicle to rescue broken down sledders, maintain narrow feeder routes or carry gear to a club function will find the Yamaha RS Viking an excellent choice. It is as rugged as the VK 540 that it replaces. There is a rugged front-end bumper, rearview mirrors and standard tow hitch. All that make the latest Yamaha work sled an excellent choice. Of course, you may find that with that torquey 4-stroke triple and sporty A-arm front end, you may volunteer more often for club 'chores'.
2009 Yamaha RS Viking Professional Specs
Engine
Yamaha Genesis 120; 973cc, three-cylinder, liquid-cooled4-stroke; 3x40mm Keihin liquid-heated carburetors; single exhaust
Horsepower
120 (Estimated)
Drive
Yamaha YVXC w/ 3-Speed transmission (High-Low-Reverse)
Front Suspension
Yamaha double A-arm; 6.7-in travel; KYB gas shocks
Rear Suspension
Yamaha articulated ProAction Plus with KYB high pressure gas shocks; 11.5-in travel
Length
128.7 in
Height
54.3 in
Width
47.2 in
Ski Stance
40.2 in
Track
20 x 156 x 1.25 Camoplast RipSaw
Weight
782 lbs
Fuel Capacity
11.0 US Gal
MSRP
$10,699