2010 Yamaha FX Nytro MTX SE 162 Review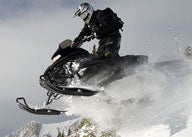 This born-again powder machine gets it right
Let's step back a moment and go to Spring of 2003. That was when Yamaha introduced its RX-1 4-stroke snowmobiles, including both trail and mountain versions. The media and snowmobile enthusiasts alike buzzed like bees about this new 4-stroke venture, given that Yamaha rewrote motocross racing with its lightweight and powerful 4-stroke motorcycles – the YZFs.
Fast Facts
Engine Type:Horizontal In-line
Cylinders:3
Engine Stroke:4-Stroke
Valve Configuration:DOHC
Displacement:1049 / 64
Starter:Electric
Turbocharged:No
View Full Spec
Yamaha's evolution from 2-stroke power to 4-stroke power in its new Delta Box-chassis snowmobile came with challenges, especially in the mountain segment. The big issue there: weight. Weight is King. Not a fat King, but a lightweight and svelte King.
Soon after Yamaha's RX-1 Mountain models hit the snow, aftermarket builders went to work designing and bolting on superchargers and turbochargers for the 4-stroke mill. With that came 300-plus horsepower RX-1 Mountains where merciless horsepower overpowered the RX-1's weight, and a whole new mountain monster was born. The high horsepower Yamaha 4-stroke sleds were here to stay. They had left their mark on the mountain segment, or shall we say, the "high mark."
While the aftermarket mods were successful, the challenge for Yamaha was offering a stock version of its 4-stroke mountain snowmobile that would compete against its two stroke competitors — a high mountain order.
Yamaha remained committed to its 4-stroke program and two years later the entire RX-1 line was dumped in favor of the much improved Apex line with Yamaha paying particular attention to the mountain segment. Like the RX-1, the Apex was powered by a four-cylinder 4-stroke. But in 2008 Yamaha came out with a three-cylinder 4-stroke with the same displacement as the big four banger and slipped it into its FX Nytro.
We come to model year 2010 season and find that Yamaha again threw down its cards at the mountain man poker game and showed the world its much improved Nytro MTX – the SE. This move reflects the fact that the mountain segment is the fastest growing segment in the snowmobile industry.
Just as the original RX-1 Mountain had to evolve, the first year-build 2008 FX Nytro MTX also had to evolve. Our first year on this sled in 2008 left us with mixed impressions. Its trail power and handling were impressive. But in deep snow we wondered, "where did its horsepower go?" There was no question the Nytro's tunnel design and steep track approach angle swallowed too much horsepower. The sled too easily hung up in the deep snow. Yamaha knew this then and went to work to zero-out the Nytro's horsepower killers.
Sales were miniscule after the intro year as model year 2009 saw few customers purchasing the FX Nytro MTX. Serious mountain bangers bought Yamaha's crossover XTXs and converted them to MTXs with custom-fabricated parts — mostly with new tunnels and front suspension components.
With 2008 being anti-climactic and 2009 being slim in customer sales, the 2010 Nytro MTX SE comes to market as it should have when first introduced. But, let's look forward and not back. This new Nytro MTX SE shows vast improvements aimed at increased snowmobility (a term our Snowmobile.com Mountain Team created to reflect our criteria for powder sleds).
Reborn
The 2010 FX Nytro MTX SE starts off with an entirely new front end. The newly minted FXG2 front suspension comes with a wider ski stance, 41-inches; new A-arms, tie rods, spindles, new geometry in the caster angle — reduced by four degrees — and no sway bar. These new components cradle new Fox FLOAT 2 shocks. Overall, frontend weight savings from the previous year's Nytro MTX is three and half pounds. That's good.
The new FXG2 front suspension with its adjustable 41-inch ski stance is designed to give optimum trail performance without sacrificing side hilling or deep snow throw downs. That too is good.
The Yamaha mountain team used the trial-and-error method until they landed on this frontend configuration. Yet the designers wanted more. The 2010 MTX-badged Nytro also comes with a new lightweight tunnel where the running boards are tipped up to an 11-degree angle, an increase of two degrees from the 2009 Nytro MTX. This two-degree tip up improves tunnel and runningboard clearance for deep snow conditions; this translates to less hanging up (resistance) from the running boards. Once again, very good.
Also, bigger evacuation holes were added to clear out unwanted snow from the runningboards. Additionally, new tunnel stiffeners, relocated on the bottom of the runningboards, give the boards some needed strength.
Underneath the new tunnel is the real heart of MTX SE, the ProMountain Air rear suspension. Gone are the steel springs and control rods, and in their place, beginning with the rear swing arm, is a Fox Float 2XV shock. The added 2XV air chamber gives the needed air volume to give the right mountain-handling "feel." Moving forward, the front swing arm uses a Fox FLOAT 2 shock. Yamaha worked closely with Fox to develop this shock, which has an added air chamber to aid in overall shock function. Here again, after countless hours of brain wracking, Yamaha and Fox believe they have landed on the best overall shock package for the MTX SE.
This semi-coupled suspension, combined with a "flat/shallow" 18-degree approach angle, a decrease of six-degrees (24) from the 2009 MTX, gives the 2010 MTX SE the sweet ability to pop up on top of the snow and keep going and going and going.
Another noticeable improvement on the Pro Mountain Air rear suspension are new, machined hyfax rails, that are lighter and stronger for durability. They're great looking as well. Yamaha pulled from the rails, companion idler wheels and gave the FX Nytro MTX factory-installed ice-scratchers. When numbers are added, the Pro Mountain Air rear skid is 13-pounds lighter than the previous 2009 model. Woo-hoo good.
All 2010 Yamaha sleds come with replaceable idler wheels on the bearings; this to lower maintenance costs on the rear suspension.
Wrapped around the Pro Mountain Air is a new Yamaha and Camoplast-designed track. The big blue company utilizes Camoplast's new single-ply track technology, which creates a stronger, but lighter tread. With that, Yamaha and Camoplast engineered into the track a new durometer (which is stiffness over flexibility) to knock down lug memory issues that plagued earlier versions of the track. This condition is where the lugs take a set — fold over — and don't rebound to an aggressive stand-up position.
The 2010 Nytro MTX SE will come with a 15-inch wide by 162-inch long single-ply Maverick that sports 2.25-inch tall lugs (The non-SE FX Nytro MTX comes with a shorter track, a 15x1531X 2.25).
Yamaha paid attention to every detail on the 2010 MTX SE. For example, the company assessed its snowmobile hand warmers, found some weaknesses, and amped up the heat where needed and reduced heat where not needed. That's important for rider comfort since the cowling and windshield offer virtually no hand wind protection.
All added up, the 2010 Nytro MTX SE came in with a 17-pound savings for the 162 version and 21-lbs savings for the 153 version. That is no small feat. When the FX Nytro MTX was first introduced in 2008, every detail was looked at in terms of weight, so moving two years later and finding an additional 21-pounds to take out from the original 153 version is nothing short of remarkable.
Rider Impressions
In the deep snow there was no question the MTX's new tunnel, track approach angle, lighter track, rear skid and front-end geometry made the 2010 model a vast improvement from its yesteryear sibling. Many times where we would have been trenched in on the earlier models, the 2010 Nytro MTX SE 162 kept going.
We also found with its smooth 4-stroke power, the Nytro MTX is particularly fun to boondock — very easy to handle.
The Body, the Advantage, the Summation
On another note, Yamaha for 2010 teamed up with Rigby, Idaho based, Klim USA to provide Yamaha riders with Yamaha-branded Klim gear. Klim's full snowmobile line will be offered to Yamaha dealers with the Yamaha/Klim logo. Over the years, Klim has become a popular line of snowmobile clothing because the stuff just plain works.
Not to end with clothing, Yamaha possesses great advantages as it's #1 in reliability, fuel economy and resale value.
In summation, Yamaha Nytro MTX mountain riders will not be disappointed with the 2010 Yamaha Nytro MTX SE. MTX SE riders dressed in Yamaha/Klim gear, aboard this lighter, nimble, and better climbing sled, will defiantly stretch their kissers to big grins.
2010 Yamaha Nytro MTX SE 162 Specs
Engine
Yamaha Genesis 130FI; liquid-cooled, 1049cc 4-stroke triple; Mikuni 41mm fuel injection
Horsepower
130
Drive
Yamaha YVXC variable ratio drive and driven
Front Suspension
Yamaha FXG2 double wishbone; 8.5-inches maximum travel; Fox Float 2 shocks
Rear Suspension
Yamaha ProMountain Air 162; 14.5-inches maximum travel; Fox Float 2 and Float 2XV shocks
Brake
Yamaha 4-piston hydraulic with lightweight ventilated disc
Length
131.5 in
Width
47.6 in
Height
47.0 in
Ski Stance
40.7 in center-to-center
Track
Yamaha Camoplast single-ply Maverick 15 x 162 x 2.25
Weight
N/A
Fuel Capacity
7.4 US Gal
MSRP
$12,599
Related Reading
2010 Yamaha Apex MTX Review
2009 Yamaha Phazer MTX Review
The Ins and Outs of Sled Steering Control