2016 Yamaha RS Vector Review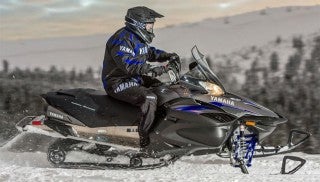 Yamaha's Vector over the years goes from Good to Better to Best
Yamaha's Vector model unfairly sits in the shade of its older, higher performance Apex sibling. We say unfairly because, although the Vector is essentially an Apex minus the juice of the Apex' four-cylinder engine, it has been a standout trail performer right from the get-go. With its 120-plus horsepower, the Vector sits in the performance sweet spot of what snowmobile buyers purchase.
Fast Facts
Engine Type:Horizontal In-line
Cylinders:3
Engine Stroke:4-Stroke
Valve Configuration:DOHC
Displacement:1049 / 64
Starter:Electric
Turbocharged:No
View Full Spec
With its trail-friendly Yamaha Genesis three-cylinder four-stroke and Apex-like mechanicals, the Vector is a sled that you can count on for thousands of miles. It is sporty enough as it shares essentially the same design as the Apex. While calibrations and shock packages may vary from Vector to Apex, the suspensions are fundamentally the same. They both even have electric power steering to create an artificially-induced  lightness on the trail.
But there is no comparing the powertrains. The Apex is top of the line with 30-plus more ponies, more top end revs and the uniqueness of being the only four-cylinder engine in snowmobiling. The Vector's performance is all-trail, all-day long with more modest rip-and-go and a  totally different feel on its way to top end and the time spent getting to it. Still, for the long haul winter after winter, we'd opt for the Vector, especially the latest version that takes the Vector model from good to better to best.
The original 2005 Vector with carbureted triple was smooth and trail-ride friendly like few sleds of its day. It was neither the fastest nor the most tricked out. It was solid and a long term value. It was good.
COMPARISON: Read our review of the 2014 Yamaha Apex
Then in model years 2008 and 2011, when Yamaha decided to finally upgrade the Vector package with revised suspension, electronic fuel injection and new styling that looked all too much like the old style, the Vector got better. EFI made it a smoother running sled. Electric power steering (EPS) gave it lighter steering on the trail, especially in tight forested settings. It was better.
For 2016, Yamaha gives the Vector new engine modifications for smoother juice for three levels of rider-effected settings. The all new SingleShot rear suspension works well with the evolved third generation double A-arm front suspension and grip of Yamaha's proprietary Tuner skis. The continued use of EPS maintains the sled's light trail feedback in tight, slow running. The 2016 Vector is the best version to date of Yamaha's trail sport cruiser.
That initial 2005 Vector showcased an all-new three-cylinder, 973cc four-stroke that was claimed to offer "four-stroke advantages to the largest segment of the industry – the 120-horsepower class." The 2005 Vector replaced the two-stroke SX Viper ER, which was about the same weight. The Vector and its Genesis 120 marked Yamaha's commitment to a four-stroke future, making Yamaha the industry's only four-stroke-only snowmobile manufacturer.
The 2005 Genesis 120 featured double overhead cams, four valves per cylinder and a long stroke for purposeful torque that made the Vector an excellent trail cruiser with efficient drive-off and outstanding midrange performance. The Genesis 120 delivered power at 8400-8600 peak rpm. Revs far lower than the Apex engine, but the Vector didn't require a gear reduction. The Yamaha drive clutch mounted directly to the crankshaft. To minimize engine vibration the Genesis 120 used an engine balancer. In addition, the Vector's triple was 22 pounds lighter over the skis than the four-cylinder Apex.
COMPARISON: Read our review of the 2016 Ski-Doo Enduro 1200 4TEC + Video
The Vector was a very good trail sled, leaving the Apex for the high speed hot rodders. By 2008, the Vector gained some key upgrades, such as the Deltabox II, which added chassis rigidity and was designed specifically to house the Genesis family of Yamaha engines. With the Deltabox II, Yamaha tilted the engine back 37 degrees toward the sled's centerline to improve overall balance for handling. The Vector's front suspension was upgraded with a second generation geometry that featured short spindles and long A-arms, specifically intended to offer improved cornering and stability.
By model year 2011, Vector sales were stagnant and Yamaha made major changes; well, more like refinements as the new styling didn't look substantially different than previous versions. That was too bad  as, in reality, by 2011 and onward the Vector gained more displacement to 1049cc as the Genesis triple went with electronic fuel injection and an upgrade to the Deltabox III in order to fit the power steering gear. Suspension changes, ski upgrades and styling evolved to now, but we definitely found the previous generation Vector as much better than the first.
Now we look at what Yamaha has done to evolve the current 2016 Vector into its best edition. From its 2005 model year beginning, the Vector has steadily become, perhaps, the most trail-friendly, all-around sport cruiser you can buy. The Genesis powertrain has evolved from a carbureted 973cc triple to a fuel-injected 1049cc engine. Power gains have been modest, with today's version pushing 130 horsepower, up from the original's 120. You can't measure Vector performance in raw horsepower or torque numbers. You have to feel it. Always smooth, the Vector's 2016 performance is three-fold improved thanks to the addition of Yamaha Chip Controlled Throttle technology that allows you to choose from three engine settings: Sport, Touring or Entry.
YCCT's sportiest mode frees up the engine for nearly "think it" full-on, unimpeded performance. Touring mode narrows the performance in favor of smoother low end drive off and strong midrange that work for improving overall fuel efficiency. The Entry mode reduces top end and harnesses acceleration to maximize fuel economy. For us, the Touring mode worked very well. YCCT's full-on Sport mode did not feel as herky-jerky as the multi-mode setup on Ski-Doo's new 1200 4-TEC. Yamaha told us that reducing that jerkiness feel is very deliberate. Yamaha engineers and programmers worked to create what it calls a YCCT Tailing Control Feature. Essentially, the engine's main control module recognizes short sharp throttle jabs and smooths them out by making smaller throttle valve changes than what your actual thumb movements are. It's a way of reducing exaggerated throttle movements when you're riding over rough, rutted stutter bumps.
The advantages to push-button engine performance include the unbelievably light throttle pull common to these modern computer programmed EFI systems. Advancing the throttle on a 2016 Vector is zero work compared to engaging the three 40mm slide throttles on a 2005 version, and those had a relatively light pull for their time. However, give the thumbs up to Ski-Doo versus Yamaha's YCCT for operation. With YCCT you have to stop and scroll through modes to make a setting change. With the Ski-Doo setup, you simply work a dash-mounted rocker switch and change modes on the fly.
COMPARISON: Read our review of the 2016 Polaris 800 Switchback Pro-S with Cobra Track + Video
Improved performance under the hood counts, but so does improved ride and handling from the newest Yamaha suspension. The SingleShot rear suspension is much simpler overall, with only a single shock absorber to control front and rear suspension action. The Vector features a Fox Float 3 extra volume shock for its air spring. This added volume helps you avoid severe bottoming. Ride settings are nearly infinite as you determine how many pounds per square inch (psi) you want to apply for a given trail ride.
When you compare the previous Monoshock rear suspension to the new SingleShot, the visual differences are substantial. The rail profiles are totally different and the front arm has been simplified. The control rods are gone in favor of a block-type coupling control. As of now, the coupling blocks are not adjustable, but we expect some enterprising aftermarket outfit will change that.
Stylistically the monoshock suspension wins in eye appeal, but we suspect that it was way too over-engineered, which is the Yamaha way. While we don't know this for a fact, we suspect that the SingleShot's simplicity may have come as a result of working with Arctic Cat, where function over style seems to be a key to getting products to market quickly.  Regardless of engineering influences, the result is a suspension that weighs 10 pounds less than the Monoshock and features a simple pull-through track tensioner. The SingleShot is extremely functional with minimal complications for ride set up. Setting the Fox Float shock to your liking is key. To fine tune for acceleration/deceleration response, you can adjust the front limiter straps as well. Other than that, there isn't much else to set up.
The front suspension is Yamaha's third generation A-arm design and includes coil-over high-pressure gas shocks to control 8.5 inches of travel. That compares to the SingleShot 129 rear suspension's 11.8 inches of travel. Grip comes from a RipSaw II track that measures 129 inches overall with inch and a quarter lug bite. Ski stance measures 42.5 inches center to center. These statistics are fairly standard, but we note that Yamaha is still shy about its weight, suggesting the Vector is not the lightest sport cruiser available.
Our guess is that the Vector buyer is not going to bruise the sled by rippling over deep moguls and flying off tall hillsides. No, we suspect the Vector buyer is a value shopper looking for a smooth riding, good handling, and sporty sled with a reputation for long term reliability, durability, fuel efficiency and excellent resale.
Since the beginning the Yamaha Vector offered that buyer excellent value. Additions to the Vector series have only made it good, better, best. At least that's how we look at the 2016 Vector. It is the best to date. It has the best performance of any Vector to date. We like its overall on-trail personality best of all previous versions. And value? This is a core Yamaha snowmobile that exceeds expectations. And as we said, it is the best of all Vectors.
2016 Yamaha RS Vector
2013 Yamaha RS Vector
2005 Yamaha RS Vector
Engine
Yamaha three-cylinder, four-stroke mid-performance 1049cc; bore/stroke of 82.0mm/66.2mm; YCCT 3x41mm throttle body electronic fuel injection system; dry sump lubrication
Yamaha Genesis three-cylinder, four-stroke high-performance 973cc; bore/stroke of 79.0mm/66.2mm; liquid-heated; 3x40mm Keihin CVK40 carbs; dry sump lubrication
Horsepower
125-plus
125-plus
120 (claimed)
Drive
Yamaha YVXC drive clutch with Yamaha driven; magnesium chaincase and cover
Yamaha YVXC drive clutch with Yamaha driven
Front Suspension
Yamaha third generation double A-arm with HPG shocks; up to 8.5 in of travel; Tuner skis
Yamaha double A-arm with 40mm HPG aluminum-body shocks; up to 8.5 in of travel
Yamaha double wishbone with aluminum body, 40mm diameter high-pressure gas shock; up to 9.0 in of travel; lightweight plastic, saddleless skis
Rear Suspension
Yamaha SingleShot 129 parallel slide rail; aluminum high-pressure Fox Float 3 XV shock; up to 11.8-inches of travel
Yamaha MonoShock II parallel slide rail; 46mm aluminum high-pressure shock; up to 12.4-inches of travel
Yamaha ProActive parallel slide rail; aluminum high-pressure gas shock at center with hydraulic gas cell at rear; up to 11.5-inches of travel
Length
118.7 in
108.5 in
108.5 in
Width
47.3 in
48.0 in
47.8 in
Height
47.6 in
45.7 in
46.7 in
Ski Stance
42.5 in
42.5 in
42.8 in
Track
15 x 129 x 1.25 Camoplast RipSaw II
15 x 121 x 1.25 Camoplast RipSaw
15 x 121 x 1.6 Camoplast RipSaw
Brake
Dual piston hydraulic brake system with ventilated disc
4-piston hydraulic brake with ventilated disc
Hydraulic brake system with lightweight ventilated disc
Features
Digital gauge, reverse, electric start; electric-assist steering; Yamaha Tuner skis
Digital gauge, reverse, electric start; electric-assist steering
Reverse, electric start, electric fuel gauge, speedometer, tach, trip meter
Fuel Capacity
9.2 US Gal
9.2 US Gal
10.0 US Gal
MSRP
$11,999
$11,899
$7,999