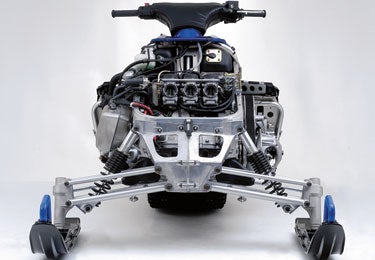 Four-stroke powered trail cruiser
Yamaha's Genesis 120 triple is the most rider-friendly engine in Yamaha's inventory, making it the perfect powerplant for the Venture series of trail cruisers. This one-liter four-stroke has earned a solid reputation for reliability.
Fast Facts
Engine Type:Horizontal In-line
Cylinders:3
Engine Stroke:4-Stroke
Valve Configuration:DOHC
Displacement:973 / 59.4
Starter:Electric
Turbocharged:No
View Full Spec
It's stingy with a gallon of fuel. It has a broad torque curve and the type of smooth power you want in a high mileage, two-up cruiser such as Yamaha's Venture.
The trail-efficient powertrain is the strength of the Venture, which carries over into 2008 with no major changes from the previous season. For this year, Yamaha put its engineering prowess behind its new 'rough trail' Nytro, while merely tweaking its trail cruiser's style and creating a more handling-oriented Venture GT version with an upgraded shock package.
Since sales in the trail market, especially the two-up touring market, remain stagnant, there is little need to create a breakthrough trail cruiser. As a two-up trail mover, the Venture contrasts with newer rider-forward models from its competitors. The most direct comparison can be made versus Arctic Cat's all-new TZ1 luxury cruiser. Actually that Cat may be a hint of what Yamaha loyalists can expect in the future from the tuning fork logoed motor company. Cat brought its Twin Spar and infinitely adjustable rider positioning to the two-up market while Yamaha stays with a traditional stretched seating style. This style remains because Yamaha kept its original Deltabox front bulkhead for the Venture instead of creating a new touring entry based off the newer Deltabox II frame used in the Apex and new-for-2008 Vector series.
Suspension Competence
The proven Deltabox framework provides a solid foundation for two-up riding. Hanging off the sled's front is a competent double wishbone suspension that provides up to nine inches of travel. The base Venture comes with high-pressure gas bag shocks while the Venture GT version features Yamaha's adjustable GYTR 'clicker' gas shocks.
Both versions have what Yamaha refers to as its ProComfort 144 slide rail suspensions. With a simple flip of a lever, you can set a torsion spring to accommodate the weight of either one or two riders. KYB gas shocks on the suspension control arms control the 12.4-inches of travel. As with the more sports-oriented Yamaha rear suspensions, the ProComfort 144 is fitted with immense adjustability via a tri-cam preload adjustment and control rods that let you make fine-tuning adjustments for ride.
Extra Room
Contributing to the Venture two-up experience is an extended length seating area. Because the Venture features a 144-inch length Rip Saw track, the matching tunnel length gives two riders plenty of leg room, plus space for a rear cargo pad. If you need more room, the Venture's passenger pillion can be removed. Simply move the passenger backrest forward to give added ride support.
A high and wide windshield blocks the cold, throwing it up and over the rear passenger. Heated handgrips are standard as is a heated throttle thumb warmer for the driver. There's even a 12-volt DC outlet to accommodate a GPS unit or charge a cell phone.
We found the Venture to be adequate on the trail, but its lack of a more rider forward positioning works against it when comparing it to the competitions' best two-up models. When all touring sleds were like the Venture, you didn't notice the steering effort as much. Now, with easier steering, rider-forward designs from Cat, Polaris and Ski-Doo, the Venture seems less responsive and heavier steering than before. We'd say the ride wasn't as good, but the advantage of Yamaha's 144-inch long track actually works to advantage. The extra long track bridges short stutter bumps and makes modest trail speeds an easy riding experience. No advantage lost here.
Drivetrain A Strength
What we consider as Yamaha Venture's strength is its drivetrain. The Genesis 120, Yamaha's second-ever 4stroke snowmobile engine, was intended to be a snowmobile 4stroke —unlike the original RX-1 four cylinder that was adapted from a motorcycle design. Where the high revving motorcycle-based engines (including the 80-horsepower Phazer twin) require gear reduction to get engine speeds down to clutch-able revs, the Genesis 120 revs at 8500 rpm without gear reduction. Its slimmer three cylinder configuration lets it sit deeper in the engine bay than the quad design. Like all Yamaha 4strokes, the engine exhaust is directed under the seat. Since Yamaha holds a patent on this under-the-seat exhaust routing, no other sled manufacturers can use this simple and effective method to minimize under hood heat build up.
On-trail power from the Genesis 120 is exactly what you want in a two-up trail cruiser. The engine powers the sled smoothly from a standstill and can maintain normal trail speeds easily, making all day scenic adventures pleasurable. While other manufacturers like Arctic Cat sought to eliminate the engine braking aspects of their new 4strokes, Yamaha keeps it in the Venture. We like it. When touring, you can simply let off the throttle and let the sled's engine braking combine with rolling friction from the extra-length track to slow you as you enter a turn. Of course, if you need to pull on the brake lever, you'll quickly discover that Yamaha's hydraulic brake is fully capable of locking up the track to keep you under control.
More Choices
We have enjoyed the Venture since it first appeared a few seasons back, but now with rider-forward positioning becoming commonplace, even on touring machines, we think this two-up Yamaha is showing its age. It remains a quality snowmobile, but there are now more comfortable and better handling choices. With Cat's TZ1 featuring a 4stroke drivetrain to match the Venture, Yamaha needs to rethink its touring sled options.
We can see some future two-up Yamaha based on a Deltabox II type Vector long-tracked model. Of course, Yamaha doesn't do what you expect. This 4stroke company may simply reinvent the touring segment. After all, look at what Yamaha has done in past seasons with engineering an all-new Phazer entry level model; an all-new and lighter weight Nytro rough trail model; and, reconfiguring the RX-1 into the ride-forward Apex.
If sales in the two-up touring market were strong enough we could envision a whole new Venture line, but for now, the one Yamaha has fills the bill with what is one of the best drivetrains in the business.