Arctic Cat reports strong snowmobile sales

Overall demand for ATVs remains weak
Despite the current economic climate, Arctic Cat reported very strong snowmobile sales in the fiscal 2009 third quarter, which ended Dec. 31, 2008.
Sales of Arctic Cat's snowmobiles rose 51 percent to $90.9 million in the 2009 third quarter versus $60.0 million in the fiscal third quarter last year. According to Arctic Cat, innovative new products, lower North American dealer inventories and increased international sales led to significantly higher snowmobile sales in the quarter. Arctic Cat's year-to-date snowmobile sales totaled $210.7 million, up 25 percent from $168.9 million in the prior-year period.
"We are pleased with the response to our 2009 model introductions," says Arctic Cat CEO Christopher A. Twomey. "Our newest snowmobiles demonstrate our ongoing strategy to grow market share by offering industry-leading technologies with products such as our Z1 Turbo Sno Pro, which is the world's fastest production snowmobile and exceeds 2012 EPA emissions standards."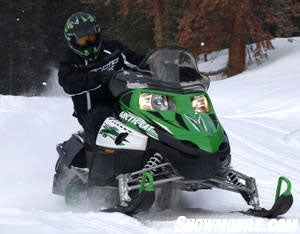 Arctic Cat's overall net sales in the fiscal 2009 third quarter reached $174.7 million, compared to $159.6 in the same quarter last year. However, sales of Arctic Cat's ATVs were down 18 percent to $57.8 million versus $70.1 million in the prior-year third quarter. Year-to-date, Arctic Cat's ATV sales totaled $183.2 million, down 12 percent compared to $207.4 million in the first nine months of last fiscal year.
"Unfortunately, overall demand for recreational products remains weak, due to the year-long deterioration in global economic conditions, higher unemployment, historically low consumer confidence and the continued credit crisis," says Twomey. "As a result, industry-wide ATV retail sales declined further in the December quarter and we do not see a quick recovery. Retail sales of Arctic Cat's ATVs fared somewhat better than the industry as a whole for the quarter and year to date. However, because of the weak retail environment, we are now planning significantly lower ATV sales to our dealers in the fourth quarter versus the prior-year period, in order to better align dealer inventories with consumer demand."