Hibbert Secures 100th Career Snocross Victory at Deadwood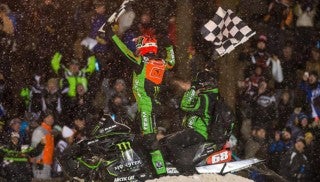 Kamm, Hibbert split Pro Open Victory
Kody Kamm (Hentges Racing/Polaris) delayed the inevitable with a thrilling win over Tucker Hibbert (Monster Energy/Arctic Cat/Ram) on Friday in Deadwood, SD, but Hibbert rebounded on Saturday with his 100th pro snocross victory.
Friday's Pro Open got off to a quick start as Ross Martin (Judnick Motorsports/Polaris) earned the Stud Boy Holeshot, edging out Kyle Pallin (Mystic/Loctite/Polaris) to the stripe. Kamm, however, quickly darted to the lead by lap two – passing Martin over the finish line jump.
Hibbert followed suit in quickly getting past Martin as well, setting the stage for the year's best battle to date in the Pro Open class.
The race turned into a two-man show by lap three, case-in-point being eventual third place Martin – who finished the race 20 seconds behind Kamm and Hibbert.
From the grandstands it looked as if Hibbert was biding his time, playing some cat-and-mouse with Kamm, carefully eying his lines and waiting for the race leader to catch up to lapped traffic before making his move. But in actuality, according to Hibbert, he was doing all he could to keep pace with the younger racer from the opening laps of the contest.
"I followed him (Kamm) for a while and actually tried to pass him before we got into the lappers," says Hibbert. "I've got to hand it to Kody, he rode really well tonight. I gave it everything I had."
Running smooth and selecting smart lines through the traffic on the tight bull ring-like course at Deadwood, Kamm had a little over one second on Hibbert heading into lap 19. Kamm nearly threw it away down the front straight, making a miraculous recovery while keeping the all-time winningest snocross racer from taking the lead.
"I honestly surprised myself that I was able to hold Tucker off there," Kamm noted."
The final three laps will be replayed many times in ISOC highlight reels as Kamm fired through to the checkers for his first Pro Open win of the season. Hibbert pulled up to his rival and extended a congratulatory handshake on the track afterwards.
"That's the first time in many, many years that somebody's been able to beat Tucker straight up," said former champion racer-turned-announcer Levi LaVallee. "That was an incredible race."
Hibbert's fortunes didn't seem to be any better early in Saturday's Pro Open main event. Starting in practice at Deadwood on Saturday, Hibbert had the attention of the race experts throughout the pro pits – everybody echoing each other's sentiment of "Did you see Tucker run in practice?" Hibbert was on it, qualifying in the top spot with a first/first heat race effort and more or less tying Kyle Pallin for the Stud Boy Holeshot to open the main event.
But as quickly as Hibbert was up front, his storied night came crashing back to earth with an unforced error in the first turn that ended with his sled on its side and former Pro Open champ Tim Tremblay (Scheuring Speed Sports/Ski-Doo) tangled up with him.
Rising from the carnage in absolute dead last place, Hibbert remounted, put his head down and made history with a late race pass for first place over long-time rival Ross Martin.
"This feels amazing," says Hibbert of his last-to-first effort to secure his 100th pro snocross victory. "One hundred wins – that's a lot of races. I'm thankful for the wins, thankful for the losses."
Hibbert was on a rail around the bull ring Deadwood course, oblivious to lapped traffic, hitting his marks on the lines he was comfortable with and thinking outside the box in areas of the track where he desperately needed to make up time.
"I had no idea where I was, never looked at my pit board the entire race," says Hibbert, flying on a wing and a prayer through the thick roost and fresh snow falling from the sky. "Then I hit the finish line and saw the flames go off."
Running up front of much of the 22-lap contest were Pallin and Martin. The two exchanged some visor-to-visor looks in the corners before Martin was able to fly past Pallin on lap 17, out-jumping Pallin for the lead just as Hibbert got past Logan Christian (Christian Brothers Racing/Arctic Cat) for third.
With three laps to go Hibbert ripped past Pallin and set his site on Martin – the exact two racers that upset Hibbert's 100 win attempt at the series' last stop in Shakopee, Minn. With one lap remaining, and as if there was any doubt, Hibbert roared past Martin and into the AMSOIL Championship Snocross record books forever with his 100th victory.