Christian Brothers Racing Report: USXC Round 1

Pine Lake near Gonvick, Minn. played host to the opening round of the 2013-14 United States X-Country (USXC) snowmobile racing circuit this past weekend and the Christian Brothers Racing team was out if full force. USXC staff laid out an 11-mile ice-lemans-style course for the two-day event that saw frigid temperatures and blinding snow dust.
Christian Brothers Racing's Zach Herfindahl, entering his second season in the Pro Open and Pro 600 class, got the holeshot in the 10-lap, 110-mile Pro 600 final. By race end he had built a 50-second lead over the second place rider. The win earns Zach not only an early points lead in Pro 600, but permanent recognition since his name will get engraved on the Pine Lake trophy that holds permanent residence at the Sportsman Lodge on Pine Lake. Herfindahl was able to back up his win with a fourth place finish in a five-lap Pro Open final that was shortened to three laps due to the conditions.
"It was so much fun – we had a great race in Pro 600 and after passing Wes Selby I was able to lead the entire race," says Herfindahl. "It's a great spot to be in and I'm happy to come out of the first race with a win."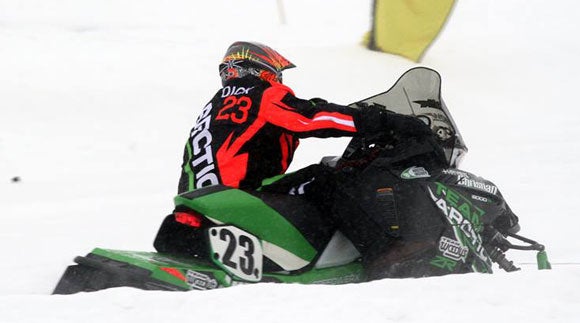 After a challenging day of heats on Saturday where he suffered a mechanical failure, Brian Dick came back to finish fifth in the three-lap Pro Open final on Sunday. With a banged-up sled and an engine they put together overnight, Dick made the decision to pull out of the Pro 600 final and regroup for the next race.
"Well, Pine Lake didn't go like we hoped," says Dick. "The cold temperatures threw some challenges at us but we learned a lot, the team worked hard and we will be ready for the next race."