Polaris sleds on the big screen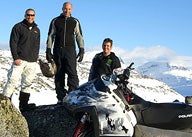 Snowmobile chase scene featured in new movie
Polaris snowmobiles have gone Hollywood. Slednecks, the extreme snowmobile video company, appear on Polaris sleds in the new action movie, "Babylon A.D." starring Vin Diesel
The 20th Century Fox film, released Aug. 29, features Slednecks riders Paul Thacker and Chris Burandt launching Polaris snowmobiles across the big screen while being pursued by rocket-launching military aircraft.
According to John Keegan, co-owner of Slednecks, the company's involvement in the new action-pic started last spring.
"Slednecks received a phone call from legendary Hollywood stunt man Bob Brown about a film he was working on," says Keegan. "He was looking for some help in regards to developing the best snowmobile chase and stunt scene for the upcoming 'Babylon A.D.' sci-fi film featuring Vin Diesel. We gladly helped out with equipment, consulting, sending our Polaris sleds, and of course sending two of the best riders in the world to be part of this epic scene."
Brown and Diesel reportedly lobbied the producers to add the snowmobile action scene to the film, and they worked with Keegan and his staff to determine how to use the snowmobiles for the greatest visual impact.
"We helped advise them on what was doable, worked on the story board of the scene, got the equipment, athletes, and consulted on ramps for the shoot," says Keegan. "It was a really cool deal since this scene was not originally included in the script."
Burandt and Thacker packed their sleds, passports and riding skills and headed to Europe, where they enjoyed the movie-making experience.
"From back flips to cliff drops to being lit on fire to just chillin' with Vin, Chris Burandt and I did it all on our Hollywood-style trip to Sweden," says Thacker. "Doing the 'Babylon A.D.' stunt work was some of the most fun I've ever had. I can't wait to see the movie."
The new sci-fi action film set in the near future is directed by Mathieu Kassovitz and is based on the novel "Babylon Babies" by Maurice Georges Dantec. Diesel plays the role of Thoorop, a mercenary who takes the assignment of transporting a 'package' from post-apocalyptic Eastern Europe to New York City. The package turns out to be a woman who is in demand. As is the case with most of Diesel's action films, there are multiple parties willing to go to great lengths to thwart Diesel's mission.
Keegan says an additional sled was sent to the Czech Republic for shooting against a 'green screen' in a studio. He said the Slednecks staff also helped the filmmakers create a behind the scenes video that will likely be included on the "Babylon A.D." DVD.