Polaris Suing BRP for Patent Infringement

Second patent lawsuit involving BRP in six months
Polaris Industries has filed a patent infringement lawsuit against Bombardier Recreational Products (BRP).  This is the second time in the last six months that one manufacturer is suing another (BRP filed suit against Arctic Cat in December). It appears the claws are out as sled makers fight for market share in a tough economy.
Polaris hasn't disclosed specific details of the lawsuit yet, but did say the patents in question relate to the suspension systems of trail performance and crossover snowmobiles. Polaris alleges that BRP violated patents owned by Polaris, and knowingly continued to violate these patents after receiving written notice.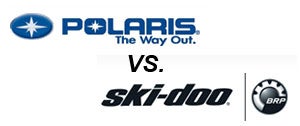 "For more than 55 years, a key foundation of our culture and success at Polaris has been innovation," says Marlys Knutson, spokesperson for Polaris. "We have a respectful relationship with BRP, but we always have and always will vigorously defend our intellectual property."
Though we won't know for sure until details become available, our best guess is that the Polaris suit will allege infringement on suspension patents involving the Pro-Ride design versus BRP's new rMotion.
Will there be more of this to come from the snowmobile industry? As the remaining manufacturers deal with shrinking profits, will we see more lawsuits and countersuits? It sure seems like we're heading in that direction.