Ski-Doo giving back to snowmobile clubs

Up to $1 million going to Canadian clubs for snowmobile trails
Canadian snowmobile clubs will be getting as much as a $1 million boost from Bombardier Recreational Products (BRP) Inc. and its Ski-Doo dealers.
The Ski-Doo Million Dollar Club Support Program, which is part of BRP's 50th anniversary celebration, will donate up to $1 million to the clubs for snowmobile trails. According to BRP, every Canadian snowmobiler, regardless of the brand they own, will be able to participate in the program.
For each snowmobiler submitting a certificate at their Ski-Doo dealership, BRP will donate $10 to their snowmobile club through the program. Program certificates are available in all Canadian snowmobile magazines, at fall snowmobile shows, and on ski-doo.com. An advertising, public relations and direct mailing campaign will also be launched to encourage snowmobilers to participate.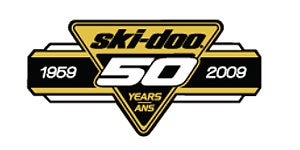 "Launching a grassroots funding campaign to benefit clubs is a natural fit with our 50th anniversary celebration because Ski-Doo was right there at the beginning to help establish the very first organized snowmobile trails in Canada," says Alain Villemure, vice president and general manager of the Ski-Doo/Sea-Doo division. "We've always recognized and appreciated the hard work our clubs and volunteers carry out on snowmobile trails – and how important those trails are for the safety of the sport."
Ski-Doo will also give away a limited 50th anniversary edition of a 2009 Ski-Doo MX Z snowmobile to the top clubs in Quebec, Ontario and the Atlantic Provinces (New Brunswick, Newfoundland and Labrador), Saskatchewan and Manitoba. The sleds will be used for additional fundraising activities. There will also be parts, accessory and clothing incentives for clubs that reach 75% or more participation from their membership.