Best Snowmobile Bags for Extra Storage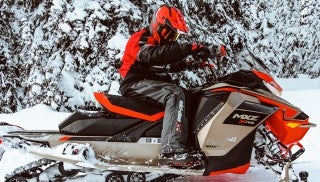 Bring along more gear and keep it safe when you ride
We've researched the best snowmobile bags for providing storage, protection, and longevity.
Snowmobiles are designed in a way that lets you pack along only so much, making snowmobile bags essential additions for extra storage. It's important to have everything you need while you're out in the snow, so you want to make sure that you invest in a quality bag that will keep your gear safe.
The good news is that there are plenty of snowmobile bags to choose from, letting you carry a few things for a day on the trails or all you need for a multi-day snowmobile adventure.
BCA MtnPro Tunnel Bag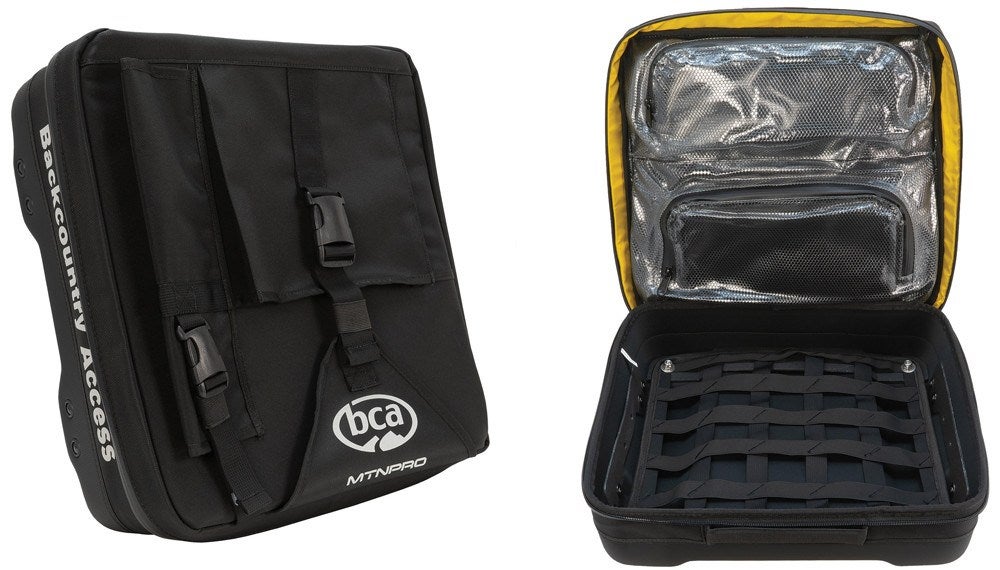 BCA rounds out our guide to the best snowmobile bags with the MtnPro Tunnel Bag. If you need quality, protection, storage space, and reliability, BCA won't let you down. This impressive unit features a much-needed waterproof design to ensure that your belongings stay dry throughout your travels.
With 21 liters of room inside, you will have a much easier time packing along your favorite gear. What's more, an integrated shovel slot on the outside of the bag helps you be better prepared for the journey ahead. It also comes with pockets for maps and other essentials.
We always appreciate little additions like this, as it brings further value to what is already a solid, well-made storage bag for snowmobiling. You will like the low-profile design, too. This keeps your bag out of the way while you ride, yet there's enough room to make it a worthwhile investment.
Thanks to 500D polyester and additional PU coating, you can look forward to a snowmobile bag that is made to withstand plenty of use. The price is a bit on the high side, but you can't argue with the quality.
It's worth noting that reviews from deep powder riders suggest that you empty the MtnPro tunnel bag and let it properly dry out after each ride so it doesn't end up smelling like an old gym bag. Of course, this is true of any bag that gets wet after a day of riding.
Kemimoto Under-Seat Bag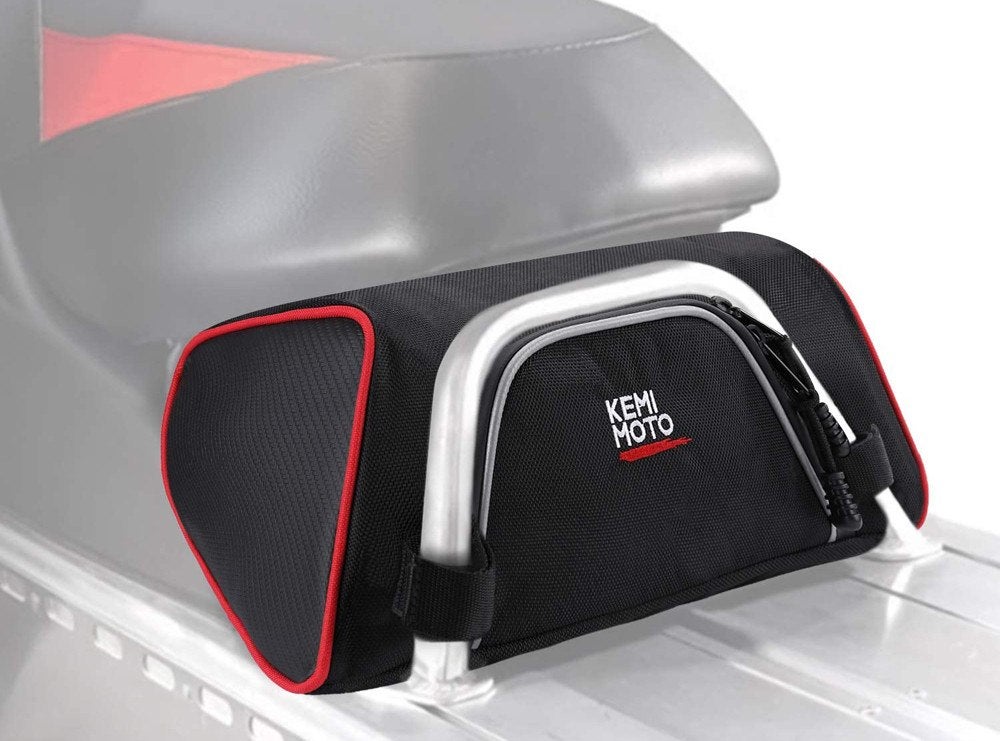 Kemimoto makes some quality ATV parts and accessories, but the brand has also branched out into the snowmobile business with this under-seat waterproof bag.
This bag is made of 1680-denier water resistant Oxford cloth designed to keep the snow and slush outside. Other features include a soft and insulated PEC lining, long zipper strip so you gloved hands can easily open and close the bag, and a reflective stripe so you are easy to see by other riders.
While it's far from cavernous, the Kemimoto under-seat bag has plenty of room for an extra pair of gloves and goggles or you can even throw in your lunch (the insulated lining will keep it warm while you ride). And it's also super affordable, retailing for about half as much as under-seat bags made by snowmobile manufacturers.
Chase Harper USA 4200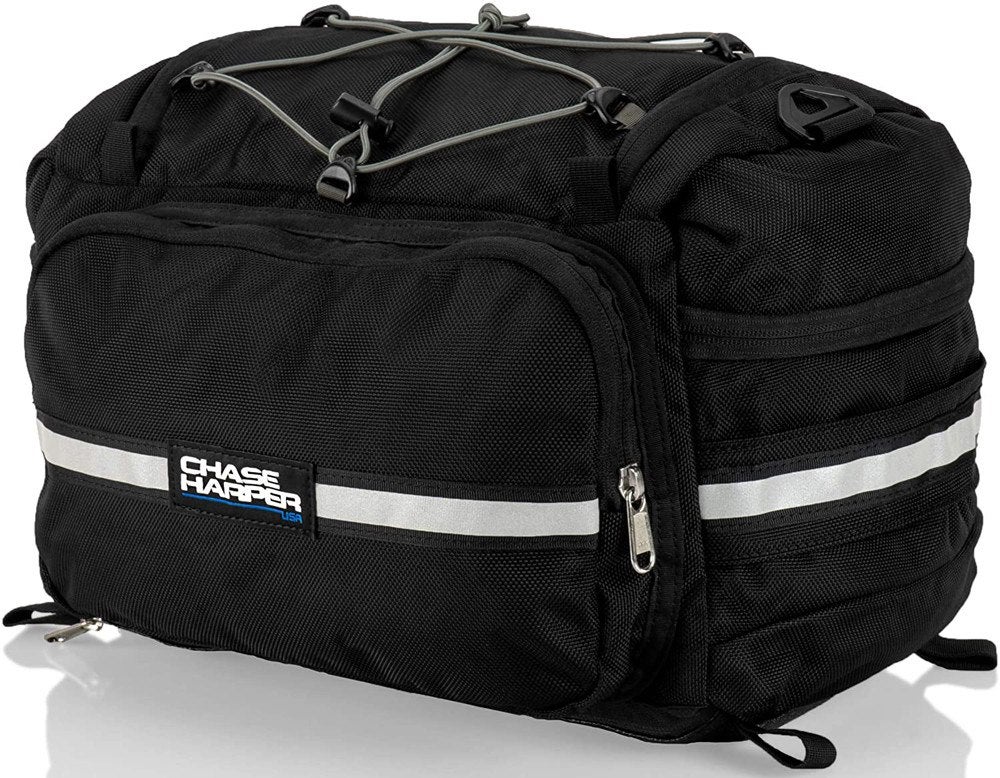 Though technically designed for off-road motorcycles, the Chase Harper USA 4200 will easily cinch down onto your snowmobile and is built to last thanks to the help of 1680D ballistic nylon.
We really appreciate the space this snowmobile tunnel bag offers. It sports a huge mouth opening at the top so you can easily toss in your gear and get moving. What's more, there are small pockets that line the sides of the Chase Harper USA 4200 for all the storage space you could possibly want.
A larger compartment located on the back of the bag gives you even more room to work with, making for one of the best values in tunnel bags. If you are concerned about safety, you can rest easy. Chase Harper USA made sure to outfit this bag with reflective strips so that others can spot you as you ride.
You're also getting bungees equipped on this tunnel bag to make tying down a breeze. Adding to the durability is a rubber base that prevents scuffing or damage to the nylon. For everything you're getting here, Chase Harper USA really outdid itself with the 4200.
American Trails Bushwhacker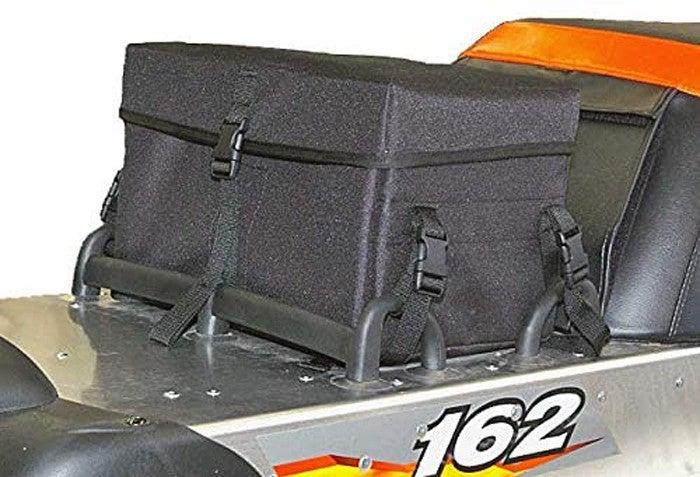 If you are at all concerned with your gear getting water damaged, the American Trails Bushwhacker is one of the most robust snowmobile bags we've seen. Its waterproof construction ensures that your belongings stay dry and safe while you ride.
The Bushwacker is solid and sturdy, too, retaining its shape through thick and thin. Half-inch cell foam lines the inside of this storage bag, providing even more protection from the outside elements. It's a smart design decision, to be sure, as it helps to absorb impact while bringing value to your investment.
If you often travel with fragile items, the Bushwacker is right up your alley. It's a cinch to strap to your snowmobile, too, adding further convenience along the way. It is also very affordable, so you don't have to worry about breaking the bank to keep your gear safe.
Ski-Doo Slim With LinQ
If you're looking for one of the best snowmobile bags that money can buy, you won't be disappointed with the Ski-Doo Slim. Its low-profile mounting design gives you quick and easy functionality for all of your snowy adventures.
Designed specifically for Ski-Doo snowmobiles that accept LinQ accessories, The LinQ base is designed to provide total convenience, and you're getting plenty of storage, to boot. The Slim boats a 15-liter capacity that is ideal for your essential gear and items. The build quality of this storage bag is quite impressive, offering strength and longevity not often seen in tunnel bags.
Admittedly, the price is a bit steep compared to the previous entries. But getting something designed by your snowmobile's manufacturer ensures perfect fit every time.
Polaris Handlebar Bag
When you just need a little extra storage space and don't want to add a lot of weight to your sled, a handlebar bag is a great options.
When it comes to handlebar bags, Polaris seems to have this segment nailed down. We found a handful of Polaris-specific handlebar bags designed to fit different snowmobile models. But the consensus is that they are great places to throw an extra pair of goggles, a cell phone, a pair of gloves, or a map.
Prices range depending on materials used and the size of the bags. Just make sure you check if it fits your Polaris snowmobile before purchasing.
Snobunje 1036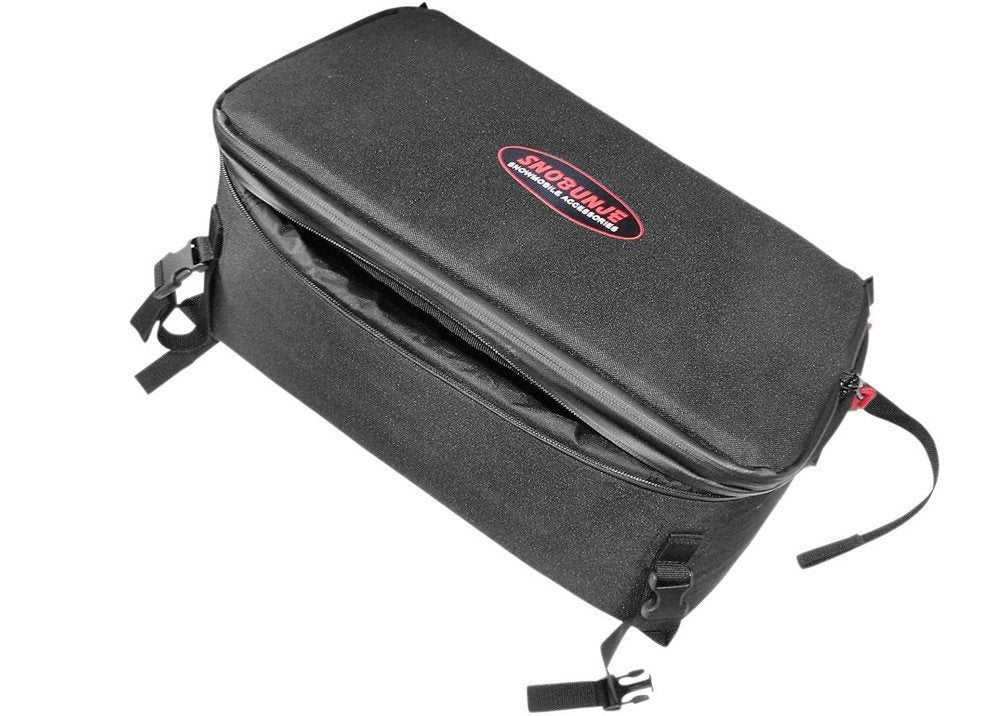 Are you looking for budget-friendly snowmobile bags? Look no further than to Snobunje's 1036. This tunnel bag may be simple in its design, but it gets the job done without a fuss. We like the 1036 bag for a few reasons.
One, it sports cushioning on the interior that keeps your delicate gear safe and protected. Also, this is one of the easiest snowmobile bags to operate. Tying down is straightforward and opening the storage bag is done via a single zipper.
And lastly, the lid can be expanded to add 4 more inches to the overall height of the bag, thus increasing your storage space inside. Its price is most reasonable, too, ensuring that more snowmobilers can get the extra room needed for a fun and enjoyable ride.
It might be simple, but that just means that there's less to fiddle with when you need access to your gear. If you prefer a no-nonsense approach to snowmobile bags, the Snobunje 1036 will serve you well.
We are committed to finding, researching, and recommending the best products. We earn commissions from purchases you make using the retail links in our product reviews. Learn more about how this works.