11 Last Minute Gift Ideas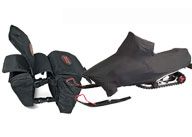 Bag the Holidays with some last minutes gifts
Yikes and jumpin' jingle bells! The holiday season is upon us and we (1) have everything under control or (2) have no clue what to get our favorite sled head. It should be safe to say that your favorite snowmobiler would like something at least to make sledding days more fun or convenient. Here are 11 last minute suggestions.
Sled Bags
Every snowmobiler can use more room for snow stuff. So here are some things that we think your favorite rider might like to add to the ol' sled.
Universal Tunnel Rack Pak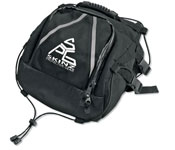 Available via Dennis Kirk, the Skinz Protective Gear pack was designed to fit the Skinz Universal Tunnel Rack in any width needed. The combination increases functionality for taking stuff along for a day ride and allows the rider to reach into this magic onboard bag in any weather conditions. The design comes in a durable, water resistant material complete with reflective striping to add a measure of illumination for night travel. There is a shock cord tightener and carrying handle. The product sells for less than US$100. Click here for more information.
Parts Unlimited Tunnel Bag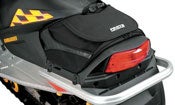 If the universal Skinz pak doesn't do it for you, check out the Parts Unlimited Tunnel Bag with a suggested retail of less than US$65.00. It installs easily thanks to a four-strap design that uses mounting screws on the rear tunnel. There will be ample storage space, which includes a zippered internal pouch and two mesh side pockets. The bag's heavy-duty fabric is foam-supported to help maintain its shape. The top handle doubles as an extra mounting point on the Standard MXZ models. Click here for more information.
Snobunje Handlebar Bag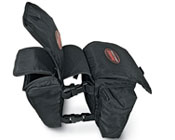 Also available online at DennisKirk.com or directly from Snobunje Snowmobile Accessories is the Snobunje Handlebar bag for less than US$50.00. As many snowmobilers have known for a long time, an easily accessed handlebar bag is one of the ultimates in on-trail convenience. You can keep gloves, glasses, goggles, cell phone, mini-camera, or your keys within reach. The Snobunje handlebar bag provides more than 270 cubic inches of storage space. In addition to its accessibility, the beauty of this bag is its quick and easy attachment. You can fit this bag securely in mere in seconds thanks to the product's elastic straps and "quik" clips. There is a clear map pocket on the inside of the bag cover. Click here for more information.
Parts Unlimited Windshield Bag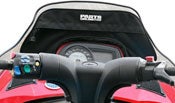 Dennis Kirk shoppers will find an alternative bag made from tough 1000 denier Cordura and waterproofed with a urethane coating. The Parts Unlimited Windshield Bag features heavy-duty polyester thread stitching with sewn-in piping to give the bag shape and a stylish look. Retailing for US$42.95, this bag is also easy to install. It comes in a choice of black, red or purple. Click here for more information.
Lubes & Grease
Okay, okay… there's no romance in giving your super sledder a gift of snowmobile oil or grease, but it sure comes in handy. Here's an option or two or three.
Red Line Two-Cycle Snowmobile Oil
This company has built up a strong reputation for supplying quality synthetic lubricants for automotive, motorcycle and powersports enthusiasts. It's top line two-stroke "oil" — they also offer 4-stroke oils! — is a biodegradable low-smoke formulation that offers excellent cold flow down to -40°F. It provides superior rust protection as it adapts to either a pre-mix or an injected oil environment. Its low carbon residue dramatically reduces plug fouling and smoke. Suggested retail is US$45.95 gallon. Click here for more information.
AMSOIL Interceptor 2-Cycle Oil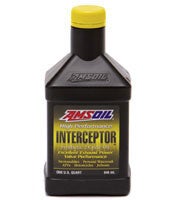 If your favorite snowmobiler has a high-performance sled, you might want to consider AMSOIL's high-performance synthetic Interceptor 2-cycle oil. This blend of lubricant comes contains high levels of detergent additives to prevent valve sticking on exhaust power valves. AMSOIL says that its Interceptor 2-Cycle oil works well in snowmobiles, motorcycles, PWC, ATVs and jet boats.
AMSOIL Interceptor Synthetic 2-Cycle Oil is formulated with a proprietary blend of the finest synthetic base oils and additives and features specially developed molecularly saturated synthetic base oil. AMSOIL claims that its Interceptor oil virtually eliminates hard carbon deposits that cause exhaust power valve sticking, ring sticking and preignition-promoting "hot spots" in the combustion chamber.
AMSOIL Interceptor Synthetic 2-Cycle Oil is recommended as an injector oil or at a 50:1 mix ratio in carbureted, electronic fuel Injected (EFI) and direct fuel injected (DFI) snowmobiles. Click here for more information.
AMSOIL Synthetic Water Resistant Grease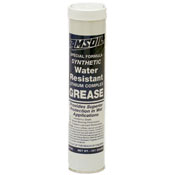 Snowmobiles present a unique servicing challenge as they must operate in severe cold weather, which invites moisture. Snowmobile fleet operators have found that AMSOIL Synthetic Water Resistant Lithium Complex Grease, an extreme-pressure multi-purpose grease, offers excellent cohesiveness and adhesiveness for wet-duty performance over a broad temperature range. AMSOIL's synthetic grease pumps easily in low temperatures and resists the damaging effects of high temperatures and oxidation and is recommended for use in snowmobile suspensions as well as trailer wheel bearings. Is there any better way to say Happy Holidays than with a product designed to keep your snowmobiler's ride running true?
There are many distributors and dealers of AMSOIL products, so check AMSOIL.com to find the nearest retailer. Click here for more information.
Cover Ups
Show your sled that you love it and give your favorite sled the equivalent of a flannel nightie.
DOWCO Guardian Trailerable Cover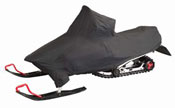 A custom-fit DOWCO Guardian Trailerable Snowmobile Cover. Available for many late model sleds, the design protects against rock damage, road tar, winter salt, bugs and vandalism. It is cut to minimize abrasion caused by wind, yet its 10-ounce cotton canvas material is breathable and incorporates a zipper for gas tank access. The cover is available in black and comes with a two-year warranty. Retail pricing varies with the snowmobile model. Click here for more information.
SOL Thermal Bivvy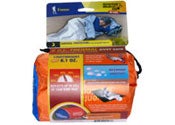 Think of this as a stocking stuffer that can be stuffed in a handlebar bag and can save a life. The SOL Thermal Bivvy (US$34.00) reflects up to 80 percent of radiated body heat in an emergency survival situation. The non-woven fabric is both wind and waterproof. Light in weight and easy to store, the Thermal Bivvy could be a boon if your sled breaks down on the trail and you need added warmth while you wait for assistance. Click here for more information.
Pocket Survival Kit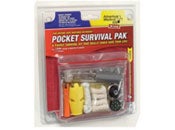 You might want to stuff another stocking with Adventure Medical Kits' pocket survival kit, which contains a collection of survival tools for when you find yourself abandoned, stranded, or lost in the boonies .The pack is compact enough to keep it in your pocket or your sled's storage bag. It too carries a suggested retail of US$34.00 and includes fire starter and a reflective rescue mirror. Click here for more information.
Charge It
CTEK Battery Charger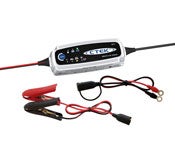 A couple winters ago we did a hands-on test of the CTEK MULTI US 3300 Battery Charger. We still use it to keep our 4-stroke sleds and ATV batteries alive — especially in the upper Midwest's frigid overnights. This would be a great last minute gift idea as CTEK battery chargers are engineered to charge and maintain batteries. Using a patented electronics-friendly system, these compact chargers are water- and shock-resistant, making them UL-approved for outside use and immune to power line fluctuations.
The charger works with most 12-volt batteries found in sleds or ATVs. But what really matters for snowmobilers is that the chargers feature a low-temperature mode that ensures the battery charges and maintains its charge, regardless of the weather.
Since we tested the CTEK charger, new products have arrived, so you should check out CTEK.com for the latest product info and for the nearest retailer. Click here for more information.
Related Reading Safe and Warm Gift Ideas That Work Holiday Gift Guide Holiday Gift Ideas: For Her Holiday Gift Ideas: For Him