Bassett's Blog: Trailer maintenance tips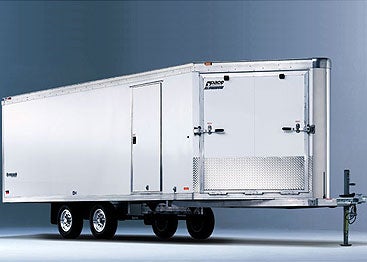 Things to consider before putting your sled hauler away
Even if the snow hasn't completely left quite yet, many popular snowmobile trails and areas have closing dates. For example, Minnesota's state-maintained snowmobile trails close down by April 1st each season. That leaves the trails available for early spring maintenance and preparation for ATV usage.
If, like many of us, you use your snowmobile hauler as an ATV hauler, now is a great time to plan some post-sled season and pre-ATV riding season trailer maintenance.
No matter how much you paid for your trailer and no matter how careful you are with your gear, trailers require periodic checks. If you only use your trailer for snowmobiling, a little tender loving care now will have it ready so you'll be ready to hit the trails just as the first snowstorm hits next winter. Plus, it's a great opportunity to have some 'garage time' before you have to help till flower beds, get the lawn ready, put in the dock and do all that boat prep that will be need to be done before the fishing opener.
We know firsthand how tempting it is to load the sleds on the trailer and run them into storage and just pull out the ATVs. But, we've also learned that it's a bit easier to do some post-snowmobile season and trailer updating when the season is still fresh on our mind. We're more apt to remember that we need to replace a wiring harness or that we meant to add some loading strips on the trailer bed just as the season is ending, rather than in the fall when all we really want to do is load up and head to snow. Next fall we'll have conveniently forgotten the little things that we needed to do before putting the gear away.
So, to all of us procrastinators eager for the next riding season, here are some hints and tips we gleaned from firsthand experience and by doing a little online research.
Trailer Maintenance
Trailer hubs and lights take more abuse than we know – until, of course, your trailer breaks down on the side of a road late on a Sunday night heading back home. If you think your truck gets filthy with road salt and grime, how about your snowmobile trailer? Road chemicals can muck up your trailer hubs, corrode wheel studs and eat away at exposed trailer wiring. Now is a great time to fully check the main components of your trailer.
Trailer Lighting
Check your trailer lighting. It doesn't seem to make any difference how much we paid or the type of trailer we've owned over the years, but trailer wiring always seems to be a weak link. We've gone from cheapo trailers with exposed wiring to trailers with enclosed, protected wiring. Eventually trailer lighting tends to be a problem.
Hook up to your tow vehicle and have a family member or friend watch as you turn on the emergency flashers, stoplights, and turn signals. If you've got a bulb out, change it now rather than when the weather is -30 degrees and the wind is howling. Look for possible problems, like constrictions leading up to a tail light assembly. Check to ensure the wiring connections are secure. You might even consider spraying a little WD40 or electrical lubricant on the screws around the light assembly. Check for worn or rusted connectors, especially around the side marker lamps.
You should make sure the main connection between your trailer and the tow vehicle is in good order. If you need to replace the plug, consider doing it now.
Triton Trailers' web site notes: "Most trailers have the running light and ground wire going to both sides. Your plug basically merges these two like wires together to make the standard four wire connection of yellow, green, brown, and white."
Generally, factory delivered wiring for snowmobile trailers without any auxiliary brakes consists of:
If you have an auxiliary electrical brake device, you should refer to the trailer's owner's manual or check with the local dealer.
Common Trailer Sense
Some other obvious and simple tips are to:
Check the trailer tires for wear, air pressure and for any bruises that may have come from potholes or road hazards.
Check the safety chains and lubricate any clips they might have to secure them to the trailer hitch.
Check the trailer coupler's condition – is it bent? Does it need adjustment?
Now's also the time to check the tow ball and how it mates with the coupler – does the coupler latch lock?
If you use a pin lock to secure the trailer latch, check its operation and lubricate if necessary. There are 'dry' lubes that you might consider for the lock.
If your trailer is equipped with sliding tie downs, muck out the rail center and make sure the tie downs function properly.
Add Accessories
This is also a great time to add new accessories to your trailer, like adjustable tie down clamps, an auxiliary winch or plastic guide strips to make loading easier.
Covered Trailers
If you have an enclosed trailer, take the time now to visually check for road abuse like dents from stones thrown up from the road, or chips in the body paint, or even that little corner notch from backing into that snow-covered post. Look to see if the trailer's roof top vents are clear and operational. Are the door latches fully functional? Does the ramp work as it's supposed to?
Axle Hubs
Check to see if the axle hubs are properly sealed and if they have satisfactory grease by using a screwdriver to pop the bearing cover off the hubs. If the bearings are dry, grease them and check for bearing failure. Now is the time to replace worn bearings or simply repack the hubs. If you don't want to do this, a dealer can do it for you.
Some trailers, especially heavier cargo type trailers, come with special self-lubricating axles like Dexter Axle's E-Z Lube system which allows grease to flow to both the outer and inner bearings for a complete repack. Axles equipped with this system can be periodically lubricated without removing the hubs from the axle.
This feature consists of axle spindles that have been specially drilled and assembled with grease fittings in their ends. When grease is pumped into the fitting, it is channeled to the inner bearing, then flows to the outer bearing, and eventually back out the grease cap hole. The E-Z Lube end cap allows for easy access, extra protection, and virtually no mess.
But, even this product needs maintenance. Check the owner's manual to determine where in the life cycle your hub lube may be.
Tires
If you end up replacing a trailer tire, be sure to check that the replacement tire has the same designated specifications. Keep in mind that your tow vehicle tires may require a higher tire pressure for towing, especially heavy loads.
Jack
If you're like us, you will have equipped every trailer you have with an auxiliary jack. To keep them in tip-top shape you should lubricate the internal gearing and bearings. In general, you'll find the lube point directly below the handle on the side of the jack tube. You may need to apply grease through a needle nose applicator. Add lubricant then rotate the jack handle to distribute the grease evenly.
Tilt Beds
If you have a tilt-type trailer bed, take the time to add some lube to keep its movement free and easy. Double check the clamp or bed retention device and make sure it functions properly and is lubed properly. It'll be no fun watching your power toys rolling or sliding off your trailer on a freeway.
Frankly, trailer maintenance is simple. It's simply taking the time to do it that counts. If you take care of your trailer now, it should give you trouble-free service next winter when you're loading up for that first snow.