Choosing a Dream Snowmobile Hauler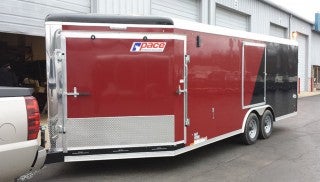 If you could build your fantasy trailer what would it be?
Not all of you are cheapskates when it comes to your toy haulers. This writer does not like to trailer. Isn't that what pickup beds are for? Put your toys in the bed and get away. Of course, though, our preference has a lot to do with being a poor backer-upper. Don't do it enough.
While we figure that our reversing and trailering skills have deteriorated since we sold our big boat and now make-do with single axle utility type sled trailers, there was a time when we did quite well with that whole reversing thing. If need be, we can maneuver a trailer into tight enough spots, but we prefer the proverbial "pull through" spots these days. Nonetheless, we still do occasionally fantasize about the joys of a truly superior toy hauler. You know, the fully enclosed one with a nose ramp, full rear doors, onboard heater (air conditioner for summer ATVing), work bench, racks for oil cans, tools and the like. We'd also like a full closet for our various winter wear, including boots, helmets, gloves and more. Truth be known, such a road hauler for our power toys would actually be easier to back-up and handle than many shorty one-place trailers.
While we are not about to go out and plunk down serious cash for such a toy hauler, we can dream. We can put one together in our mind – for the day we win the big lotto and stop off at our favorite power toy dealership and load up on motor toys. When that day comes, here's what we're thinking. Take a refresher course in serious trailer handling at the local large parking lot. Get a quick update on the latest enclosed trailers available for cold weather travel toys. Check on the options list to make the toy hauler extremely livable and suited to our sled style. And totally entertain ourselves with fantasy.
When we start this voyage to the dream hauler, we eliminate our shortcomings. We become the trailer handling guru. This is a fantasy after all. We also eliminate the sled haulers that have served us well for the past few seasons. The open deck, vee-nosed dual side-by-side sled hauler. We pass over the upgraded versions of these trailers. The ones with the aluminum or plastic tip-up covers. While good and totally serviceable, we are in a fantasy here. We are going for something that's snowmobiling's equivalent of the NASCAR road hauler. We aren't up for the semi-trailer just yet, but we are thinking of a comfortable sled house. We want it to be somewhere between a pole barn on wheels and a full blown professional race van. We envision great quality combined with snowmobile-oriented options.
We'll start with something along the lines of units we've seen from Pace American, Triton, Haulmark or even Featherlite, the official trailer of NASCAR. Indeed, Polaris uses a specially constructed custom Featherlite trailer for its race team and product travel appearances. This is the dream world quality we have in our fantasy snow world. What do these various haulers offer?
Pace American
Basically you can figure that most of the top dream trailers will be similar in shape and function. Pace American's Aerosport takes fundamentals from its expertise in cargo carriers and blends in features well suited to the needs of serious snowmobilers.
As a company that started up in the mid-1980s, Pace American established itself in Middlebury, Ind. with various designs, including the Aerosport, which is well suited to snowmobiling. Although the company refers to this design as the "economical V-nose" model, it enjoys heavy-duty construction combined with many solid quality features. The unit features tube-frame construction; a 36-inch RV-style door with Flushlock to seal out cold winds; domelights; sidewall and roof vents; a fuel door; new LED tail and clearance lights; and a host of options.
Haulmark
The Haulmark Adventure series of trailers (visit Haulmark.com) will suit a snowmobiler's dream as the top of the line unit measures 8.5-feet in width. That's serious width that can be combined with various lengths to suit you. One feature to consider in your dream trailer is a round top. This V-nosed trailer has one and it's intended to shed the weight of the snow. Plus, the trailer sits tall on the highway to provide a deck height that affords greater clearance for maneuvering through snow drifts. The front ramp door measures 74-inches, which Haulmark claims is the widest in the industry. In addition the Adventure series comes with a corrosion liner for moisture protection in the inner wall. A spring assisted rear ramp door means easy up and down motions. And, of course, you want your toys to stay in place when trailering. They will thanks to the 1000-lbs recessed floor-mounted tiedowns.
Featherlite
If you've been to a snowmobile race or promotional event, you've probably seen Featherlite trailers. Polaris uses them. NASCAR race teams use them. And everyday powersports enthusiasts use them, be they closed haulers or open deck ATV or utility trailers. As the official trailer of NASCAR, Featherlite has earned its reputation for quality. For purposes of our dream hauler scenario, we'd long for the Featherlite Model 1648.
Designed as a snowmobile trailer, this model boasts a cable assisted rear ramp that features a drip rail to protect you from melting snow. The trailer's front ramp will make loading and unloading easy as this model is designed with a front radius nose. There's a long list of options to customize the trailer specifically for your needs. You can add vitually anything from roof vents, to dome lights and ski guides.
With a 6-foot interior height and an 8.5-foot width, the trailer will hold two snowmobiles side by side. This Featherlite aluminum snowmobile trailer offers lengths ranging from 12-to 24-feet. To get more specific visit Featherlite online.
Triton
Whether you settle in on a Triton covered trailer as your dream hauler or not, you must visit the company's website and check out its "build-a-trailer" feature. The site lets you pick one of its fully enclosed aluminum snowmobile trailers to customize to your desires. You can pick an 8-foot wide version, select a color option, pick out wheels, door and window placements, and even spec out the interior trim with lighting, flooring and bench options. Triton settles in on many offerings such as a black-and-white checked floor, door styles and much more. Granted, virtually all of these premium haulers will give you similar customization, but none are as helpful as Triton's website options.
Regardless of which dream hauler you create in your ultimate snowmobiling fantasy world, rest assured that in real life any of these premium trailer brands can be outfitted to give you exactly what you desire. We like the idea of a smooth hauler complete with a heated work station that could keep us warm and dry for a few days of serious sled play. We'd add the electric options available to connect up to an auxiliary power source. You could even get a flat screen option to watch end-of-the-day videos you made of your ride. See, this fantasy dream hauler thing can get quite complicated. Why not? Fantasy isn't the real world. In this world we can back this hauler into a tight spot off a remote trail head and ride fresh snow every morning.
Related Reading Trailer Maintenance Tips How to Improve Your Snowmobile Trailer Snowmobile Trailers Buyer's Guide Trailer Time