The Practical Guide to Enclosed Snowmobile Trailers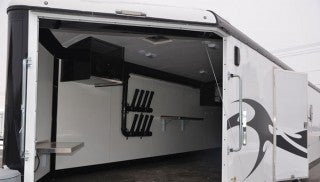 How to buy an enclosed trail to maximize your destination snowmobiling
For snowmobilers, what you tow and what you tow with are as important as the type of snowmobile you ride. It's a three-package deal: truck, trailer and snowmobile. These convey driver personality. Some tow vehicles and trailers are over-the-top extraordinaire, some are very basic and the rest lie somewhere in between. We at Snowmobile.com are tweeners.
This past fall we spec'd out a trailer for our needs, throwing in some wants and goodies. Though we are not in possession of this trailer at this time, we were encouraged by what we learned and wanted to pass on some knowledge as to what constitutes a good high-end in-between trailer.
We approached TJ Trailer Sales, Ogden, Utah and sales manager Brandon Jones to give some up-to-date knowledge on an enclosed trailer purchase.
We're not including "open" trailers, because in the West open trailers are a no go. While we recognize that open bed trailers are popular in many areas of the Snowbelt, we want our sleds tucked away when we haul them. Accept this fact, the salt and gravel road maintenance crews dump on roads tear up a snowmobile as it tracks behind a tow vehicle. No matter how tightly covered the snowmobiles are, salt and gravel will find a way to muck up your ride.
Simple Snowmobile Trailers Are Often the Right Choice
For us Westerners, there is a popular "open" product, the load and haul racks that sit in a pickup bed. Some decks store the loading ramp under the high-mounted deck/platform. Some designs use a hydraulic system to push the deck and its snowmobiles out from the pickup bed where it gently lowers itself and its secured snowmobile load to the ground for simple off-loading. In reverse, the snowmobile owner can load his toys on the rack, secure them, and with a lever, load the rack and snowmobiles into the pickup bed. These are appealing as they keep prized toys high and dry away from salt, mud and gravel. It's a possible option, but enclosed trailers rule in the West. They keep your sleds secure, clean and can function as a workshop on wheels when necessary.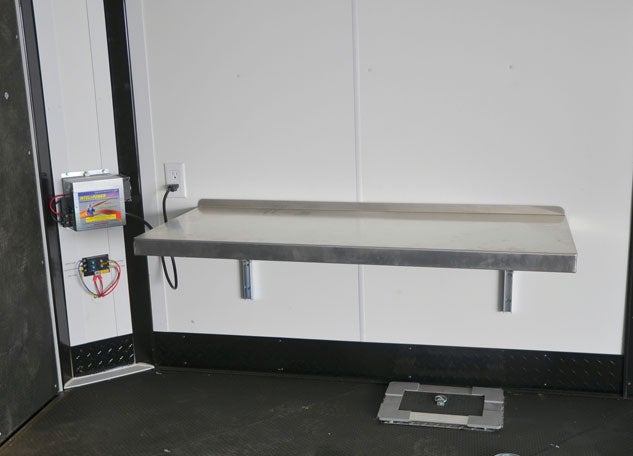 An essential part of snowmobiling is having a place to sit. A well thought-out and built trailer will offer a bench, a hidden battery compartment and power converter.
V-Nose Aerodynamics
Trailers are not aerodynamic, thus any help from a V-nose to split the wind helps. But more importantly, the extra three- to four-feet of the nose allows easy front off-loading from a side door and more room for another sled. For example, we own two trailers: one a three place Wells Cargo and the other a five-place Pace American. When we load snowmobiles through the front door we can load three for the Wells Cargo, and five for the Pace. If we should load the trailers from the rear drop down door, the three-place hauls only two, and the five-place, only four. A V-nose is worth its minimal extra cost to easily add a third or fifth snowmobile.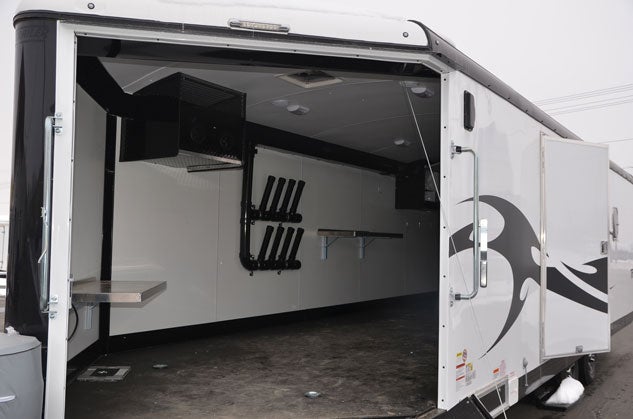 A wide door is essential for front egress and loading. When making the turn out to unload, a wide door makes the job much easier.
Over the Axle or In-Between?
This is owner preference. A deck that rests above the wheels makes for a nice flat deck, but if the owner wants more ceiling height to haul a side-by-side UTV in the non-snow months, then a taller load door and ceiling is needed. While this extra height makes for a roomier hauler, it also increases drag. Jones said the typical snowmobile owner who purchases a flat-deck trailer buys one that has a 78-inch floor-to-ceiling height, which uses a 72-inch tall rear-loading door. For most custom-order trailer builds, door and ceiling height can be increased in six-inch increments.
The deck that rests between the axles has a standard 75-inch door with a floor-to-ceiling height of 81 inches. The next tallest, by an additional six inches, gives a door that is 81 inches tall and has a floor-to-ceiling height of 87 inches. These "sport" models are year-around multi-purpose trailers that let owners haul snowmobiles, ATVs, side-by-sides (UTVs), motorcycles or a show car, if need be.
By using a between-the-axle sport deck, ceiling height works to the owner's advantage by running tall with somewhat reduced drag.
Shop For Snowmobile Trailer Accessories
Frame Structure
Jones recommends a frame that protects itself from salt. He stated the underside frame – the deck frame – should have a spray-on protective undercoating. A reputable company will assure door hinges are protected from corrosive road salt.
Frame support at center-to-center should be sixteen-inches apart. Frame supports, and this an opinion for small debate, should be square tubing from the deck supports to the walls to the ceiling, as this prevents the trailer from flexing when carrying heavy loads. Jones says the trailers TJ's sells, Mirage and Image, use square tubing. Depending on trailer length, square tubing adds about 150 pounds to the trailer's weight, but square tubing adds strength.
To protect the trailer's floor from fuel and oil spills, and cuts made by ski runners, Jones recommends polybead flooring, which is also called "Nudo" flooring.
Fuel Storage
Enclosed trailers can be manufactured with an auxiliary fuel tank that can hold up to 38 gallons of fuel – the equivalent of eight plastic fuel jugs. Jones said the trailer builder that installs an auxiliary fuel tank must be certified to perform the installation to meet National Fire Protection Administration (NFPA) and Department of Transportation (DOT) standards. Jones recommends shying from an auxiliary tank made from metal as these hold moisture and tend to rust. A good composite poly tank is best.
The concept to have on-demand fuel is awesome for long multi-day trips. A properly installed fuel tank and filling station will add to your trailer's luster and utility.
Jones recommends the auxiliary fuel cell be installed between the axles to balance trailer loads, with the electric fueling station tucked behind a hidden door near the side access door. It is imperative to have the fueling station behind a door and compartment that holds out water, salt and gravel.
Interior
Here is what we are specifying for our trailer: boot, glove and helmet warmers/dryers. Through a propane-powered forced-air heating unit, boot and glove warmers/dryers will make our multiple-day trips more pleasant with much of our equipment dry and warm for use. The helmet dryer is a cabinet shelf with locking doors that acts as a helmet locker and storage unit. We will also add two fold-down benches and one fold down table, all of which will be aluminum.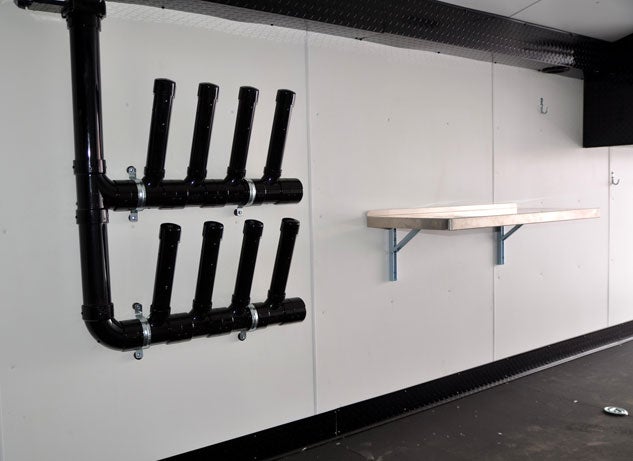 Another must-have for us is a forced-air glove and boot warmer and dryer. This will reduce cold hands and feet.
For interior lights, Jones recommends LED lights as they draw much less power; 10- to 12 LED lights will draw as much power as one incandescent light. The interior LED lights can spend a day illuminating the interior without draining the truck's or trailer's battery.
How to Improve Your Snowmobile Trailer
For interior walls, fiberglass is common. The best interior color is white since it reflects light. The interior walls should be insulated. Be aware that properly sealed exterior and interior siding/panels protect the interior insulation from moisture.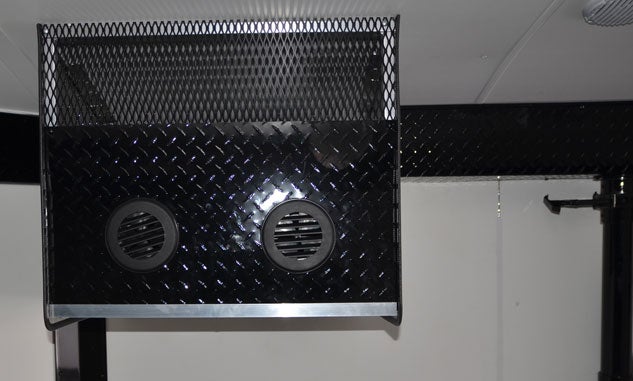 The forced-air helmet dryer dock/cabinet with coat racks mounted below adds to the purpose and utility of an enclosed trailer. A good sounding CD player with AM/FM player makes chilling time much more chilled.
Axles, Wheels and Deck
Here, know your load needs and purchase or custom build a trailer that best meets them. An enclosed trailer should use torsion axles with radial tires. For other-the-road hauls on salt-loaded roads, choose an aluminum wheel set that has a protective coating for corrosion resistance.
If choosing an enclosed trailer where the deck resides over the wheels, choose one with a minimum of two torsion axles. For trailers that are at least 26 feet long, ensure three robust torsion axles are built into the unit.
Sport deck trailers, those where the deck hovers between the axles, allow the owner/operator to carry heavier loads by using taller and heavier rated wheels and tires. The torsion axles are rated for heavier loads. Such trailers have haul ratings of 7,000, 10,000 and 12,000 pounds.
A trailer that can withstand corrosive elements will use a vinyl/composite/poly skin that is joined together with fastener-less tape, such as 3M joint tape. This composite siding with the industrial-strength 3M tape provides a moisture barrier.
Exterior aluminum siding should have zinc-plated screws to fasten the individual panels together. Though a popular method, the screws eventually will show rust and over time work loose. If you are purchasing a trailer with aluminum siding joined by zinc-plated screws, be aware that these are all mounted to the metal support beams and electrolysis occurs, which eventually leads to metal fatigue and rust.
There are many options to consider, such as electric brakes, sound systems, awnings and more, but for us, we'll settle on a boot, glove and helmet warmer/dryer system, fold down bench and table, a forced-air system, between-the-axle deck and awning for those hot days when we're out playing with our dirt toys.
In summation, Jones offers this advice for anybody looking for a trailer: have your trailer built first for towing need; second for strength, durability and rust prevention, and third for creature comforts that protect personal equipment, such as boots and helmets.
We are committed to finding, researching, and recommending the best products. We earn commissions from purchases you make using the retail links in our product reviews. Learn more about how this works.