Looking For Early Season Gear Choices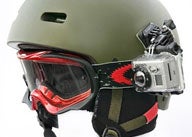 After the Summer Solstice come shorter days and the need to find the "right" sledding gear
Once the annual Summer Solstice hits around June 21st bringing the longest day of the year, we pause briefly to enjoy it, but immediately begin preparations for the next snowmobiling season. What else can you do? After the solstice, the days immediately begin to get shorter until just before Christmas, when the days start to get longer again. That's why we spend summer "online" time checking out potential new items we might like to have for the next sled season.
We figure the pre-sledding days of July and August give us a chance to search out and research some items we might want to check out at the various snowmobile shows coming up beginning in September. We can research the items online, but we'll wait until the shows to actually see, touch and try on select items. We'll have our list of things we want to check out, but until we can actually touch the items we won't make any final purchases. We've learned over the years that what may look great in a catalog — or online — may not hold up so well to physical scrutiny.
We are especially leery of making a purchase online before we have actually tried out a product as to hands-on fitment. In the good old days when sled gear was made nearby, we trusted sizing to be fairly representative and true. But since so much gear is actually constructed in places where an XXL seems like a "sumo" size to the native populace making the piece, we've gotten very reluctant to buy based on a sizing chart, unless that chart comes with a detailed "how to measure" explanation. Let's just say that we have found that sizes in some previously purchased garments didn't fit properly and it was due to a misunderstanding at the end manufacturing process. We've remedied that by finding the gear we like at either a local dealership or a snow show and then trying it on. Frankly, when you throw in shipping and the ancillary charges involved with online purchasing, often buying at a show can be as good of a deal. And you know how the gear fits, feels and works. If the dealer doesn't have it but we can get a "feel" for the sizing and quality of similar branded items, then we might order online.
We're just now getting underway in our pre-season shopping and have started to search what's new for the next season. We need a new helmet, so that's on our list. We want to check out the available options and find the Internet an excellent resource for that. In other cases we've seen some items that interest us and want to learn more about them. And, in other cases, we've already purchased a piece of gear and simply want to see it there is an upgrade we might want to consider.
Our list is incomplete, but we're just getting started. Here are some things we thought you might find of interest as well.
Heads Up
One of the premier suppliers of adventure helmets and the Number One helmet band in North America, HJC offers virtually any type of snowmobile protective head wear you need. You'll find HJC supplying various headwear for many aftermarket and sled maker accessory catalogs.
When it comes to sled head wear, we want the most protection at the lightest weight and most comfortable fit we can get. HJC knows that and actually goes further in making innovative head gear. The company has its own wind tunnel lab to explore helmet efficiencies for aerodynamics, ventilation and wind noise. We definitely support that as we've found both ventilation and aerodynamics can work against enjoying a day on the trail. When you ride behind a super low sport sled windscreen, your helmet and shield need to work effectively to move "head heat" out and away from the inner shield to prevent fogging and icing up. An "aero" style not only looks good, but it can save neck muscles from tiring as you fight the breeze when blasting along at near-triple digit speeds — if you did that, of course!
Looking over the HJC website (http://www.hjchelmets.com/) we found an interesting new style of helmet that also incorporates potential Blue Tooth usage for the technically adept. The HJC IS-Max BT retails for $269.99 with an electric shield or $209.99 with a double lens. The design features built-in recesses to fit select aftermarket on-trail communicators such as a ChatterBox device. Made with a polycarbonate composite shell, the helmet uses a one-touch integrated sunshield and a single-button chin bar release that works even with a gloved hand.
Relatively new to the snow world is GMAX helmets, which claim to offer the best fit and finish, the most comfort and value for your dollar. While you can get background information about the line of GMAX helmets online (http://www.g-max.com/), the company expects its gear to be properly and individually fitted by its authorized dealer network.
The GMAX helmet line like its model 46X offers an industry leading 19 vents for maximum airflow. The helmets are said to be light in weight thanks to lightweight thermo-plastic poly alloy shell composition. The GMAX helmet line features a variety of clear-coated design graphics that will stand out on the trail. The GMAX also offers removable cheek pads and interiors, neck and chin curtains and padded chinstraps. The large eye opening allows usage of large goggles such as the over-glasses style.
GMAX offers sizes for adults and youth with a wide variety of color and graphic schemes.
Foot Fetish
Since a serious motor vehicle accident last year necessitated a rebuilt right foot, we've sought out warm and supportive winter boots for our snowmobiling comfort. The warmer the better. Two winters ago we tried Columbia's first heated winter weather boot, the Bugathermo. It was okay, but proved very disappointing as the connection to recharge the heating elements broke after three modest rides.
We complained to Columbia. To the company's credit we were given a few options. We could accept a pair of the same style boot. We could get a refund. Or, since the boot was being redesigned for the next season, we could wait and get a pair of the new boot style. We chose to get the redesigned boot and we're glad we did.
The new Bugathermo Techlite design continued the concept of a high-performance winter boot with an integrated heating system. But the new boot proved lighter and much more efficient as the Techlite used removable rechargeable batteries and electronic controls to provide three different heat settings for hours of warm comfort.
We used the new boot design all of last winter, culminating in a multi-day finale at the West Yellowstone test ride session. The new design offers Columbia's most advanced technical winter boot tooling and a lightweight cushioning footbed and midsole. We like the fact that the boot is very lightweight and comes with a waterproof thermal rubber shell. In addition to the electric heating element, the boot combines all of that with 200g Thinsulate® insulation and Omni-Grip® traction.
Now, we have read reports by others that felt the boots weren't worth the money — suggested retail was $350, but we've seen sale pricing at Columbia's online outlet (www.columbia.com) for $245. In fairness to the other boot testers, some of their reports were referencing the first generation boot, which was a disappointment. This current generation worked as indicated and recharged effectively overnight, giving a full day's ride of three-tiered warmth. Since our accident, one foot runs colder than the other so we would set one Columbia boot on the lowest setting and the other at mid-level. Even on the coldest Minnesota days, the boots worked better than our old tried-and-true standby of Sorel Pac Boots and thick wool socks.
What we liked best about the boots went beyond the electric heat elements. We found the boots extremely light, supple in even the coldest snowmobile weather, and extremely waterproof thanks to the combination of leather and synthetic uppers. The boots proved quick and easy to lace up and were quite comfortable for walking about hardpack.
Sled Cam
If you've watched the Snowmobile.com test review videos, chances are you seen the capabilities of GoPro's HD Helmet HERO, billed as the world's highest performance wearable 1080p HD video and still photo camera. Staff videographers utilize the latest in mini-cams to get the "right" action shots. The top line GoPro units feature up to 1080p HD professional quality resolutions and record at 30 to 60 frames per second. The camera can record up to 2.5 hours on a single charge and up to 9 hours total on a 32GB SD card (not included).
You've probably seen television advertisements for the GoPro camera highlighting its ability as a digital action sports helmet cam that shoots 5MP still photographs at 2/5/10/30 or 60 second intervals. You simply press the shutter button once to record up to 2.5 hours of poster-print quality POV photos of your best sled moments.
This is a very rugged camera that is waterproof to 180-feet, shockproof, and, thanks to a removable polycarbonate housing, protected from rocks and other trail hazards. The camera is part of a system that lets you mount the unit to a helmet, handlebars, sled runningboard, bumper or almost anywhere. You can find everything you want to know about the unit (priced at $299.99), including info on a new lower priced ($179.99) HD Hero 960 version with slightly fewer features, at gopro.com.