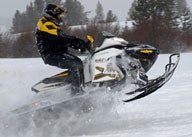 Some totally useful and colorful add-ons
So, do you really want to spend all of the non-snow months golfing, fishing or depleting a "honey-do" list of chores? Snowmobile logic says, "No!"
To help you retain your snowmobiling passion, we've found some special can-do projects that will help you focus on the upcoming first snowfall and, at the same time, provide you with some meaningful sled tinkering. One such project will shed light on a whole new way to look at your Ski-Doo next winter and make it a true standout on the trails.
Bright Ideas
We have to admit that we were a bit surprised to find this project lurking in the totally snow-less terrain of Coral Gables, Fla. But, check it out at http://www.chromeglow.com/.
We particularly like the "look" of the FIRE Snowmobile LED Accent Light Kit. Comprised of a colorful combination of red and orange LED light strips, this Chrome Glow LED accent kit offers an illusion of fire, which would surely make your sled glow on any trail – day or night!
The company suggests a specific "look" with an equal split between the red and orange LED strips, but you might want to experiment and, using your imagination, combine the accent strips to achieve your own custom design.
This Florida company is known primarily for its motorcycle lighting and accessories kits, but it also offers complete LED accent kits for snowmobiles. The kits are designed for all sled makes and models.
Each kit provides enough LEDs for the hood area, both side panels and ground effects. Plus, the Chrome Glow kits come standard with an On/Off remote allowing you to control your lights from up to 100 feet away.
The "FIRE Snowmobile LED Accent Light Kit" includes a total of 216 super bright LEDs. With the kit you receive:
• 2 – 30 LED Flexible strips • 2 – 24 LED Flexible strips • 4 – 12 LED Flexible strips • 2 – 18 LED flat Roachez strips • 2 – 12 LED flat Roachez strips • 1 – On/Off Remote control with 2 key fobs. – Includes 4 amp mini in-line fuse • 6 – Lever Lock Wire clamps • 16 – Cable Ties • 18″ extra 3M Double sided mounting tape • 3 feet of extension wire – 2 conductor 22 gauge
Because there is no crimping, soldering or jumper wires required for installation, Chrome Glow claims that this is the easiest installation kit available for your sled. Also included in the kit are extra Lever Lock Terminal connectors so you can remove the sled's side panels without affecting the LED lights. Note that if your snowmobile doesn't have a battery, you will only be able to display your lights while the sled is running.
Basic kit pricing begins around US$300. But for an extra cost, you can upgrade to a strobe effect that adds four functions to your lights:
1. On/Off – Turns lights on and off. Can be solid-on in any one of the brightness modes; 2. Breathe – Fading looping mode that goes from bright to dim and then back to bright in approximately four seconds giving the illusion that the LEDs are "breathing"; 3. Strobe – Flashes at a rate of 130ms with 8 different strobe patterns that will definitely make your sled unique; 4. Dim – There are eight different intensity modes with brightness adjustable from 12 to 100 percent.
Headlight & Hand Guards
Minnesota-based Holeshot Inc. offers some colorful add-ons for Ski-Doo snowmobiles. These are also protective pieces that riders of the low sport windshield Ski-Doo MXZ type models will find beneficial.
The Holeshot Lightshield retails for about US$40 and offers cheap insurance for your sled's headlights. The fact that you also get a custom looking sled in the process is a nice plus.
The headlight covers are constructed of impact-resistant acrylic and are custom-formed for a precise fit over your Ski-Doo's headlight. Holeshot offers the covers in an assortment of colors and styles to fit either Ski-Doo's split headlight or singular headlight lens applications. The guards are applied directly to the outside of the sled's headlight with secure extra-strength Velcro tabs.
Holeshot also offers protection for your hands. For those of you riding sporty MXZ models with the low windscreens and wind-deflecting handguards, you might want to upgrade to Holeshot's color-coordinated and protective styles. Ranging in price from US$35 to US$60, Holeshot Handguards include the new Deuce Speedguard developed with assistance from professional riders to meet the challenges of high-performance riding. The Deuce was engineered to maximize rider protection while also being light in weight and easy to mount. Requiring no drilling and designed to be easily installed, the over-sized, dual-compound Deuce shield offers a subtle blend of rigidity and flexibility. Available colors include white, gray and black.
Holeshot also offers its versatile PE Series of Speedguards, custom-formed from High Molecular Weight Polyethylene (HMWPE). It's a tough polymer that can withstand the rigors of diverting trailside branches and the like. The PE Series has a large profile to provide protection for your hands and control levers. You'll find custom-matched colors give your sled a "uniquely yours" style.
For more information about these products and other Holeshot offerings, visit http://holeshotinc.com/.
Sled Rack
Located in Kalispell, Mont., Vortech Manufacturing offers a nicely machined rear rack to fit various extended track Ski-Doo models, including the "XR" wide platform version.
Designed for Ski-Doo's XP, XM and XS chassis, Vortech's racks stand three inches tall and come with five crossbars, which can be placed at two levels. Lower level crossbars support gas cans or bags placed above the sled's rear heat exchanger. The upper level bars support the rack's corners and create pockets to keep your gas can or bags from moving front to back. Extra crossbars are available. Installation requires drilling six holes in your tunnel to mount the rack.
Vortech notes, "Anything that you do not want touching the heat exchanger will need to be placed on crossbars."
Retail pricing starts at US$130 for the racks, which measure 16.5-inches in width. Vortech offers an XR rack for the wide platform Ski-Doo equipped with the 137-inch track. It has clearance for the sled's plastic heat exchanger cover and measures 17.5 inches in length. It includes five crossbars. These racks not only provide storage and versatility to your sled, but add strength to the back of your tunnel.
In addition to the plain metallic color, Vortech offers a black anodize upgrade that will add US$35 to the price of any Ski-Doo rack with five crossbars.
For more information about specific rack options, check out Vortech Manufacturing Inc. at http://www.vortechmfg.com/.