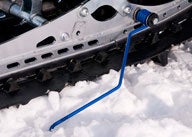 Ice scratchers help modern liquid-cooled sleds maintain their cool
A few winters ago at a snowmobile test session in the Colorado mountains, we noticed that several snowmobile manufacturers had fitted their test sleds with long torsion spring devices that scratched the hardpack trail and kicked snow back to lubricate the hyfax and cool tunnel-mounted cooling extrusions. That was our first hands-on experience with what are generically called "ice scratchers." Here at our Midwest-based, satellite editorial office, ice scratchers had yet to hit the groomed trails. Now, though, we're seeing a change as ice scratching devices become more prominent and useful for trail riding.
The devices first became popular in the West where extremely long-tracked snowmobiles have to traverse a few miles of groomed trails to reach popular deep powder play areas. Since the long tracks utilize long sections of hyfax, there is a tendency for sliders to overheat if the rider travels cement-hard icy trails that can't provide enough snow lubrication.
While concern for wearing down hyfax slides may have been the first concern, the fact that modern high-horsepower, liquid-cooled motors require excess cooling capacity helped create a need for a device that could kick cooling snow onto the slides and up to the cooling extrusions — mounted along the runningboards, under the seat or ahead of the track.
While the first ice scratchers fit the needs of western powder riders, snowmobilers found use for the devices on flatland trail sleds, where groomed trails frequently turn ice-hard and offer sparse lubrication. Over the years we've noticed that some rear suspensions lent themselves to more hyfax wear than others. A simple addition of ice scratchers can help maintain good snow lube in minimal conditions and help reduce engine overheating.
As we've searched out information about ice scratching devices, we've discovered that there are three basic styles. One consists of a long torsion spring that mounts to the rear suspension. Another consists of a carbide-tip cable that can be mounted forward in the rear suspension. While these first two types mount around the rear suspension area, there is also a type of ice scratcher that mounts to the skis.
We note that Yamaha and the other snowmobile manufacturers offer ice scratchers through their accessories catalogs, as do many aftermarket suppliers. To give you an idea about each type of ice scratcher, we looked at each type of device. Keep in mind that while we are highlighting specific brands here, there are other ice scratcher kits from which to choose.
Torsion Spring – Suspension Mount
The long armed torsion spring style that mounts to the rear skid appears to be the most popular design at this point. Available from a variety of manufacturers, this style can be fabricated in your shop, providing you have basic motor skills and the right shop equipment. If you prefer to buy manufactured ice scratchers rather than make your own, you might consider getting them from a commercial source such as Scorcher Ice Scratchers, Snobunje Snowmobile Accessories or Holz Racing Products among others.
Scorcher Ice Scratchers
The maker of Scorchers brand Ice Scratchers notes that its design features heavy-duty steel springs with CNC machined anodized aluminum spacers. Installation seems easy enough, as you pick a mounting location far forward on the sled's slide rail. In general this location will be the forward, outboard mounted idler wheel.
Scorchers notes that the further forward the mounting location the better the torsion sprung Ice Scratchers will work. Of course, you will check to see that the mounting point doesn't cause any undue interference with suspension components. You'll need to make certain that you can lift and lock the Ice Scratchers out of the way so that you may engage reverse without unduly damaging the devices.
That seems to be a too common occurrence with this style of ice scratcher. The long armed springs bite into the icy trail going forward and kick up snow chunks for lubrication. Unfortunately, if you don't stow them before reversing, they will continue to bite into the snow and get bent as you go backward.
Scorchers Ice Scratchers are available in a good choice of colors to match your sled. The company also offers an optional Bogie Wheel Adapter which allows you to use both the Ice Scratchers and the suspension's idler wheel in the original factory location.
For more information about Scorchers Ice Scratchers, check out the company's Web site at ScorchersIceScratchers.com.
Snobunje Snowmobile Accessories
This company offers a number of sled-related items from avalanche and safety gear to left hand throttle conversions to ice scratchers. Snobunje's available Ice Scratchers product is fairly universal and is designed to mount on the slide suspension's skid rail. These spring-loaded devices scratch the trail and are said to use their friction action to lower the water temperature of hard packed snow up to 30 degrees Fahrenheit. The scratcher springs are designed to hook over the slide rails when not needed — or when backing up!
Sold in pairs, Snobunje offers them with all necessary parts and instructions for US$54.95. For more information, check out Snobunje.com.
Holz Racing Products
Holz Racing Products also offers a similar torsion spring ice scratcher for various snowmobile models. Retailing for US$59.95, HRP's design works in a similar manner to other slide rail mounted scratchers and, in fact, are sold through the catalogs of other aftermarket parts companies. If you should break a spring, HRP offers replacements for US$20 each. Note that replacement springs are left and right specific. For more information check online at HolzRacingProducts.com.
Torsion Spring – Ski Mount
Starting Line Products
We have seen two types of ice scratchers and suspect that the slide rail mounted devices function better overall than the ski-mounted type. Both types utilize a long-armed torsion spring. If you are a Starting Line Products fan, worry not as the company offers all three types of ice scratchers mentioned here.
The ski-mounted devices, like the slide mounts, chew up the ice and snow to lubricate your sled's hyfax and create cooling for the motor. This specific style mounts near the ski spindle allowing the long arm to drag and scratch ahead of the track area. As with the other torsion spring styles, these ice scratchers are susceptible to damage if you reverse without stowing the spring arm.
The SLP devices are sold in kit form and may require a specific style of ski. If you select this style be certain to ask which sleds the ice scratchers fit. For more information, contact: StartingLineProducts.com.
Cable Style
Slidekicks
Manufactured by Idaho-based Slidekicks, this carbide tipped cable ice scratcher seems to be a very promising option as you can ride forward or backward with them installed. The Slidekicks design consists of a flexible cable that incorporates a clear covering to protect against rust and most damage. The scratching tips can be replaced inexpensively, saving you from having to purchase a complete set of ice scratchers.
According to the manufacturer, Slidekicks are completely compatible with any snowmobile. Rail-mounted springs were designed originally to fit powder machines and not trail models, so you need to be very specific when ordering. With the Slidekicks you can mount them to your slide rails with a single bolt.
While they feature a flexible cable, the overall function remains the same — scratch the trail surface, kicking up a spray of ice and snow to lubricate hyfax and cooling extrusions. Of course, the flexible cable design permits reversing without causing damage. The cable simply flexes without breaking. That's a pretty big deal, especially for forgetful riders. Hmm, who would they be?
The manufacturer notes that Slidekicks operate a bit differently than the hard spring styles. The flexible cable design scratchers stick put and away from the sled when at rest, but once moving they move back toward the track to position snow dust and spray where needed for lubrication and cooling.
Retailing at US$69.95 for a complete set, Slidekicks come with a 30 day defective materials and workmanship warranty. For more information, visit online at SlideKicks.net.