Is Arctic Cat Planning a New Mountain Suspension?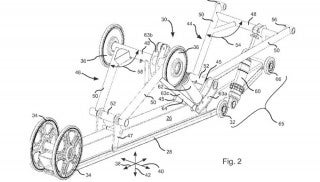 A hinged mountain rear suspension looks to be in Cat's future
My dairy farmer uncle always used to say, "When feeding the cows you give them a bale of hay, not the whole barn." That little witticism fits how snowmobile manufacturers provide us with new products and product updates. They give us just enough to get us interested and feed us the rest in doses as we need it.
Look at recent developments at Polaris. When the newest iteration of the 800cc Cleanfire was introduced on the 2015 AXYS Switchback and Rush models, powder riders knew they wanted one for their RMK powder runners. This year they got it as the new RMK models also come with a revised AXYS-type hood that allows the new engine to be fitted into the new RMK body.
Before Ski-Doo brought out its tMotion rear suspension, the company tweaked the front suspension and some bodywork to get the Summits to lean into sidehills better and move through the powder more cleanly. Once that was done, Ski-Doo armed its top of the line Summits with a T3 package that incorporated the hinged tMotion skid and a flexible edged track. And, of course, the previous upgrades.
Inside Ski-Doo's tMotion Suspension
Keeping in mind that deep snow technologies sell sleds, and that is where the most serious action is for now, sled makers want to get powder riders off the other guy's brand and on to their own. They also want to generate interest to keep those riders on their sleds as long as they can. Once Polaris brought out the more powerful and lighter AXYS trail sleds, RMK riders rightly expected to see that set up in an upcoming Polaris powder sled. Polaris gave its riders a reason to hold on for a season before encouraging them to upgrade. All of which kept those Polaris riders from switching to the new tMotion-equipped Ski-Doo. For 2016 Polaris brought out the expected engine changes, plus a new rear suspension to better get the power to the snow plus offer better weight transfer for improved deep snow action. They also pulled a bit more weight out of the latest Pro-RMK.
Polaris did all of this because they recognize that while deep powder snowmobilers have their brand loyalties, often they don't run as deep as the snows they ride. This is a group of riders who spend their dollars on the latest "what have you done for me lately" brands. Until the new 2016 AXYS Pro-RMK hits the snow, Polaris had been living off the fact that it had a seriously lightweight sled with excellent flickability that was mostly unchallenged, until Ski-Doo's tMotion Summits appeared. The Summit T3 changed that equation and now Polaris responds with a fresh bale of technology.
If you look at what the other guys are doing, you'll find some interesting things happening. We strongly suspect that the next bringer of deep powder technology will be Arctic Cat. This is a company that has been a deep snow leader, but until recently was saddled with high level corporate politics that stymied growth and budgets to do much of anything in the mountain sled market. With new executive leadership that seems much more aggressive and interested in regaining market share in core markets, Arctic Cat's snowmobile business should get a serious boost in technology development. Even under the old regime, hard-working Cat powder specialists cleverly fitted changes to the M-series that made them better, but still not kings of the mountains they prowled. That may be changing.
Look at model year 2016 as a prelude to serious changes to come. Just as Ski-Doo reworked its deep snow front suspension prior to unveiling the tMotion, Arctic Cat hints at changes with its new-for-2016 Arctic Mountain Suspension (AMS). Plus, Cat created the Float-Action rear suspension to work with it. Then there are the cleaner-through-snow spindles and a new mountain ski.
Understanding Yamaha's SingleShot Suspension
The AMS spindle is thinner and bowed inward to be cleaner through snow. It also features 27 degrees of caster versus last year's 17 degrees. The upper control arms are interchangeable side to side, simplifying manufacture and saving a bit of coin as well. The end result is a narrow 36-inch ski stance that allows greater tip-in for sidehilling. The new suspension is fitted with the new ProClimb 7 parabolic mountain ski that features a seven-inch width at the tip and a mid-taper of 6.5 inches. By using a combination of four spacers, ski stance can be adjusted from 35 inches out to 39 inches. Historically, as with alpine skis, a parabolic design has a quicker turning radius to facilitate turn in through powder.
Along with the mountain-specific AMS, Cat engineers worked the Float-Action rear suspension for its 2016 M-series. The Float-Action incorporates a revised rail profile and adds an inch of front arm travel. You'll note that the Float-Action works with a narrowed rear hub, a forward suspension arm, and rear arm that accommodate a variety of shocks, including the latest Fox Floats.
But this is model year 2016. Based on a recently published US patent, we strongly suspect that Arctic Cat will offer a totally new rear suspension for its future M-series of deep snow sleds. The filing of the patent for "Snowmobile Skid Frame Assembly" appears to take the Float-Action in a new direction, one that features a hinged center beam assembly and works with a flexible-edged deep lugged track.
The depiction of the skid frame assembly appears to show a single articulating central beam with a pair of skid rails that replace traditional twin parallel rails. The beam is mounted between axle assemblies front and rear and extends down the center of the design, maintaining track tension. The rear hub is depicted with a pair of supporting wheels and a hub device to maintain alignment and distance of the wheels. This is where the design indicates placement of a screw-type track tensioner that would be used to make adjustments for track wear and stretching. The suspension arm shock mountings appear offset.
The Era of Rising Rate Suspensions
The central mounting of a single slide rail is not new. The concept of a singular and centrally mounted slide beam dates back to the earliest days of the sport when Alouette featured a single rail suspension on its low-powered models. It would have induced side flexing of the track, but with a low horsepower sled it didn't matter much.
In the case of the new Cat design, track edge flexing is a good thing, especially for a deep powder sled. We have to believe that the success of Ski-Doo's FlexEdge track working in conjunction with the tMotion suspension proves the technique. A hinged and centered beam rail's articulating motion combined with a flexible edge track would give Cat riders a tMotion-type action to get the M-series to more easily tip into a hillside.
While the end result of this Cat design may conceptually share similarities with the how the tMotion works, the designs are uniquely different and patentable. The Cat will utilize a flex edge track with a center section that accommodates the slide action of the central beam. The center of the Cat's track most certainly will be ribbed in some manner to channel and limit the beam's movement. The hinged mounting pieces appear to allow limited adjustments for degree of movement. One position allows side-to-side movement while another position effectively locks the track in a flat plane. Cat's patent allows various degrees of motion.
Obviously Ski-Doo should be flattered. The tMotion must work well enough to draw serious attention from the competition. And, of course, this is hardly the first time one company's good idea generated a reaction. The idea of electric reverse on two-strokes started with Ski-Doo and Rotax. The rider-forward concept that changed how we ride started with Ski-Doo's REV platform, so why not a hinged rear suspension working its way into deep powder suspension designs?
Until we see an actual suspension unit, it is difficult to judge just what may make its way into production. The Cat patent covers many degrees of innovation in rail shape, skid action, and slide rail material placements. But be advised that Arctic Cat has undertaken some serious engineering effort for future powder riders and is working up an articulating version of its M-series rear suspension. The question is when it will come out and will it stay close to the patented design or will it continue to evolve even more. For now we offer a bale of information; the barn load will come later.