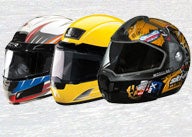 A proper fit for helmet is key to a comfortable winter
When it comes to helmets — snowmobile, motorcycle, bicycle or ski — my advice varies. Being a thrifty sort and one who can heat up the inside of a snowmobile helmet simply by strapping it on, my advice wouldn't apply to everyone. But there are some "basics" you should know when searching for that "perfect" helmet.
Regardless of the brand, style, color or price, a snowmobile helmet must fit well. We've purchased a great number of helmets over the years. We've even come close to finding the perfect helmet, which we are convinced, does not exist! That nearly perfect helmet did fit well. Oddly, it came in a size that we wouldn't have considered.
Sizing Up
Lesson one, then, is regard all helmet sizing with suspicion. This consideration is even more important now than ever. Frequently what you think is a US-based size is not. This is one of our pet peeves. We really don't care if snowmobile apparel is made in North America or "off-shore." But we do care when apparel is labeled one thing and actually sized quite differently. We find this true of helmets. Be suspicious of sizing as one brand's "Large" may be another brand's "Medium." Make a point of trying on any helmet you might be interested in owning.
We have found "name" brands bearing a size XXL label being too small for our head while other brands labeled XL gave us a great fit. A few years ago Polaris brought to market a wonderful design that was comfortably light in weight and said to eliminate shield fogging. We were very interested as fogging has always a problem for us — even in our younger, lighter days. Normally an XL, or at most an XXL, sized helmet will fit. In this case, an XXXL helmet size failed to meet our demand for comfort.
Comfort Counts
Lesson two, even if you can get a helmet over your noggin you need to consider ride comfort. You should use a tape measure to measure your head's circumference. Take measurements at a couple of points — such as about an inch or so above your eyebrows and a point at the back of your head that gives you the largest circumference reading. Let's not be shy about this. We don't all have the same sized head.
Now that you have a basis for a helmet size, check the manufacturer's suggested sizing chart. If you have ever bought a fitted ball cap, you know that a 7-1/4 in one style isn't automatically the same in another. The same applies to helmets, but more so! A fabric cap may stretch where a fiberglass helmet shouldn't.
Once you have a base size, try on a few helmets. If your head's measurement lies between a couple of sizes, go for the larger size. There is a school of thought that states you should go with the smaller helmet size. Remember, this is a snowmobile helmet and you will most likely be wearing some sort of head stocking. A tuque made of silk will be thin, but a wool cap will be thicker. You need to consider what you will be wearing under your helmet when sizing.
Get It On
Do you know how to put a helmet on your head? Not everyone does. You need to grip the helmet by the chinstraps with the helmet actually facing you and the interior open to you. Rather basic, right? Placing your thumbs on the inside of the straps, balance the helmet with your index fingers as you give the helmet a little spread action before slipping it over your head.
Feel the clues the helmet is giving you. If it slips too easily over your head, it may be too big. If you have to hammer it on, then chances are it's too small. Don't freak if there is some resistance. Most helmets are narrower at the bottom than in the middle. If you are at a good dealership, the sales person should be experienced and will be able to help you know whether the helmet is snug or too small.
There should be a mirror handy for trying on helmets. Look at how the helmet sits on your head. Your eyes should be centered in the helmet's eye opening with the top edge of the helmet's lining sitting slightly above your eyebrows. It may be helpful to know that helmet manufacturers estimate that most consumers opt for helmets that end up being too large for them. We plead guilty.
Contact Points
Once you've squeezed your way into the helmet, how does it feel? Do the cheek pads make contact? Does the back of the helmet fit properly without being forced forward when you arch your neck? Do you feel a need to push the helmet back on your head at all? When you grab the helmet at the sides can you rotate it side-to-side?
If the helmet is fitted correctly it should cause your skin to move with it when you move. In reality you want the helmet to be snug. If you are really serious about helmet shopping, you might want to bring your favorite tuque along with you so you can fit the helmet with what you'll actually be wearing.
Once you've got the helmet on your head, fasten the chinstraps. Now grasp the helmet from the rear and try to pull it forward as if to roll it off your head. This will be uncomfortable, but it gives you another idea as to how well it fits. Obviously, if you can roll the helmet off with the chin straps secured… well, it's too big!
Pain Points
Say that your helmet choice meets the sizing criteria. There's a final consideration that we feel is very important. Check for pressure points between you and the helmet. These will show up as reddish areas on your forehead or cheeks when you remove the helmet. If you feel discomfort from pressure points when wearing the helmet while sizing it up, you can rest assured it will be worse if you wear that helmet for a day's ride. We cannot overemphasize the importance of proper fit. A helmet with a slight pressure point or two may seem okay while in the store, but that discomfort can grow into a real headache 50 miles down the trail.
And remember, you want the best fit you can get, so you might want to try on the same helmet style in a both a larger and smaller size just to make certain that you have gotten the best fit.
As noted, don't assume that you know your size for a proper fit. With helmets coming in so many styles and from a variety of manufacturing locations, there is no such thing as "one size fits all." When we went to replace one of our older helmets with the same brand and style, we were surprised to find that the sizing we thought would fit best had changed. We don't know why. It could have been the manufacturing process had changed or there was some subtle upgrade. Regardless, the so-called same helmet was sized differently. And the price had gone up, too! But that's for another article.