HJC Snowmobile Helmets Buyer's Guide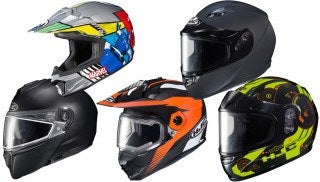 We take a look at HJC's impressive snowmobile helmet lineup
HJC is one of the leading helmet manufacturers in the world.  Let's take a look at everything HJC snowmobile helmets have to offer.
Anyone who has been snowmobiling for any length of time is likely familiar with HJC. HJC is one of the most trusted helmet brands in the world for everything from bicycles to motorcycles to snowmobiles.
We put this buyer's guide together so we could showcase all of the HJC snowmobile helmets in one place with a look at all the features available at each price point.
HJC CS-R3 Snow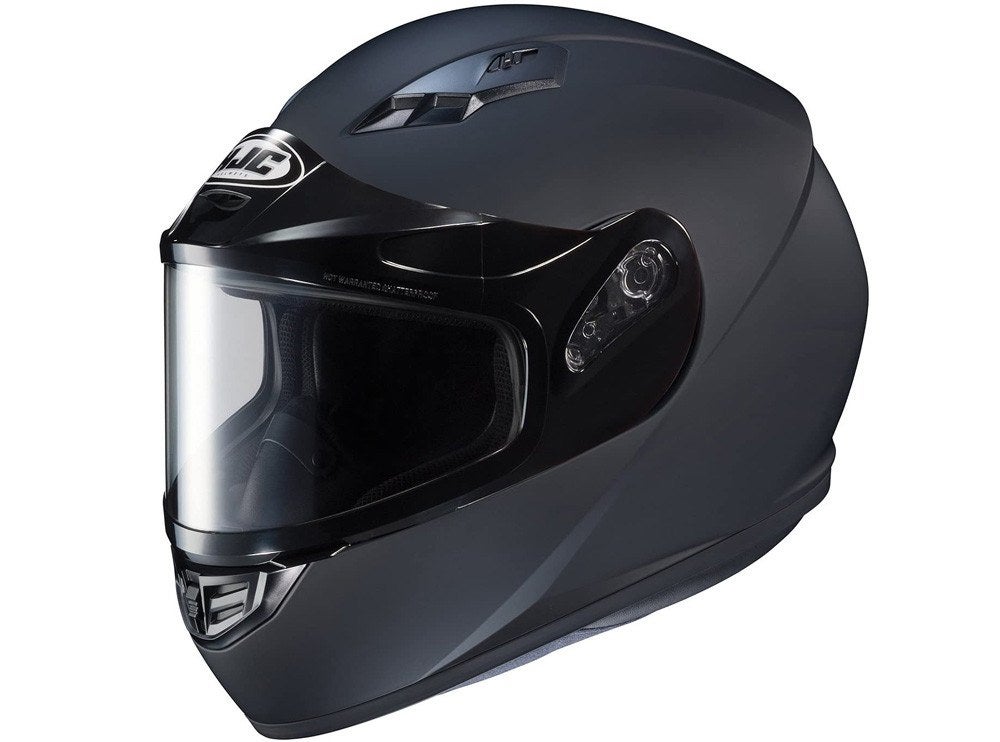 The first entry in our HJC snowmobile helmets guide is the affordable CS-R3 Snow. We love the pre-fit design of the HJC CS-R3 Snow. It provides a snug but comfy fit that keeps your head protected at all times.
Another big plus is the frameless dual lens snow shield, which provides 95% UV protection and includes the shield ratchet system for quick tool-less removal and installation. The built-in breath box helps keep the shield free of fog while you ride.
If you need to clean the CS-R3 Snow, it features removable interior pads so you can easily wash them. The ventilation on this helmet is most excellent, as well, ensuring superior breathability when in use.
HJC i90 Snow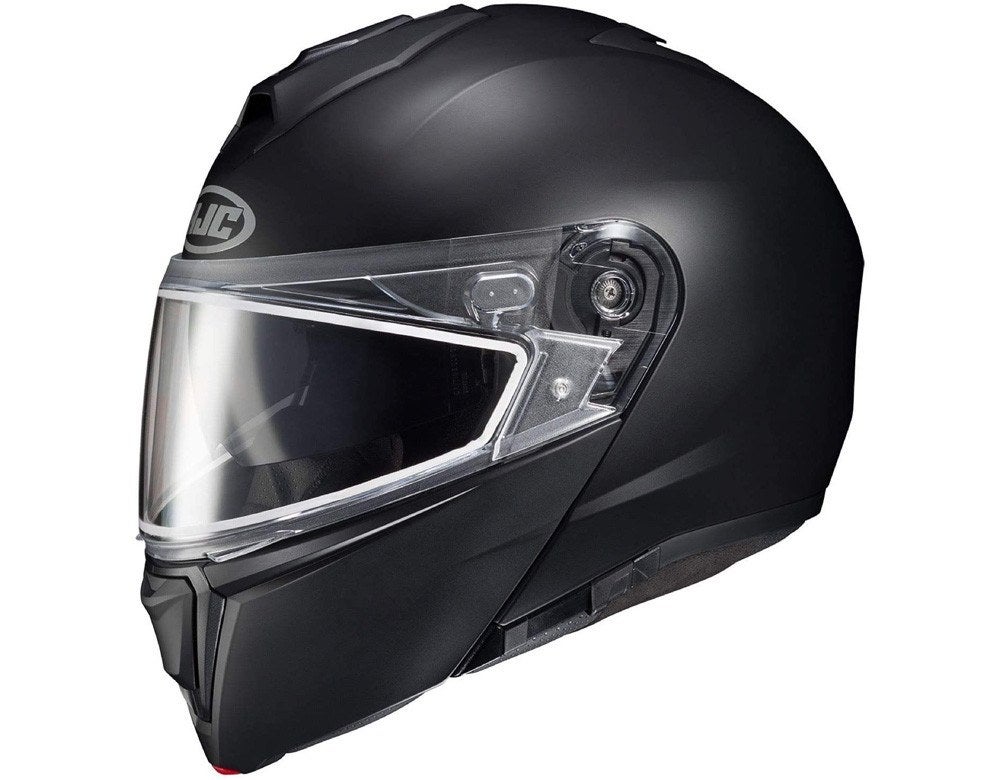 If you're looking to upgrade your current helmet, consider the i90 HJC snowmobile helmet. You're getting cutting-edge quality here. If you're tired of your snow shield fogging up on you and interfering with your fun, you will absolutely love the i90.
Armed with an electric snow shield, you'll never have to worry about foggy vision again. What's more, if the sun is blinding your eyes, the integrated sun shield deploys in a flash to keep your eyes protected and comfortable.
As for the interior, the padding inside features moisture-wicking technology for fast-drying. And with the integrated speaker pockets, you can communicate wirelessly using Bluetooth technology.
Many riders who wear glasses have trouble finding a comfortable snowmobile helmet. HJC understands this common issue and made sure that the i90 was built to circumvent this concern. Inside the i90 are grooves that accommodate glasses.
This ensures that you will get the most comfortable fitting snowmobile helmet around. It's durable, attractive, and one of the best ways to protect your head while you're out in the snow.
HJC DS-X1 Snow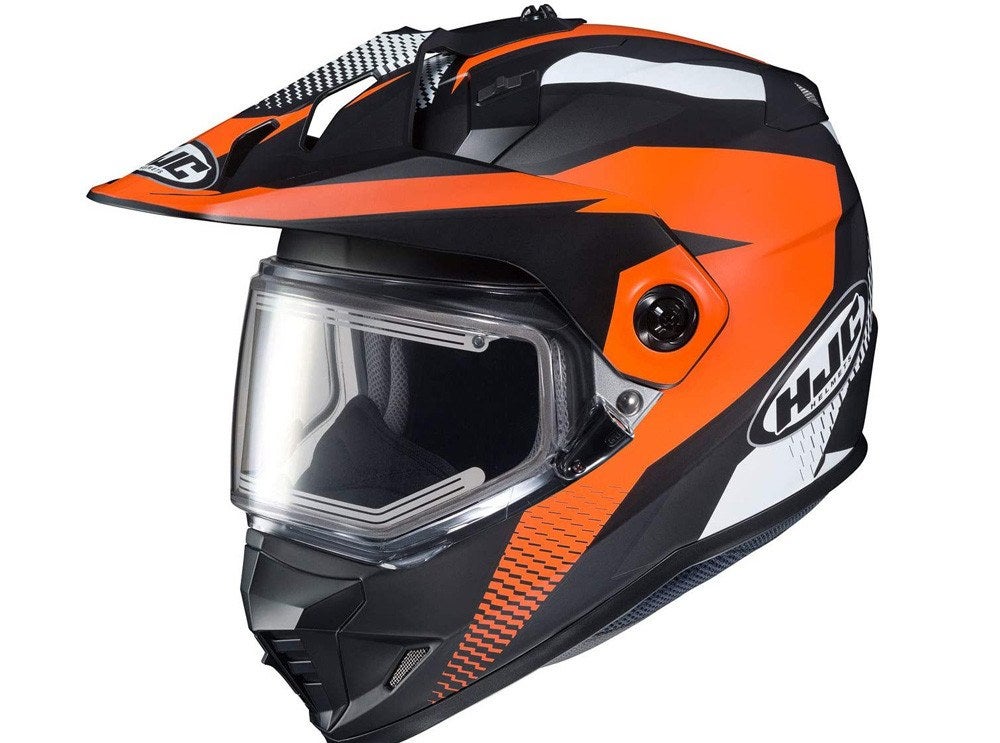 For a more traditional style, the DS-X1 Snow is a lightweight, comfy-fitting HJC snowmobile helmet that is sure to leave you impressed. It's a bit pricier than some of the other models we looked at, but that comes with improved features.
Like the i90, you're getting a built-in electric snow shield that cuts away fogging so you have a clear view of the environment. What's more, the eye ports are gigantic, ensuring that you see more of your surroundings and less of the inside of your helmet.
Cleaning the interior is made easy thanks to removable, moisture-wicking padding. Not only will you dry faster, but you can wash them just as quickly, as well.
The aerodynamic design of the DS-X1 provides you with better travel, and the polycarbonate shell ensures maximum protection.
Riders who wear glasses will appreciate the interior grooves. This provides a comfortable fit that easily accommodates your glasses.
CL-XY Youth Helmet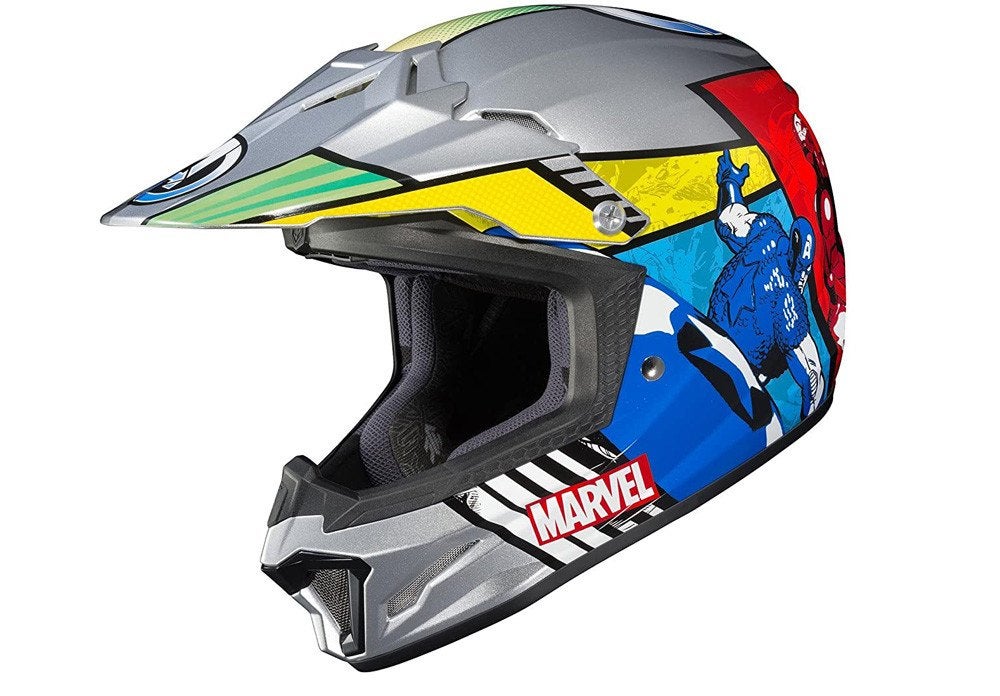 For the youth rider, the CL-XY II MX-style helmet is a fantastic choice. This particular model found in the link below is decked out in Marvel artwork, making it a great buy for the superhero fan in your family.
Ventilation is excellent in the CL-XY II, ensuring that your child has superior breathability while they ride. What's more, they're getting the same huge eye ports found in the adult helmets so that they can clearly see their surroundings at all times.
The padding mounted in the interior provides an exceptional fit so you can be sure that your child has the best protection while they ride.
Cleaning the CL-XY II is simple and straightforward. The interior of the helmet features nylex lining that can be removed and washed. The cheek pads are also fully adjustable to ensure that your little one gets the best fit possible.
CL-Y Snow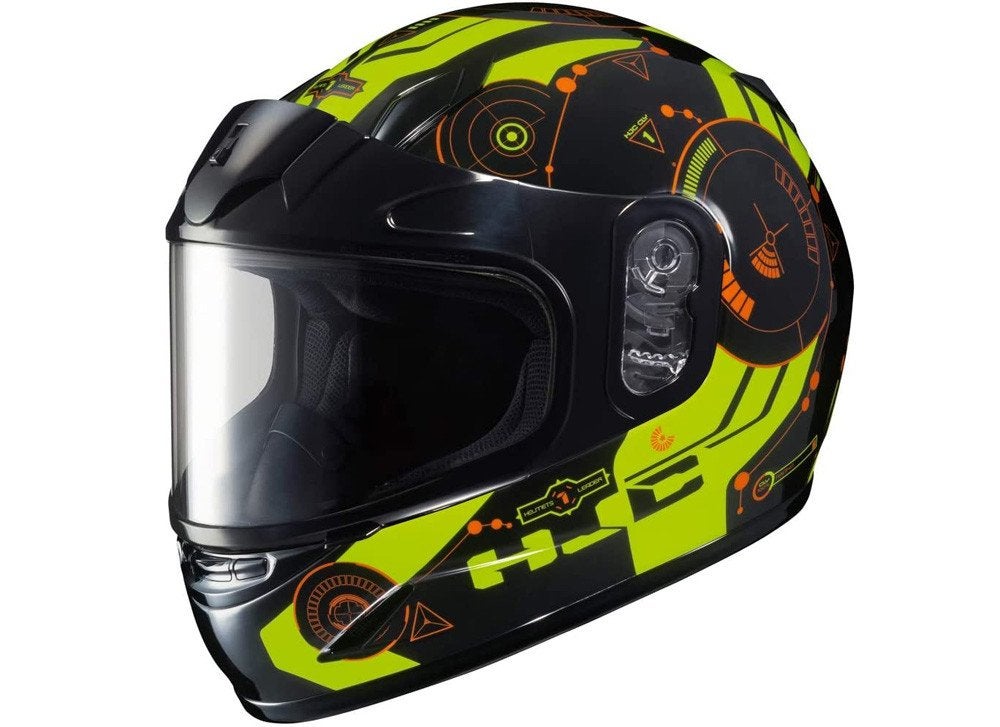 Available in a variety of fun colors, the CL-Y Snow is another youth model among the many HJC snowmobile helmets. Thanks to multiple protection points lining the interior of the helmet, you can rest easy knowing your child is safe and secure.
There are also two side vents that provide excellent airflow and breathability. And with its 3D shield, your child's eyes will stay protected from harmful UV rays.
The fit that the CL-YSN provides is easily some of the best around. No more uncomfortable movement or shifting while riding. And thanks to the polycarbonate outer shell, your child's head will be surrounded by durable, rock-solid protection at all times.
When you need to clean this helmet, simply remove the nylex interior and throw it in the wash. It's quick, easy, and safe to clean as often as you like.
How do you remove the shield on an HJC snowmobile helmet?
HJC snowmobile helmets are unique in how you remove their shields. No tools are needed whatsoever. Instead, you simply lift the visor all the way up and press a release button. Do this on both sides to quickly and easily replace shields.
Where are HJC helmets made?
There are two factories around the world that produce HJC snowmobile helmets. One is in Korea, while the other is in Vietnam.
We are committed to finding, researching, and recommending the best products. We earn commissions from purchases you make using the retail links in our product reviews.